In partnership with  #DriveMitsubishi @Mitsucars and #DriveShop
When making a comparison of crossover utility vehicles it is absolutely important to spend significant time driving the vehicles and feeling out for the one best suited for your many life adventures.  For my family those adventures include weekend trips camping, packing six or seven people in for a road trip, excursions to the beach with all of the sand and water toys, and of course all of the not-so-luxurious daily activities like bringing my kids and their friends around to school and sports, and my never-ending grocery jaunts.   I was extremely lucky to have a full week driving a Mitsubishi Outlander Crossover Utility (CUV).  We took full advantage of the size of the Outlander and the loaded extras which made it so fun to drive.  We've outlined our experiences with the Outlander below, breaking it out into five areas of consideration when selecting a CUV or SUV:
Outlander Safety and Handling – Safety is everything, and the reason I listed it as the first category.  The Insurance Institute for Highway Safety gave their highest possible safety achievement 2016 Outlander, "Top Safety Pick+".  We almost bought a different SUV a year back and then found that it had no such safety accolades and actually very low crash ratings.  I want my kids and everyone else safe and the Outlander's safety ratings flourish, partially due to the following features: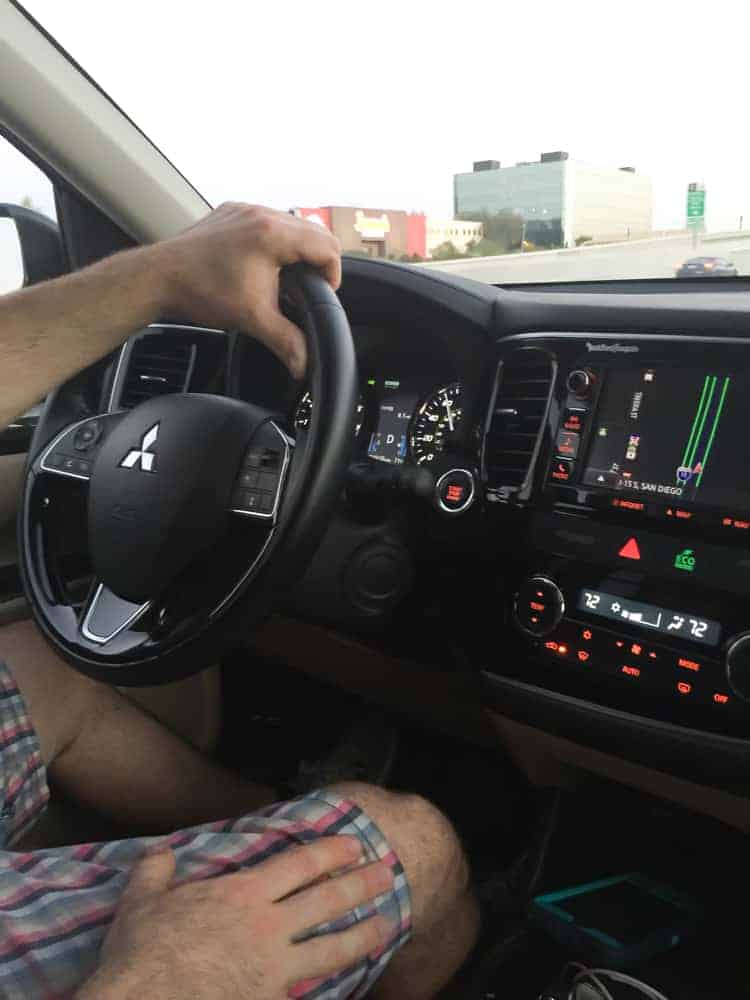 –        RISE (Reinforced Impact Safety Evolution) body construction.
–        Active Stability Control (ASC) that triggers anti-lock brakes.
–        Lane Departure Warning (LDW) which would give an alert if I unintentionally left my lane (by way of a camera positioned on the front of the vehicle).
–        Forward Collision Mitigation (FCM) believe it or not this one saved me from a fender bender in my week of driving the Outlander.  I was on the highway and traffic went from about 40 mph to 0 in the blink of an eye.  The FCM alerted me faster than my regular reaction time and I was able to immediately hit the brakes and avoid a collision.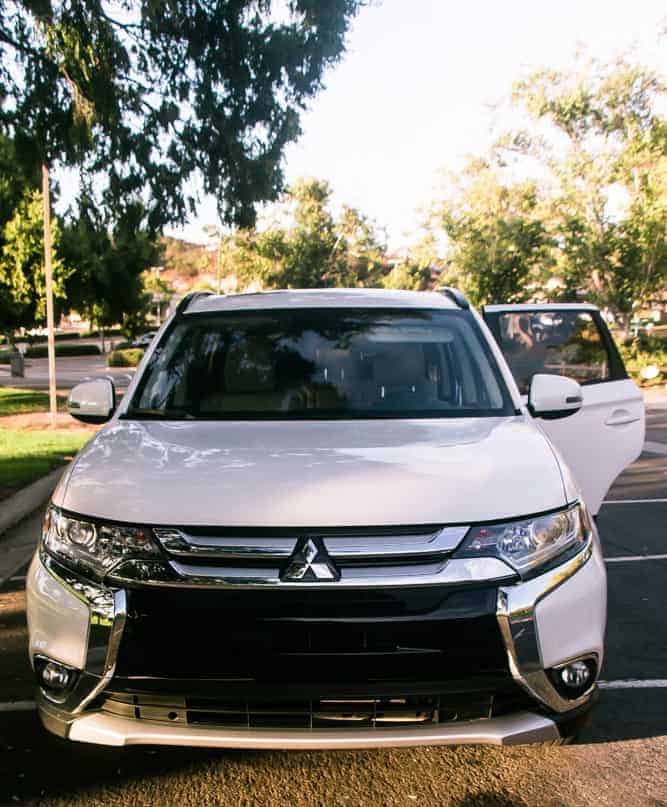 Outlander Third Row – Although we've been referring to it as a crossover vehicle many refer to it as the Mitsubishi Outlander SUV, as it has a third row of seating, something that more and more people are putting on their 'must-have' list of requirements.  We started exploring the idea of a third row when relatives would visit and we'd have to take two cars everywhere.  With traffic, parking, missed turns etc. it was exponentially more difficult taking two cars compared to one.  Mitsubishi Outlander's third row gives so much freedom, it's great to be able to pack up to seven passengers, and be the one to say "it's really no sweat, I can fit seven people".
We went to a drive-in movie one night and played around with a couple of different configurations of the seats, as each of them in the back two rows can fold down.  All four of us were tucked under blankets in the back of the Outlander having a ball, it seemed ready for whatever challenge we could conjure up.
Outlander Features –  The automatic climate control was my favorite feature of the Outlander, as I was able to set my temperature to 75 while my husband always wants a freezing 60s temperature with the fans running high.  It's something that neither one of us likes to compromise on, so it's nice when we don't have to.   The backup cam was clutch (as I'm not the best at parallel parking), and the Infotainment system with bluetooth and USB connections was great.  Overall I really liked the interface of the Outlander as I found it easier to connect to my phone, easier to use the navigation and easier to toggle through menus and sources of music etc. than most any vehicle interface on the market.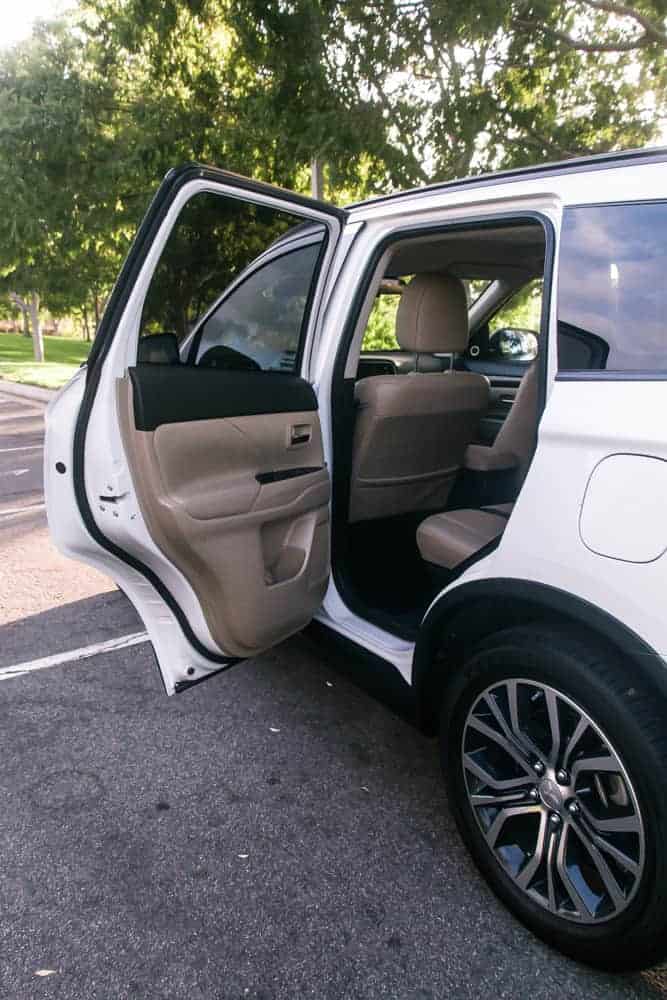 Outlander Looks and Swagger – What can I say, I love a good looking vehicle!   The lines on the Outlander are beautiful, I personally love the mix of silver and black accents alongside the paint color.  The 18 inch 2-tone wheels look modern yet classy, and the closing side mirrors are just one more cool looking feature that give this vehicle the extra flair you'd normally find in a $60k+ vehicle.   As far as swagger, I felt proud and confident driving around in the Outlander, it's modern looking on the outside and the inside has clean lines and a great trim package.  I like that it can hold its own in the mountains yet it's sleek and fit for a night out downtown.  I aspire to be the same way!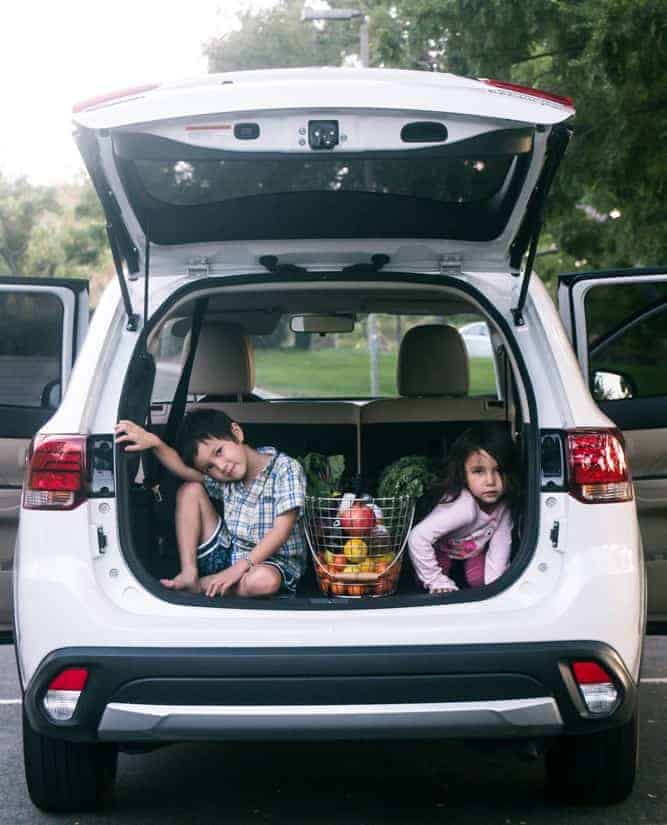 Outlander Value  –   The Outlander was named "Best Value on the Road" (at the Active Lifestyle Vehicle of the Year program) and one of Kelly Blue Book's "10 Most Affordable 3 Row Vehicles".  On top of hat it gets 25 city /31 highway MPG which is even better than some of the smaller cars out there.  These accolades and figures are impressive, but for me the Outlander is just an all-out loaded vehicle that one would think to have a much higher price tag.
I urge you to take the Mitsubishi Outlander for a spin and see for yourself why it has so much bang for the buck.  I hadn't driven a Mitsubishi in a while but am so impressed with the Outlander that I'm looking forward to checking out more of their latest line of vehicles.