If you are looking for things to do in San Diego then visit The San Diego Zoo's new Conrad Prebys Africa Rocks, which highlights some of Africa's most extraordinary species. Wander through six different habitats from savanna to seashore: Cape Fynbos, West African Forest, Madagascar Forest, Acacia Woodland, Ethiopian Highlands, and Kopje.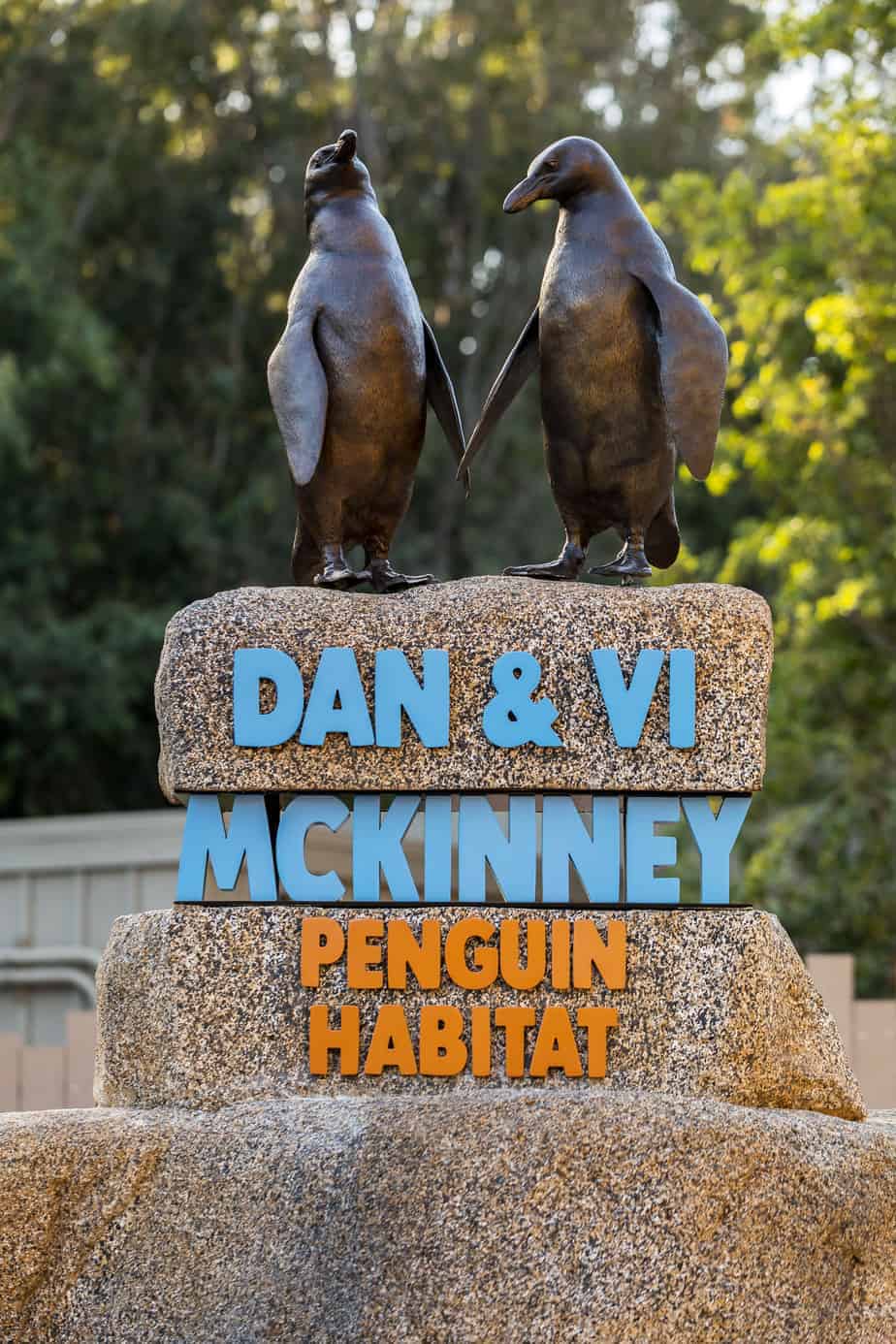 Last Sunday, My family and I got a chance to visit the Cape Fynbos habitat at The San Diego Zoo, part of the massive Africa Rocks exhibit. When people think of Africa usually animals like Elephants, Giraffes, Gorillas, Buffalo or Tigers come to mind (not all of these can be seen at the San Diego zoo!). This new venue, however, showcases unusual species, from the wildly beautiful protea plant to the leopard sharks that swim among the reefs and adorable African penguins. The tank for the African penguins and leopard sharks is a massive 275,000-gallons, with viewing areas beneath the water where the sharks meander through coral and come right up to the glass, and penguins dive down or float right above the sharks. A viewing area up top shows a different look at the sharks, as well as the cove where the penguins like to hang out. I was scared for the Penguins as a shark swam up to them but the Penguins didn't even flinch as the two cohabitate without any issue.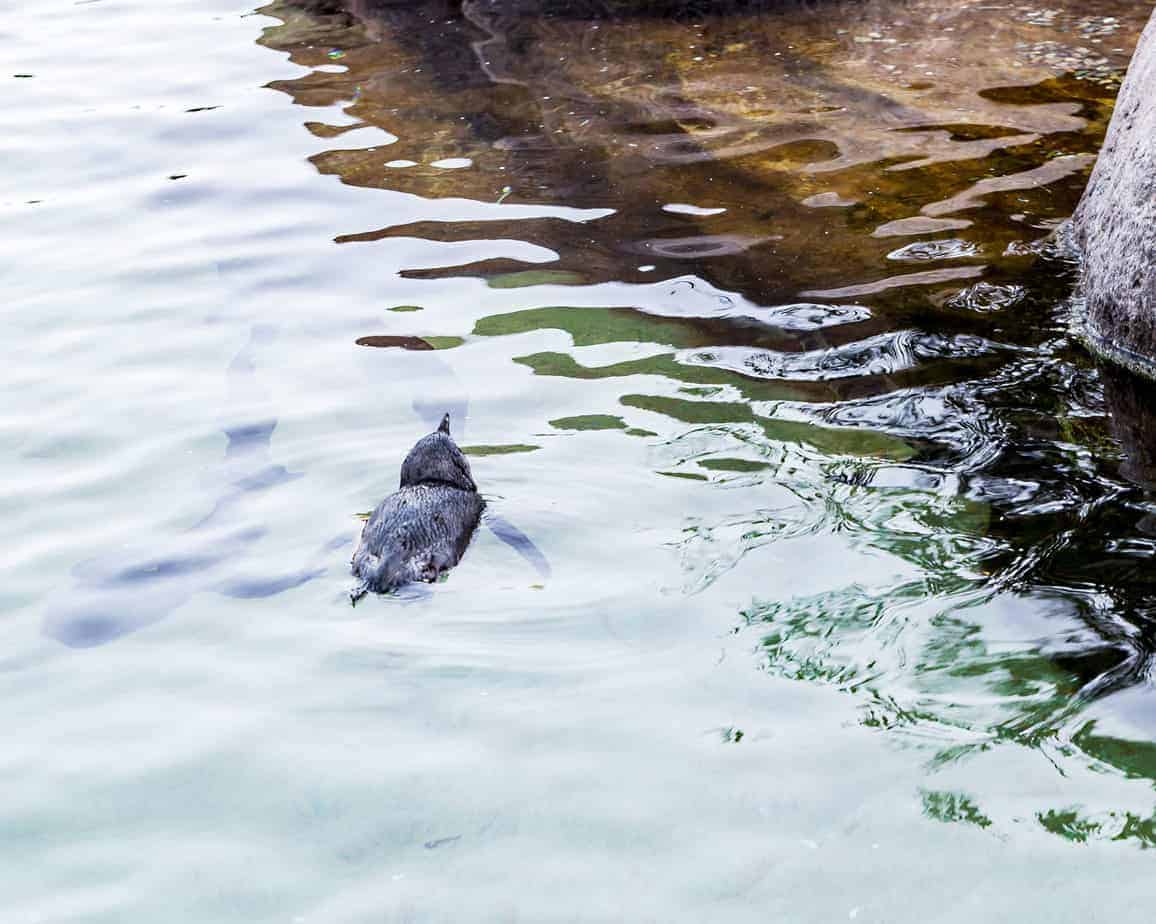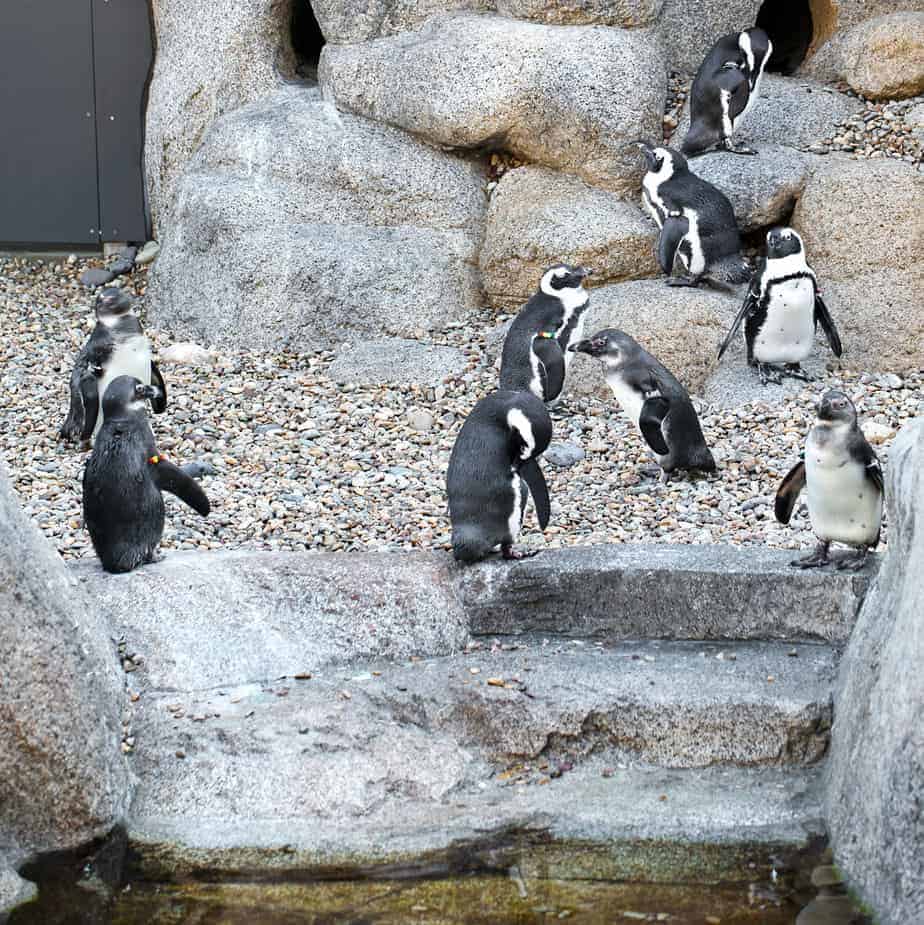 The San Diego Zoo always does things right. The sharks and penguins have plenty of room to get around, and with such a massive tank there are plenty of great viewpoints. We sat down on one of the many benches and just took in the awesomeness of watching live sharks in San Diego. I snapped the attached video of the kids with sharks swimming behind them, at least until my daughter got scared and jumped away! I personally love to just sit and observe animals for a while and found the aquarium to be a soothing place to do so. It was in a way kind of therapeutic and calming for me. We later walked along the Africa Rocks path some more where there was a cultural, interactive African performance going on. A couple of people walking around in flamingo costumes, too; there's definitely excitement in the air. Towards the end of the trail was a massive waterfall that's nearly seven stories high, the largest man-made waterfall in San Diego. You can actually go behind/under the fall for a very cool vantage point.
The San Diego Zoo is one of San Diego's best attractions, and my family has been proud members for nearly two decades. There have been some big additions over the years, like the impressive Australian Outback from just a few years back. I must say though that the Africa Rocks addition looks like the biggest expansion yet. If you're lucky enough to have visited the zoo before then you know it's massive size, and how a couple of the trails loop around the perimeter. The #AfricaRocks is basically filling in a major portion of one of those huge trails. The zoo didn't pull any punches on the expansion. It feels very modern, yet stays true to the habitats as the San Diego Zoo is a world leader in that regard. I think the animals and zoo patrons will all be very happy.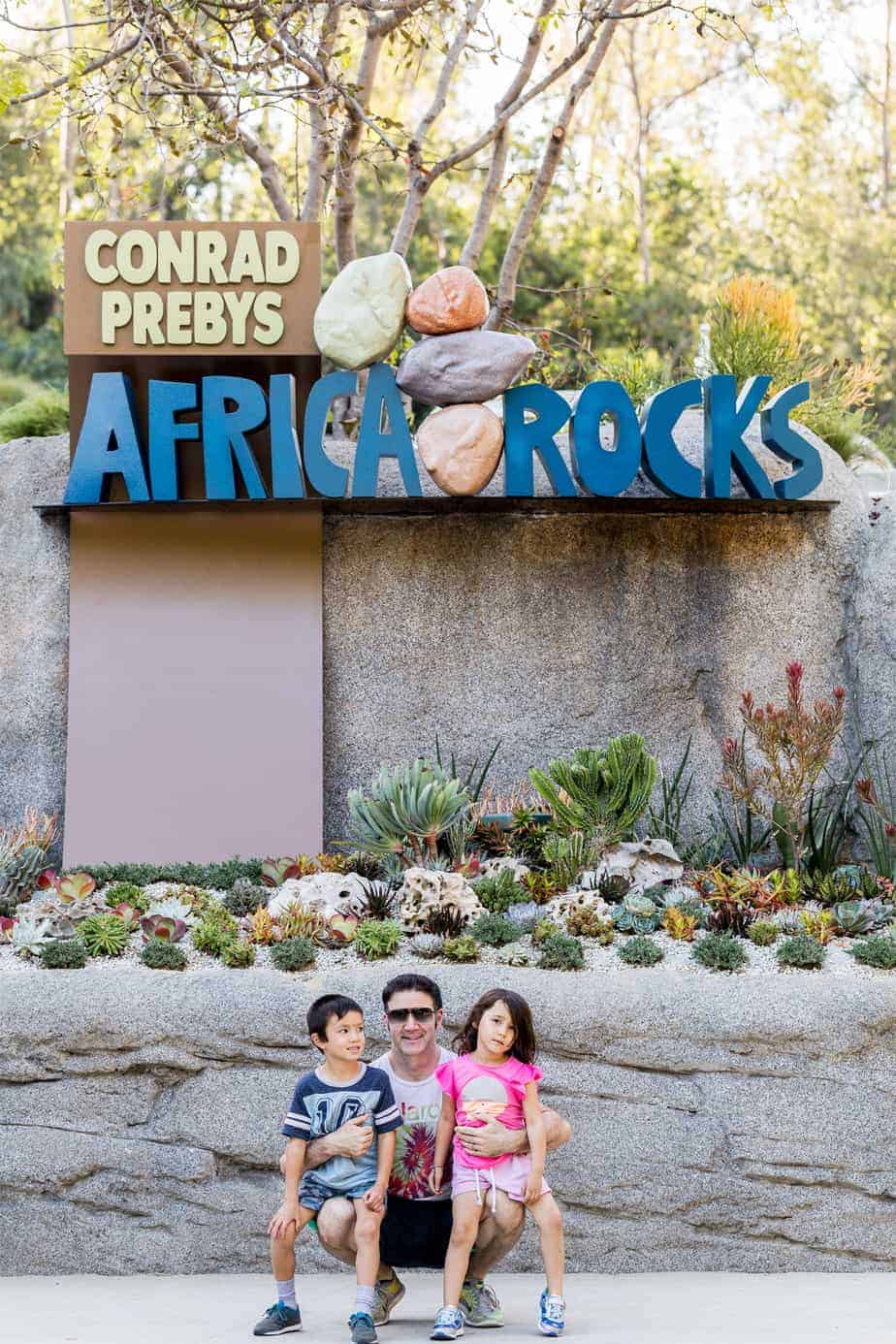 Six New Africa Rocks Habitats:
You can see the other expansion areas being worked on as well to introduce new Africa Rocks habitats. I can't wait to see each of them and introduce my kids to even more of the world's wondrous creatures:
o Kopje – These boulder-strewn islands in grassland savanna are home to a variety of animals that live their lives among the rocks, including meerkats, hyraxes, and klipspringer antelope. Of this bunch, I think I've only seen meerkats, who can be especially entertaining when they're perched up and looking around.
o Ethiopian Highlands This rugged mountain habitat is made up of craggy, granite peaks and plateaus. The unique species adapted to this environment include Hamadryas baboons, geladas, and Nubian Ibex. The primates section of the San Diego Zoo is the most impressive I've ever seen (I could watch the bonobos for hours). I'm excited to see more is coming!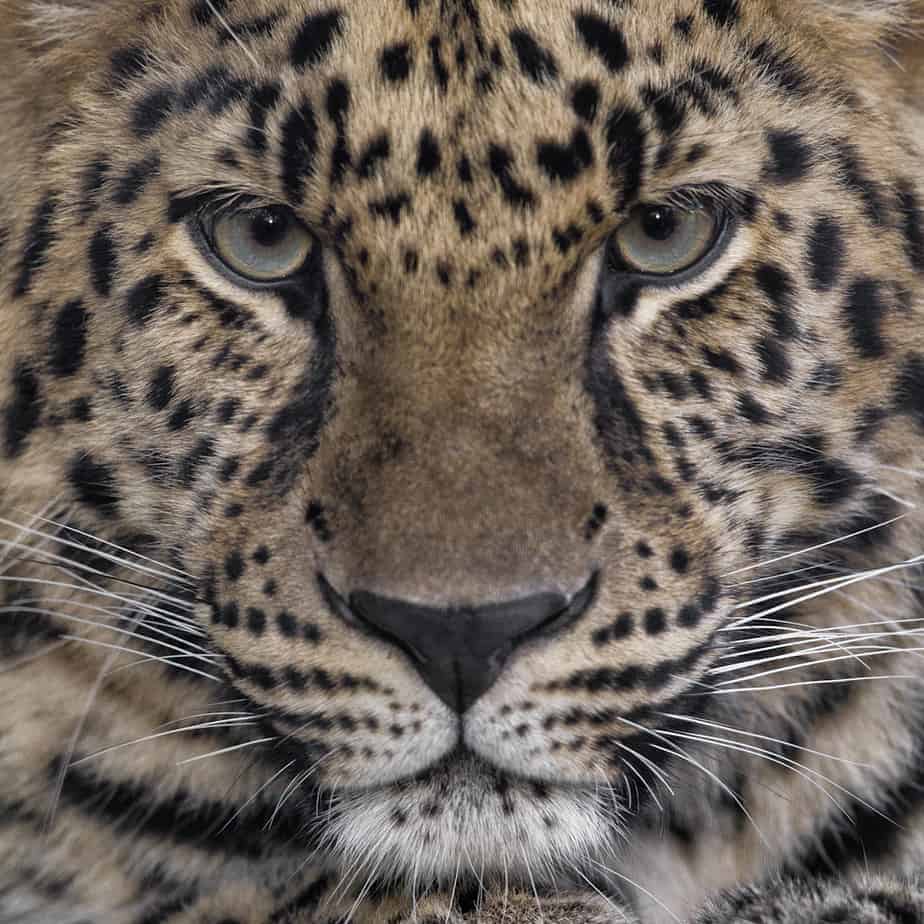 o Acacia Woodland – This open woodland habitat features shrubs and grasses among thorn-bearing acacia trees. Leopards prowl here, vervet monkeys chatter in large family groups, and a colorful bevy of birds flit and nest among the branches in a huge walk-through aviary. This sounds gorgeous, I may be most curious about this particular habitat.
o Madagascar Forest – Madagascar's forests are among the world's most distinctive, with dramatic limestone formations and spiny-dry forest plants. This is home to species found nowhere else on Earth, including the extraordinary tree-leaping lemurs. I have heard that Madagascar has the most amazing wildlife on the planet.
o West African Forest – The dense, tropical forests of western Africa get up to 80 inches of rain each year, creating waterfalls, streams, and pools for fish and the dwarf crocodiles that eat them. Crocs are one animal that my kids want to see more of at the Zoo, I know they'll want to come to this exhibit on day-one!
Support San Diego Zoo Global's efforts to protect and grow species populations of animals, such as our work with African penguins!