Disclosure: This is a sponsored post written by me on behalf of Dansk® Everyday Dinnerware.
Today I am going to share my favorite easy summer recipes: fresh Asian Cabbage Mango Salad with Grilled Shrimp, easy grilled pork chop, and gazpacho, all served on the beautiful Dansk Kallan collection.
I've been a big fan of Dansk for my entire life. They always create beautiful designs on cookware, dishes, plates, flatware and serve ware that are perfect for every get together. I was excited to partner with them as using Dansk makes a dish or an entire table setting look amazing. Even a simple salad will catch people's eyes when on a Dansk plate or bowl. This particular stoneware collection has beautiful speckled brown and cream colors, a motif that works well year round (I'm just picturing my favorite wild rice soup recipe in these on a cold winter day!). I think these summer recipes look great as well.
You can feel the quality of this stoneware; they are heavier and don't feel like they'll chip or break easily like other plates I have. The stainless flatware is also of a heavier, better quality, yet has elegant shapes and curve. Dansk has always been a front-runner of giving stylish products that function well in our typical American households (on that note, these are dishwasher and microwave safe).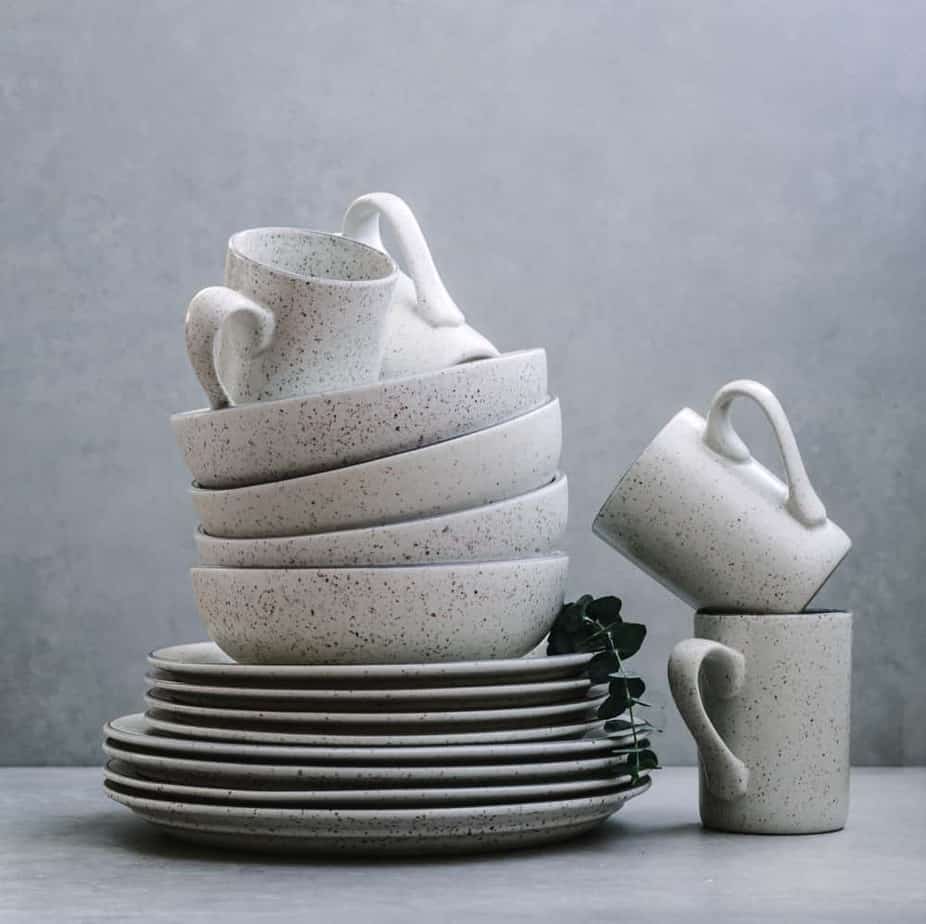 I've been obsessed with Dansk cookware and actually spend some time each week bidding on their antique items. I love the pride that they put into their products, they're built to last and all of their designs are timeless. I can't wait to host some more gatherings at my house to show off the Dansk Kallan collection. I already know which of my friends and family will likely want to go out and get the same set, and I know they too will be pleased with their purchase.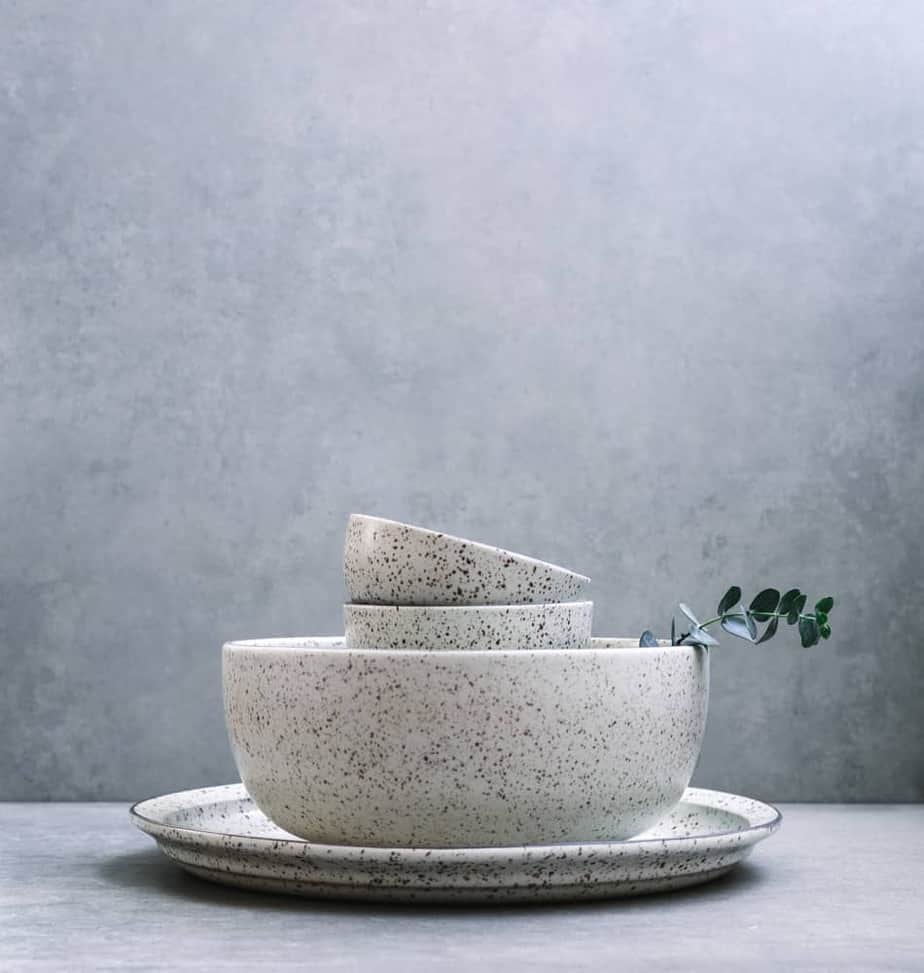 Summer is always a busy season for me and my family. It's the perfect time to get together and to do more outdoor activities. I am a big fan of eating seasonal produce, and I also love serving light and easy recipes where I don't have to spend a long time in the kitchen.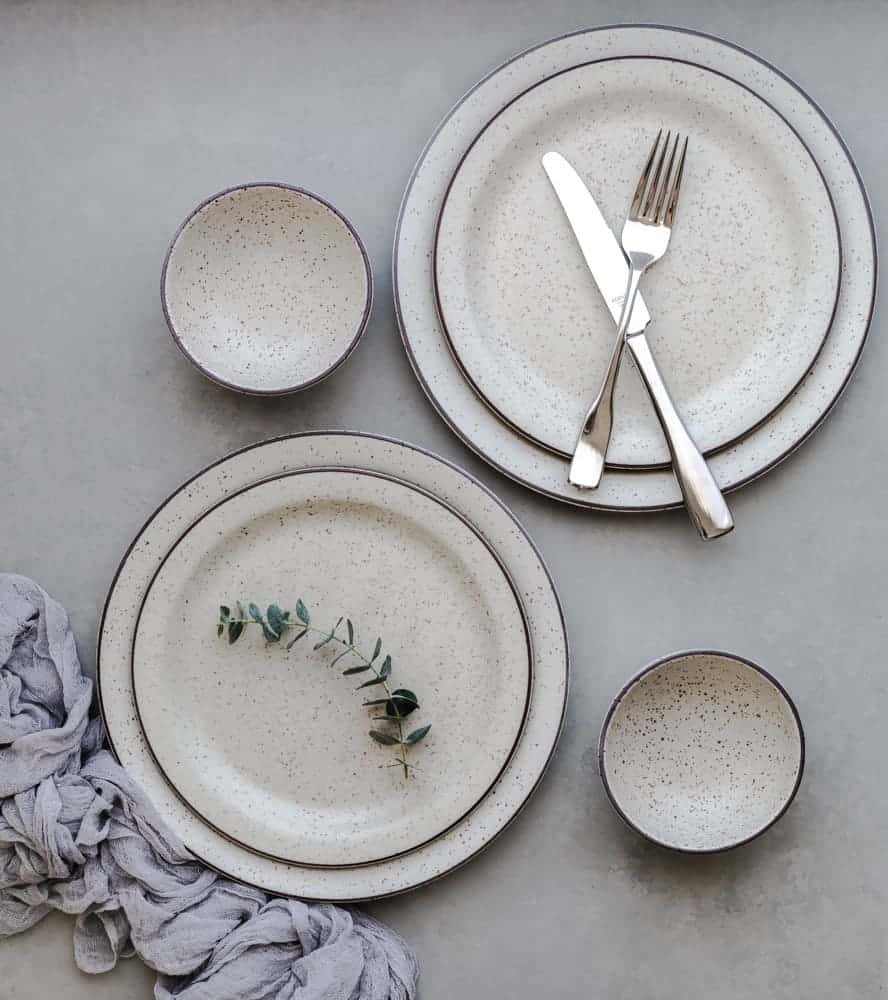 I recently made a delicious Asian Cabbage Mango Salad with Grilled Shrimp, easy grilled pork chop and gazpacho. Below you can find the recipes.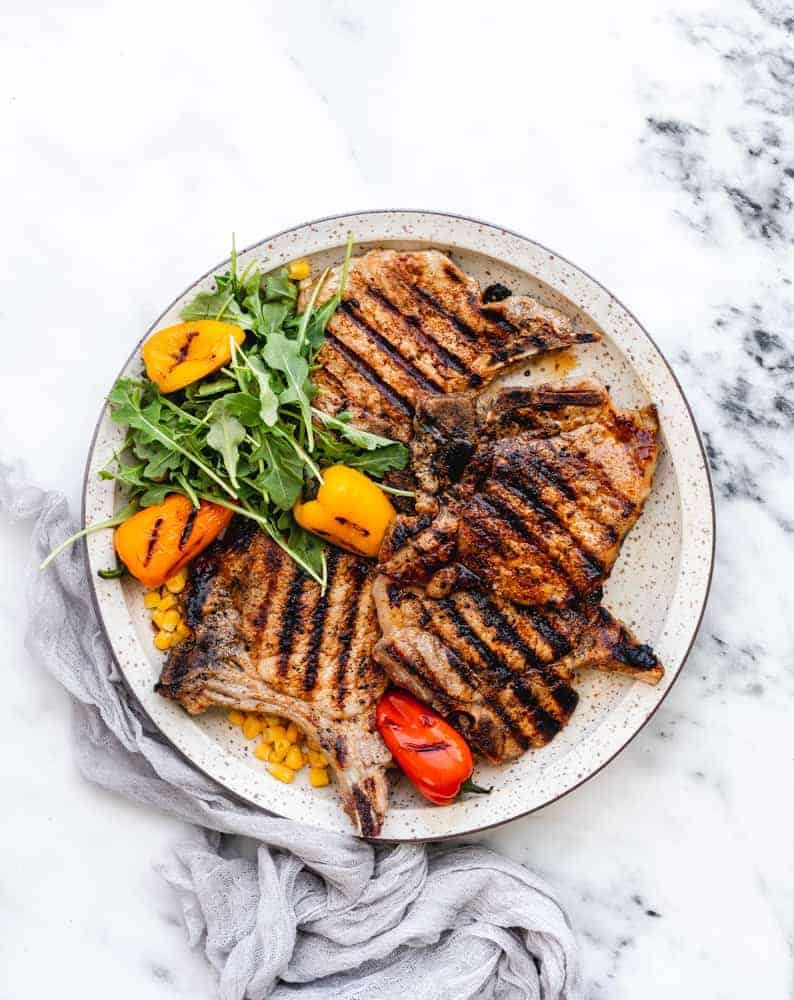 The Asian salad has two types of cabbage which are healthy and bring out some nice colors, cilantro (which I absolutely love, but know that it's not for everybody), peanuts, mango and sesame seeds. I like having shrimp in the salad as I think it goes quite well with the cabbage and peanuts, and also gives the salad a great boost of protein. The dressing is light, which is how I prefer it, and is quick to whip up with just a few ingredients.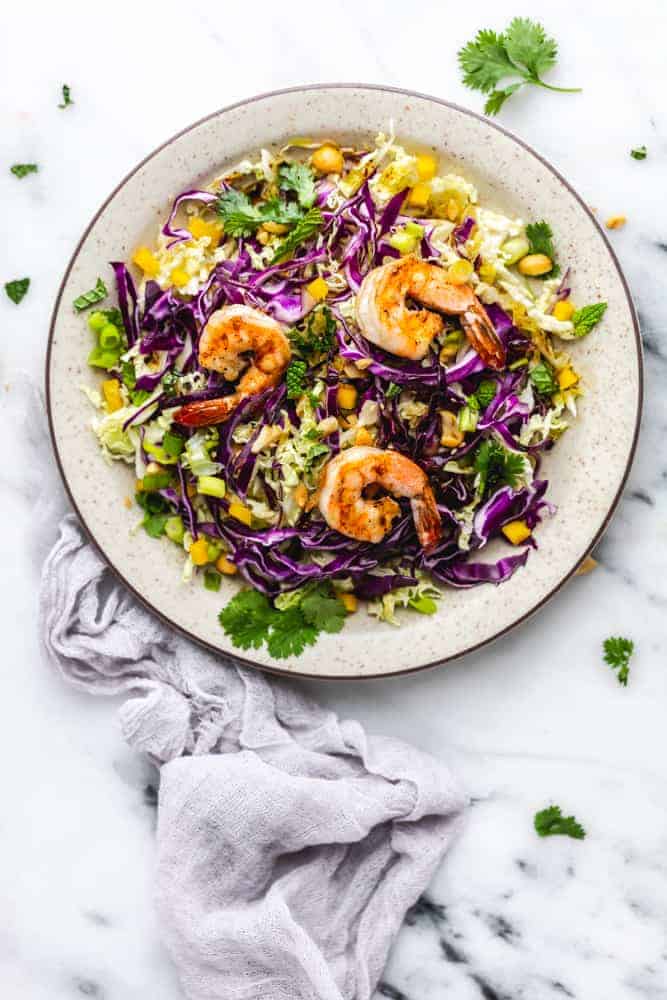 I'm a big fan of soup and it's great to have some cool soup options for the hot summer days. This gazpacho soup fits the bill perfectly and goes well with many different types of entrees. One of my husband's friends is not big on eating vegetables and it's like pulling teeth trying to get him to order a salad. He devours gazpacho though, I guess he's just a soup fan. My philosophy is "whatever works"… as long as people are eating veggies I'm happy.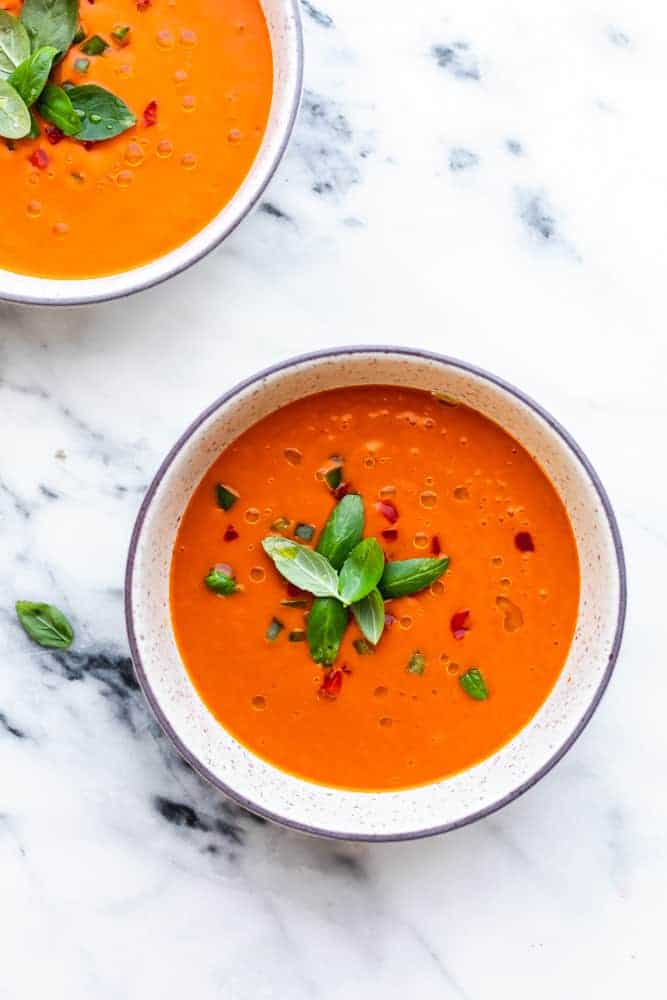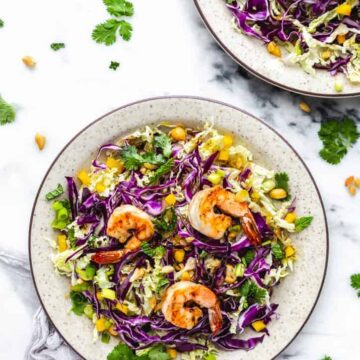 Asian Cabbage Mango Salad with Grilled Shrimp
Ingredients
½

cup

medium size Napa cabbage

½

cup

shredded red cabbage

3

tablespoons

chopped green onions

⅓

cup

thinly chopped mango

2

tablespoons

fresh chopped cilantro

2

tablespoons

roasted and unsalted peanuts
Salad Dressing:
½

cup

avocado oil

¼

cup

squeeze orange juice

2-3

tablespoons

soy sauce

3

tablespoons

rice vinegar

½

teaspoon

minced garlic

½

tablespoon

grated ginger

1

teaspoon

toasted sesame seeds

salt and black pepper to taste
Instructions
To make salad dressing:
Add all the salad dressing ingredients in a jar or other airtight container. Cover, shake well and serve. You may keep it in a fridge for up to a week.
To make grilled shrimp:
Preheat grill for medium heat.

In a small bowl, add minced garlic, salt and olive oil. Toss in the shrimp into the paste, stir until well coated.

Lightly oil grill pan. Cook shrimp for about 2 minutes per side.
To serve the salad:
In a large salad bowl, add shaved Napa cabbage, red cabbage, green onions, cilantro, and thinly sliced mango. Stir in a generous amount of salad dressing (about 5 tablespoons) , serve with grilled shrimp, toasted sesame seeds and chopped peanuts.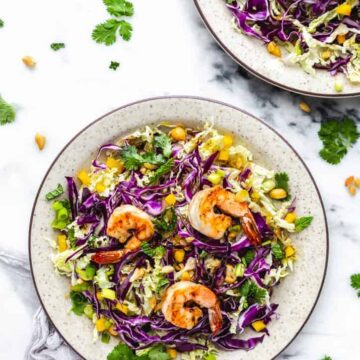 Gazpacho soup
Gazpacho soup, made of fresh summer vegetables, serve cold.
Ingredients
2

pounds

ripe tomatoes

1

8 inch cucumber, peeled and seeded

1

medium red bell pepper

,

cored and seeded

1

garlic clove

½

onion

,

cut into small chunks

2

teaspoon

sherry vinegar

½

cup

extra virgin olive oil

salt and pepper to taste
Instructions
In a high speed blender, combine tomatoes, red bell pepper, cucumber, garlic clove and onion. Blend for about 2 minutes.

Slowly add sherry vinegar and olive oil into the mixture. Keep blending until smooth. Season with salt and pepper to taste.

Strain the mixture with a strainer, discard the solids and transfer into a large jar, put in the fridge until cold for about an hour.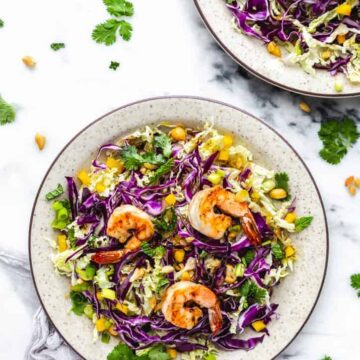 Easy Grilled Pork Chops
Ingredients
4

bone-in pork chops

2

tablespoons

honey

1

tablespoon

vegetable oil

½

tablespoon

apple cider vinegar

1

teaspoon

cumin
Instructions
In a mixing bowl, which together the honey, oil, vinegar, and cumin.

Place pork chops in a re-seable plastic bag, pour in the sauce and let rest and marinade for about 1 hour.

Pre heat the grill pan over medium heat.

Cook the pork chop on the grill for about 3-4 minutes on each side. Season with salt and pepper if needed.