Avocado, Spinach and Berries Bowl
This vibrant smoothie bowl packs a punch for your health. It's quick and easy to make, just how I like it.   I've enjoyed this for breakfast, but it makes for a nice snack or dessert and kids will like it too. Be mindful of portion size to prevent extra calories, as it does have a hefty sugar content.  On that note I actually altered the original smoothie recipe by replacing high sugar fruits (such as banana and orange), and instead use Avocado.  It's a wonderfully healthy, low-carb food.  I also often use generous amount of frozen pomegranate and berries, as they're healthier than most other fruits.   Chia seeds are a great add on this and most other fruit/veggie smoothies, and will help increase fiber.  Fiber doesn't raise blood sugar and keeps us feeling full for longer periods of time.
Feel free to adjust the recipe to your preference. If you like a sweeter smoothie, you could use orange juice instead of almond milk, but again be mindful of your sugar intake.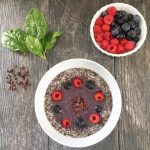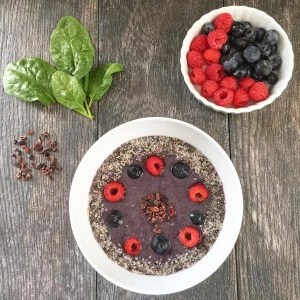 Avocado Spinach Berries Bowl
Ingredients
Smoothie Blend :

1/3

Avocado

2

Cups

of Spinach

1/3

cup

of frozen/fresh pomegranate

1

cup

of frozen/fresh blueberries

1/2

teaspoon

of Wheatgrass Powder

1

Cup

of Cold Unsweetened Almond Milk or Hemp Milk

Cashew Milk

Toppings :

Fresh Raspberry

Fresh Blueberries OR any fruits of your choice

Chia Seed from NUTIVA

Cocoa Nibs

Hemp Seeds from NUTIVA
Instructions
Simply blend Avocado, Spinach, Pomegranate, Blueberries, Wheatgrass Powder together in a blender. Stir the ingredients and then continue blending but keep the consistency thick or not too thin.

Add toppings and serve