Here's a balsamic vinaigrette salad dressing recipe that I think you'll love. If you are on the hunt for a detox salad that is extremely healthy, but has vibrant colors and tons of taste then this is for you! The thyme honey taste tastes better than anything you'll find at the store, and it's so simple to whip together (much like most other homemade salad dressings!). The veggies in this salad are probably not the first ones that come to mind when putting a salad together, and its uniqueness will win you some points (without sacrificing taste).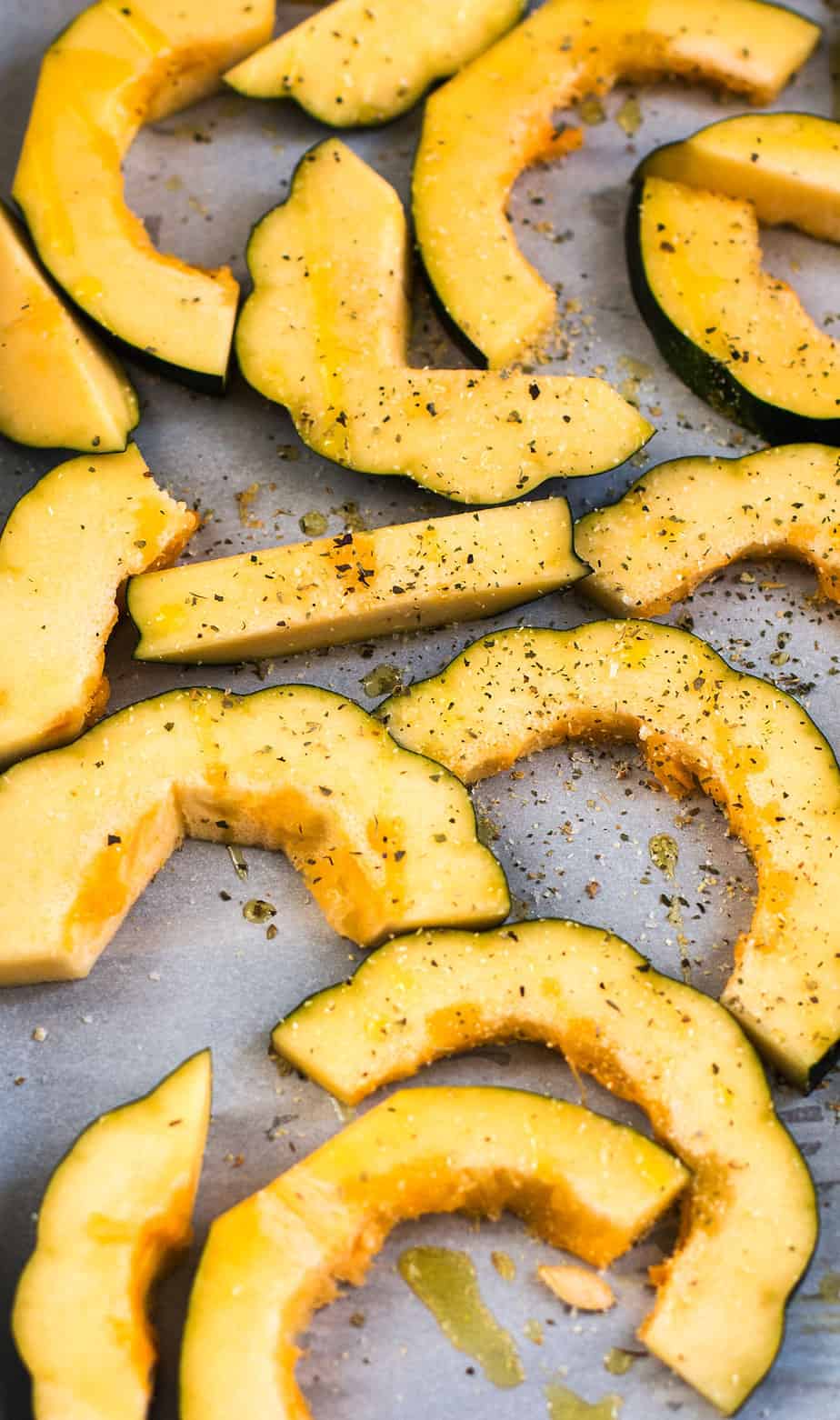 Microgreens salads are a big rage right now. A couple of you reached out to see if I have any microgreen recipes up my sleeve, and the answer is yes! When most people are in the market assembling items for a salad they gravitate towards cucumbers, tomatoes, and the like. This salad instead has centerpieces of some unconventional salad items like roasted squash, peas and roasted corn. Squash is a powerhouse of taste and (much like eggplant) can completely change, usually with vast improvements the taste of any dish and even the entire plate. The texture works great in-contrast with the microgreens, and the corn and peas both give the salad some 'pop', literally. Butternut squash is the most common squash and for good reason, but don't shy away from other types of squash like the acorn squash I used in this dish. Corn almost always tastes better roasted, and since you'll already have the oven going for the squash it's a no-brainer.
Making my own salad dressing has become a steps that I take in 99% of the salads I make. It's important to me to have control over the healthiness of each element of my dish, and the wrong salad dressings can undermine all of the other good things going on in a salad both in respect to taste and nutrition. Why not just make your own? It takes just a few minutes and you get to play mad scientist a bit by adding a touch of this and that to see what flavors come out best. I think the combination of honey and thyme leaves really work. As shown in my picture the leaves make for nice, functional décor as you present and serve your salad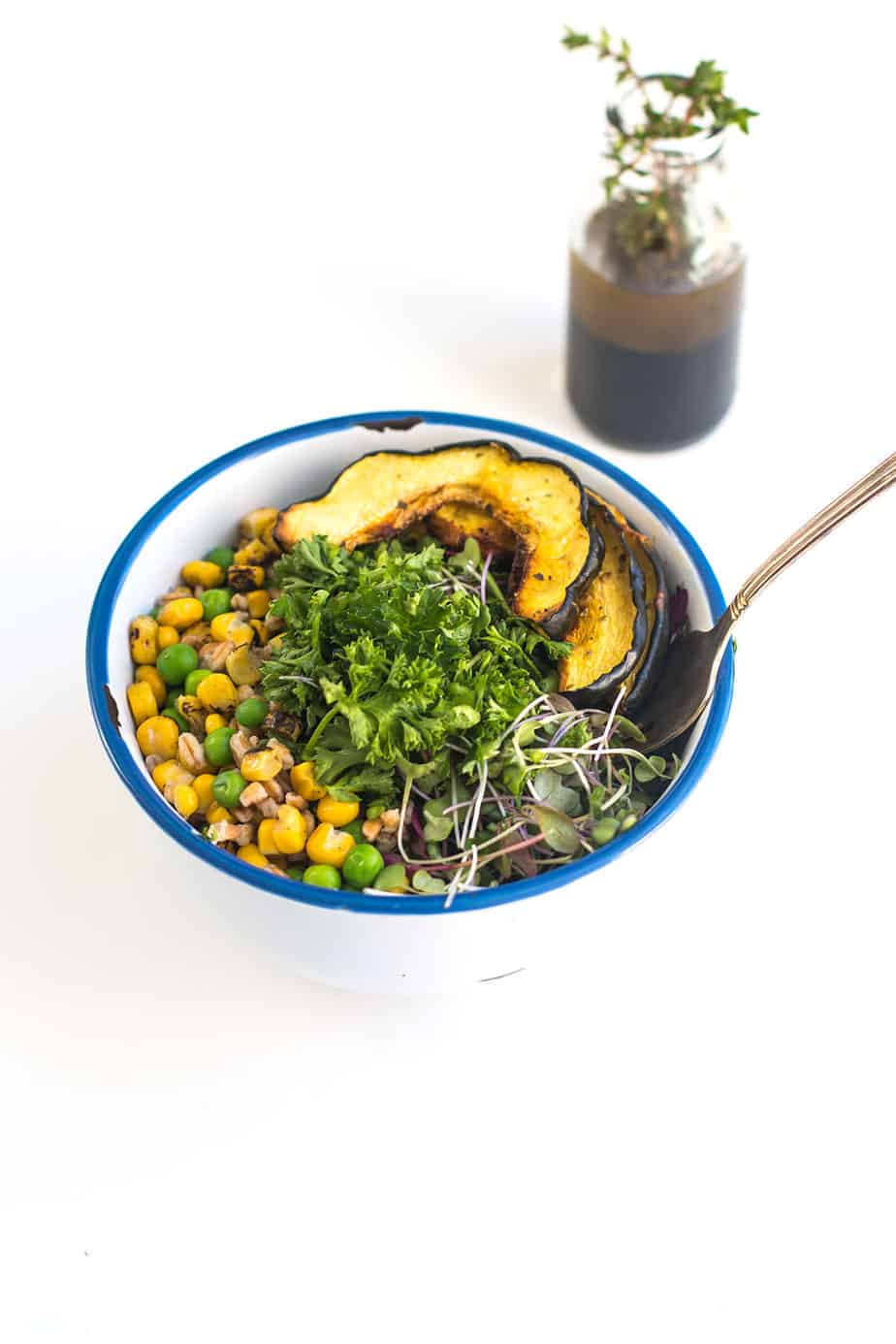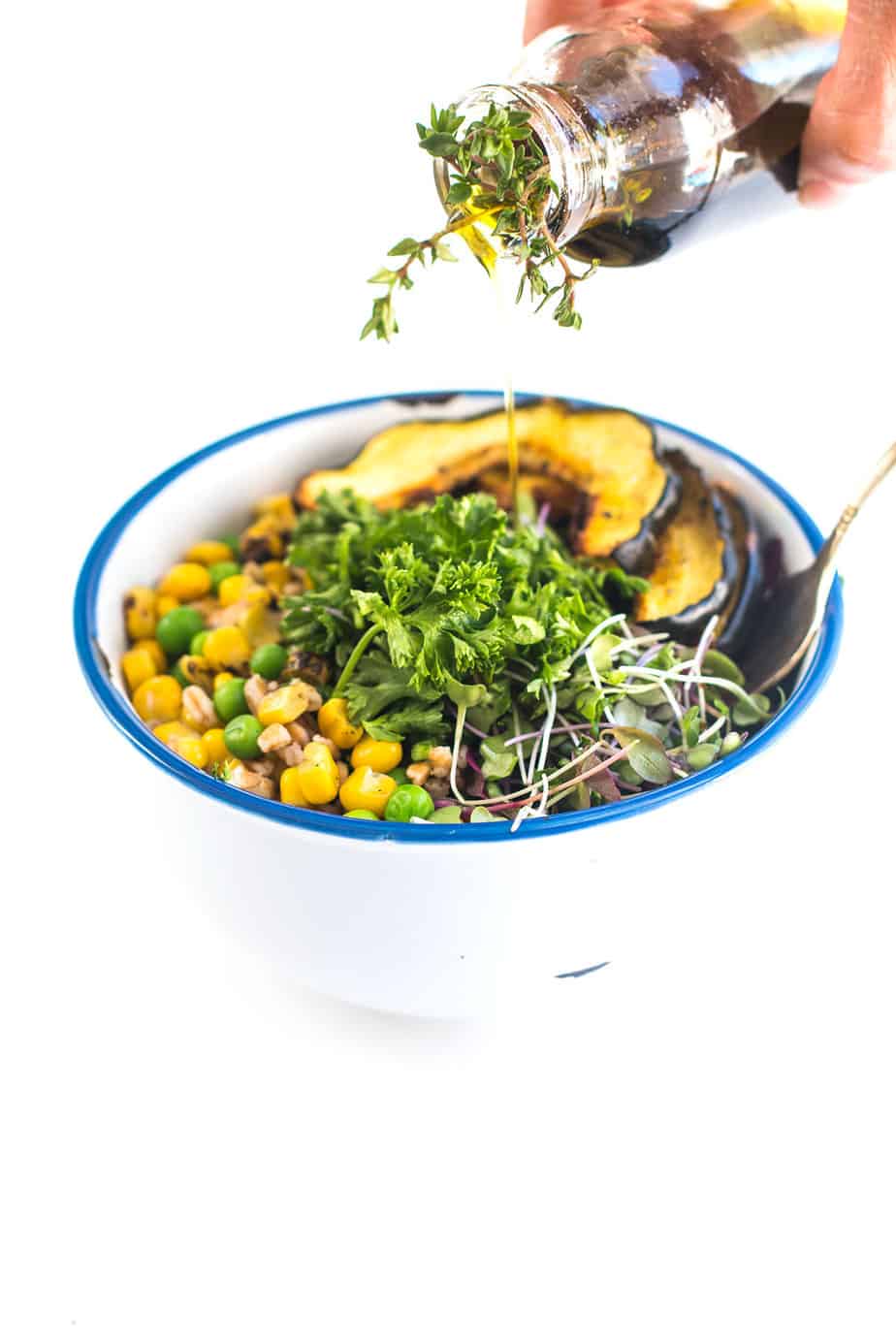 Ingredients
Balsamic Vinaigrette Salad Dressing Recipe:

2

tablespoons

balsamic vinegar

1

tablespoon

honey

1

tablespoon

coarsely chopped fresh thyme leaves

1/4

cup

extra-virgin olive oil

Coarse kosher salt and ground pepper

in

Mix all ingredients a small bowl

whisk together and season with salt/pepper if needed

Salad Mix Recipe:

Microgreens

I purchased mine from Traders Joe

Grilled Corn

Peas

Farro

cooked according to the packaging

cilantro

chopped

parsley

chopped

Roasted Squash recipe:

2

inch

small acorn squash

seeded and cut into 1 to 2 wedges

1

tablespoon

extra virgin olive oil

Sprinkle of Garlic Salt

Sprinkle of Black pepper

Sprinkle of Lemon Pepper

ground
Instructions
Preheat oven to 350 degrees F (175 degrees C).

Bake the acorn squash in preheated oven for 30 minutes, or until tender.

To Serve Salad:

Place microgreens, grilled corn, farro, peas, roasted squash, cilantro, parsley into a salad bowl then serve with salad dressing.