Do you love Indian food? How about Indian curry? This easy vegan indian curry recipe is so healthy and easy to make. With the butternut squash as one of the main ingredients to bring sweetness to the curry.
This recipe is also perfect for vegan diet.
My husband can eat curry every day! He loves everything about it and whether enjoying curry with meat or curry with vegetables he is plenty happy if I instead prepare vegan style curry he is just as satisfied, as long as I put in some filling vegetables, tempeh or tofu. If you've traveled through Asia you especially know that Indian style curry is very different from a Thai curry (or that from another Southeast Asian country). I love to explore them all and really haven't found any that I dislike. Curry can be a great option for those people trying to eat better but still want something with a lot of flavor (and maybe some heat too, if you're into that). That's how my husband is and while he is not 100% vegan he tries to eat mostly plant-based foods during the weekdays, and also some fish that are high in omega 3, such as Salmon.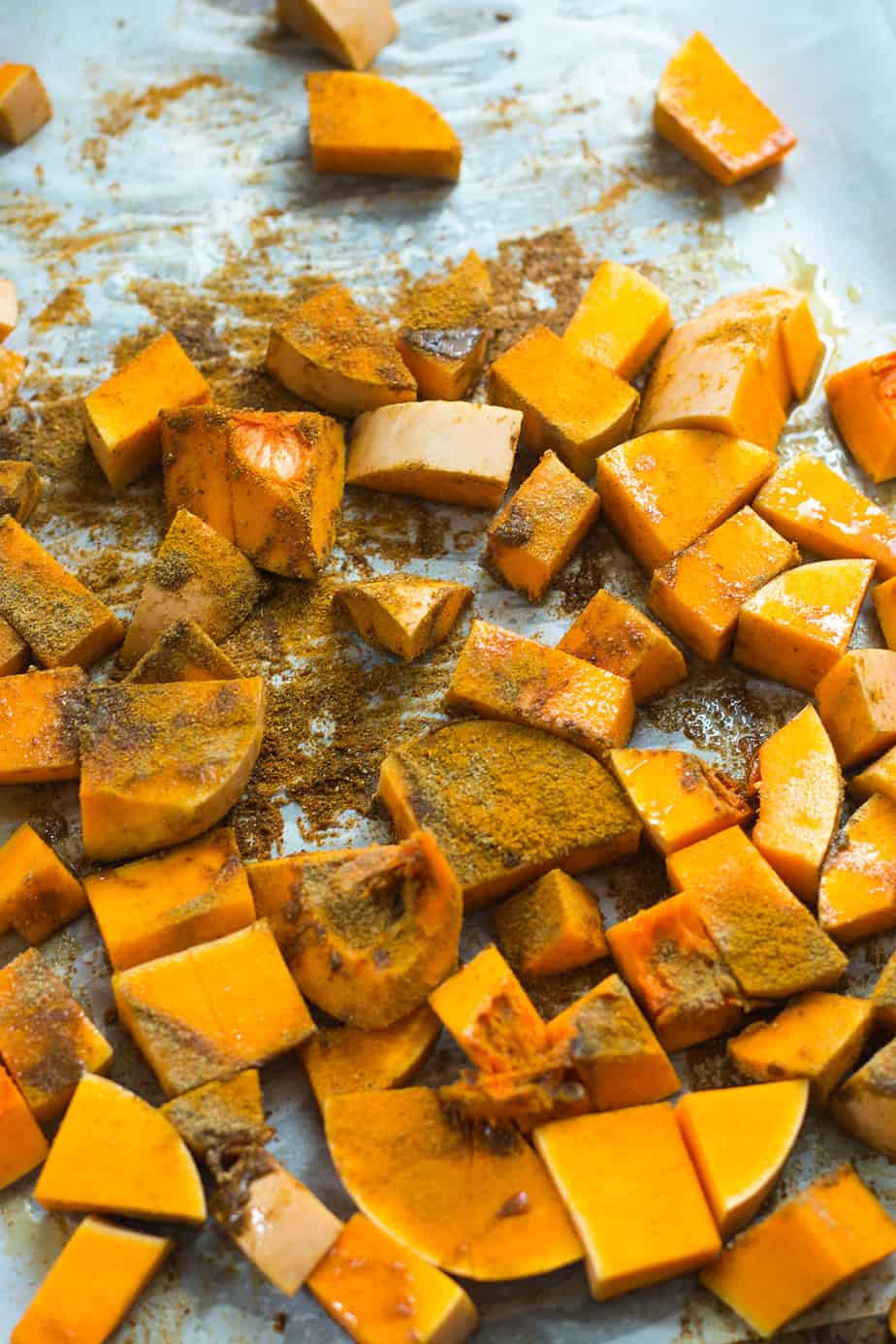 I most often make curry recipes with chicken or beef, vegetables and coconut milk. This low-fat vegan curry recipe is equally as tasty and has no cream or coconut milk as a main ingredients. This recipe uses simple ingredients, you can find most of these spices/herbs in any market so don't panic if you don't have an ethnic market nearby.
Please note, you may also you use acorn squash for this recipe and add some chickpeas or garbanzo beans(canned) to add some extra nutrients. Chickpeas are know for their protein and fiber content. I think it's a good idea to add some legumes into your diet or to replace rice. If you decide to add some canned garbarzo beans, be sure to pick the low-sodium option and add salt to your recipe as you taste. For something like salt it is always better to control the amounts yourself. You may also add fresh green leaves, such as spinach to this curry recipe.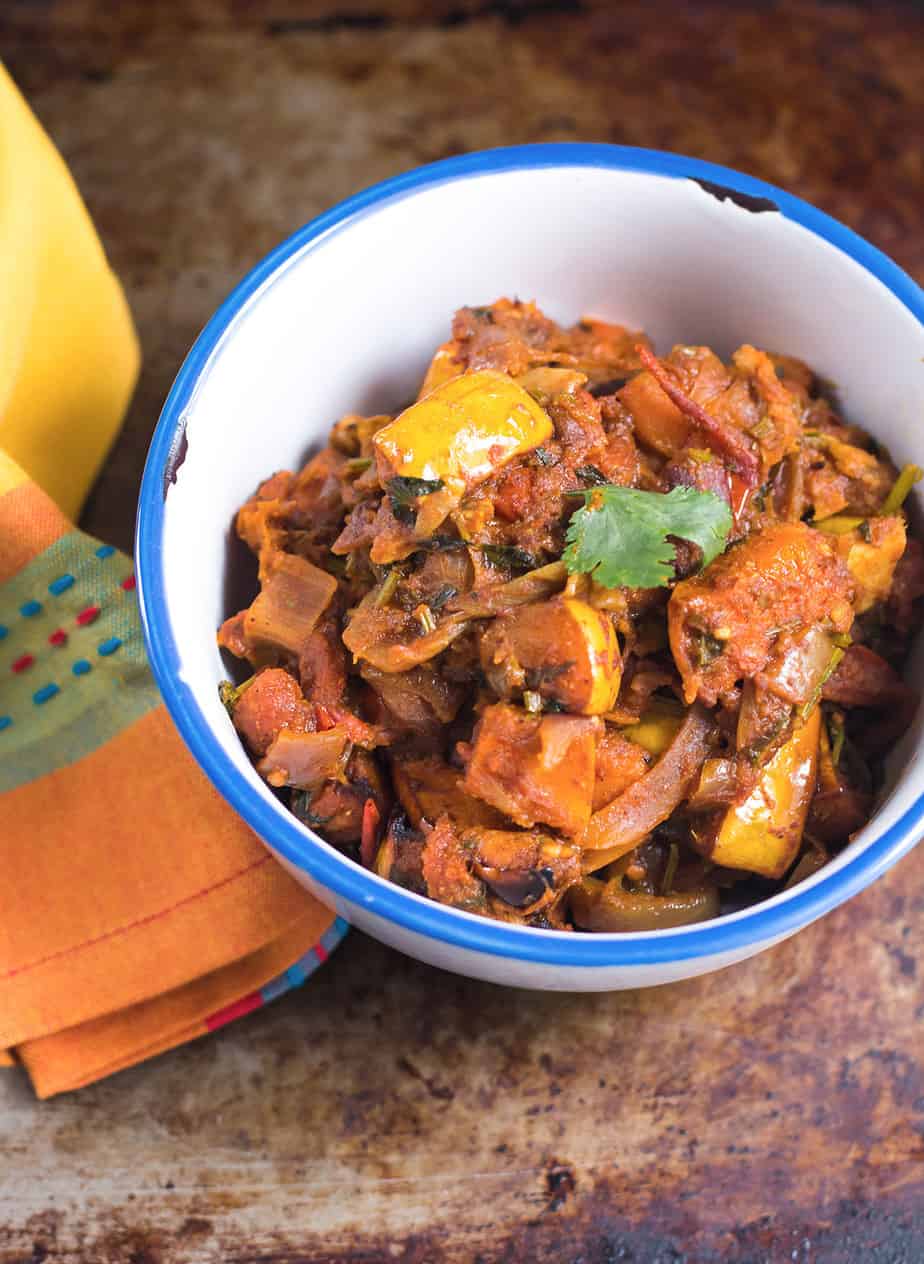 The sweetness of the dish comes from the butternut squash, so there is no need to add extra sugar (most Thai curry does require some sugar). You can purchase the Madras curry powder online or from Asian stores. Madras style has the perfect blend of chili powder to add just the right amount of heat. Or, you can make your own madras curry powder by combining these : corriander seeds, cumin seeds, fenugreek seeds, cassia bark, cardamom pods, black pepper, dried kashmiri chilies, curry leaves, ground turmeric. The spices used in this recipe not only help boost the flavor but also offer health benefits to our body. Spices and herbs are known with their anti-inflammatory benefits, and while stressed in other parts of the world don't get enough press in the US for all the great things they do for our bodies.
I hope you really enjoy this vegan recipe!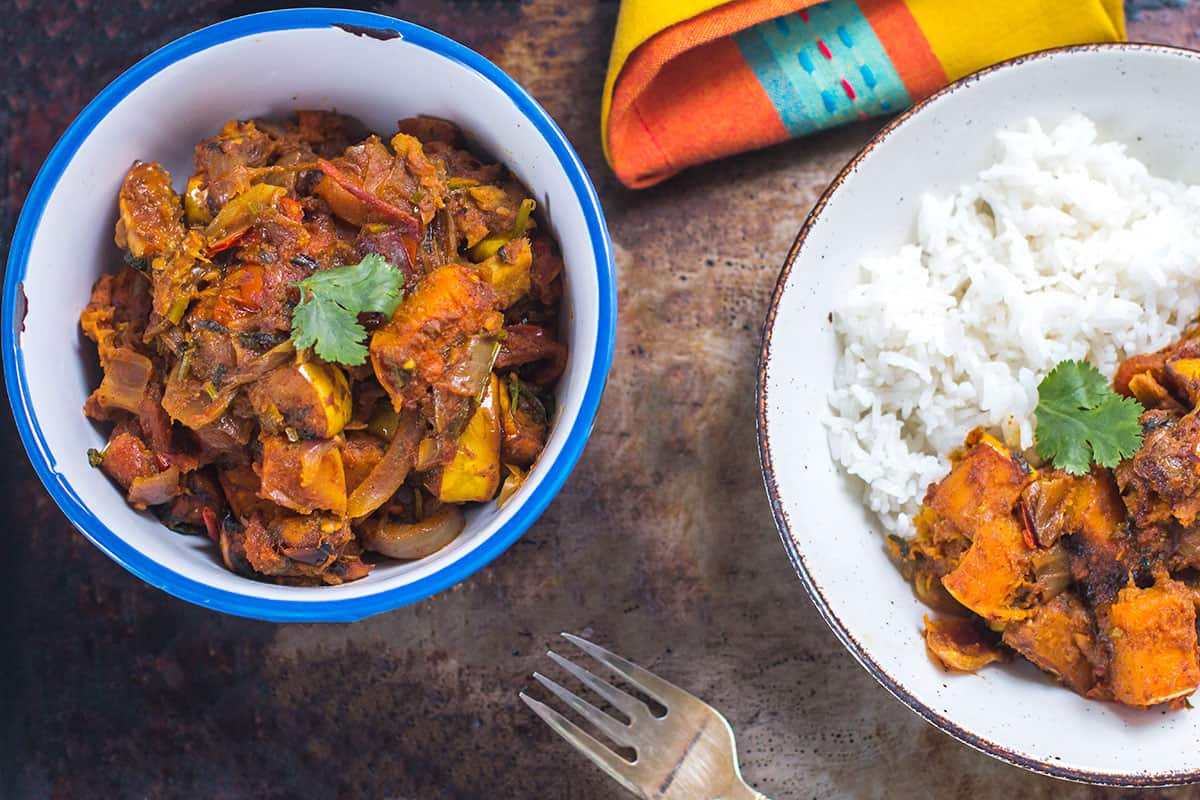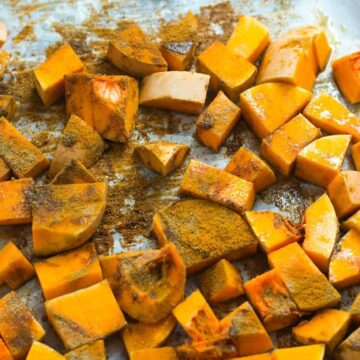 Best Vegan Curry Recipe - Butternut Squash
Ingredients
1

medium size butternut squash

2

red onions

1

slice

small bunch cilantro

,

Finely the coriander stalks

2

cloves

garlic

,

peeled and chopped

1

inch

fresh ginger

,

peeled and chopped

6

large tomatoes

2

tablespoons

olive oil

salt/pepper

Curry Seasoning Ingredients:

2

tablespoons

madras curry powder

2

teaspoons

cumin

2

teaspoons

coriander

1

teaspoon

garlic powder

1

teaspoon

onion powder
Instructions
Preheat oven to 400F

Wash and cut the butternut squash into rough chunks, seeds removed.

Place the butternut squash on a sheet pan, drizzle with olive oil and curry seasoning ingredients (curry powder, cumin, coriander, garlic powder, onion powder). Roast for about 40 minutes or until tender

Place a large sauce pan on a medium heat. Add 1 tablespoon olive oil then red onion, garlic, ginger, coriander stalks, salt/pepper to taste and stir fry for about 10 minutes or until softened.

Add chopped tomatoes, bring to boil and reduce to a simmer, place the lid on a sauce pan and cook for about 20 minutes.

Remove squash from the oven then add to the curry. Cook for 10 minutes.

Serve with rice and Enjoy