Black Sticky Rice with Mango Dessert
Ahh this is a food I grew up with! My mom would always make this dessert on weekends and I was infatuated with the taste from a young age.  You'll probably see this menu at Thai restaurants but they often sell it for a lot of money… it is so simple to make and hardly costs a thing to make at home so I really recommend giving that a try.  Sometimes people shy away from dishes and desserts that are from other parts of the world as they're perceived as difficult and exotic… don't be, many of them are extremely easy to make!
For this recipe, I used panda leaves . My mom brought these frozen leaves a while ago. I  am pretty sure you can find these leaves at Thai/Vietnamese or other asian market. They sell them in a frozen area.
You can cook the black rice in a rice cooker or boil in a big pot. I hope you enjoy this recipe.  A rice based dessert dish is healthier than many other dessert options, but the sweetness and juiciness of this dish will keep you wanting more… on that note, you may want to make extra!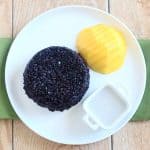 Black Sticky Rice with Mango Dessert
Ingredients
1

cup

of Black Sticky Rice or Black Wild Rice

2 1/4

cups

water

Leaves

Recommended : 2 Pandan

you can find this product at local asian market. You can find the leaves frozen, which are almost as good. They add distinct, sweet, floral-like notes to your recipes.

Coconut Milk Sauce :

1 1/2

Cup

of Coconut Milk

1/4

teaspoon

of salt

250

grams

coconut sugar or palm sugar

Toppings :

Fresh Mango
Instructions
Soak black glutinous rice in water overnight. Add water in a large heavy saucepan with fitting lid. Bring to boil over high heat then cook the rice until its tender.

Meanwhile, heat up the coconut milk in a heavy pot over medium. Do not oil the coconut milk. Add sugar and salt, stir to dissolve completely

Place the sticky rice on a serving dish, pour the sauce and serve with Fresh Mango