Try this delicious Mâché Salad with Blueberry Salad Dressing Recipe. Mâché is known as corn salad and lamb's lettuce. It's an edible leaf vegetables with soft texture and has a nut-like flavor. I usually make a very simple Mâché Salad with avocado and balsamic vinaigrette. Today however I decided to try something new and use organic frozen blueberries for a summer/spring themed salad.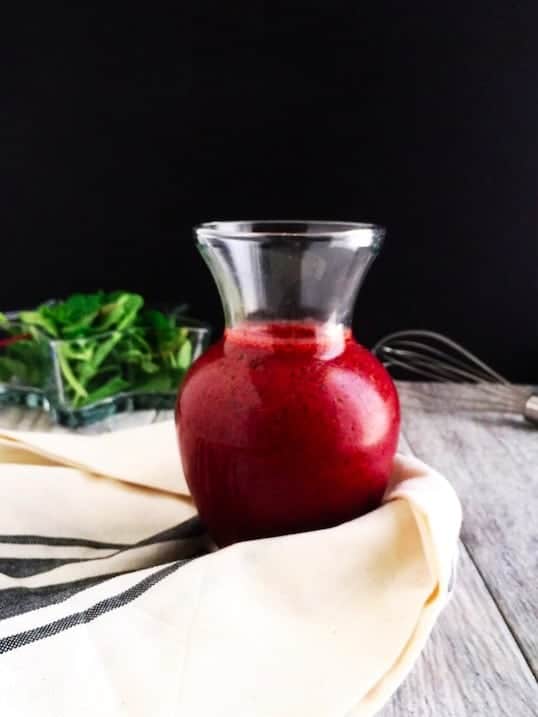 I roasted the sweet potatoes in the oven for about 15 minutes, then drizzled them with organic coconut oil by Nutiva. You'll probably notice that I used 3 different kinds of oil for the dressing. Feel free to substitute with only olive oil if that's the only thing available in your pantry 😉 . I hope you will like the recipe and feel free to use more or less ingredients
Ingredients
For Salad Mix :

2

cups

of Fresh Mache

You can purchase at Trader's Joe or Jimbo's

2

Tablespoons

of Unsweetened Coconut Flakes

2

Tablespoons

of Pecan or your favorite nuts

2

Tablespoons

of Shredded Carrots

Fresh Dill

For Roasted Sweet Potatoes:

1/2

Sweet Potatoes

1

Tablespoon

of Coconut Oil for for drizzling potatoes after cooked

For Blueberry Salad Dressing :

1/4

Cup

of Frozen or Fresh Blueberries

1/2

Cup

of Olive Oil

1/2

Cup

of Hemp Seed Oil

2

Tablespoons

of Coconut Oil

2

Tablespoons

of Vinegar

2

Tablespoons

of Maple / Agave Syrup

1

Tablespoon

of Organic Coconut Sugar

NUTIVA

Salt/Pepper
Instructions
Preheat oven to 375 degrees F. Roast sweet potatoes for about 15 minutes in oven or until tender. Transfer the sweet potatoes to a plate and drizzle with coconut oil.

For dressing : In a small bowl, mix all salad dressing ingredients. Cover and refrigerate until ready to use.

Toss salad mix in a serving bowl or plate. Add dressing. Serve and Enjoy.