This post is sponsored by CBDMEDIC but the content and opinions expressed here are my own.
Back and neck pain is something that can take over and ruin your day. I had surgery about three years ago and while it wasn't on my back or neck it caused stress and tightness in those areas. That has led to pain that can range from mild to unbearable, ok one day and intense the next.
My husband also suffers from back pain, his more in his lower back and shoulder blades as he sits at a desk for 40+ hours a week. We have both tried different ways to get back and neck pain relief, most of which were only mildly effective or had very bad side effects.
When asked to partner with CBDMEDIC and reading about how they have a specific product just for the back and neck we were all-in to give it a try.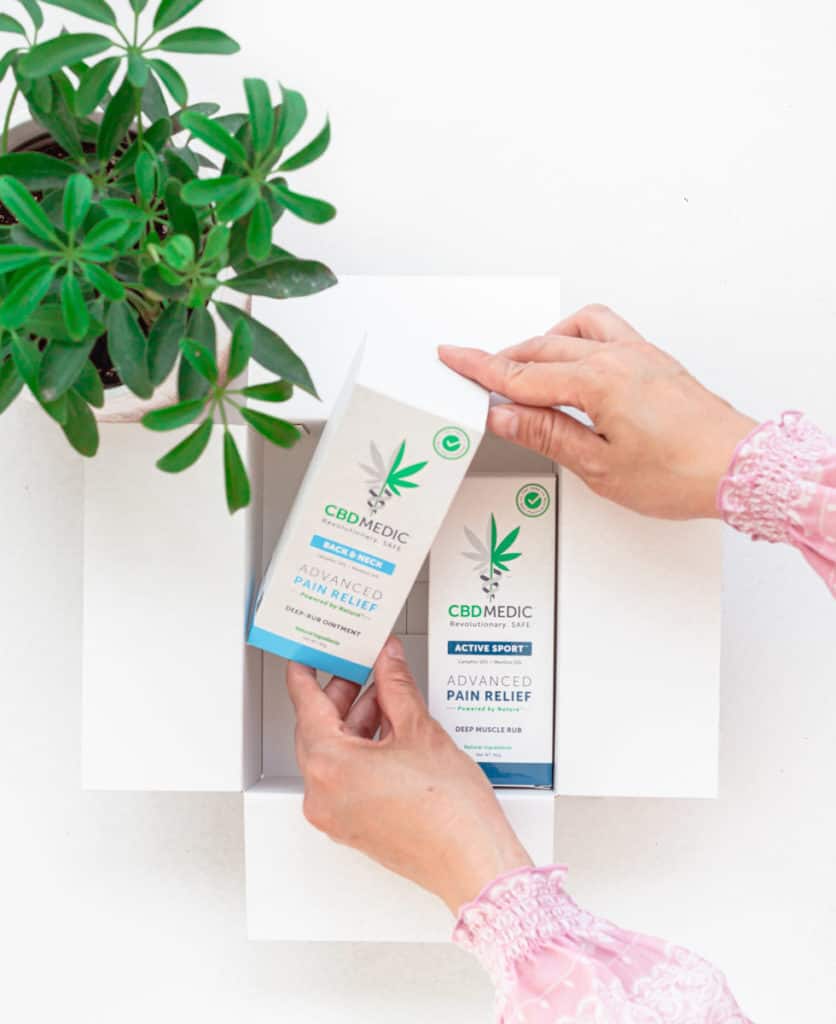 Applying CBDMEDIC for Pain Relief
As recommended by CBDMEDIC I squeeze out about a dime-sized amount and apply it to my skin. I massage it in gently, using a circular motion just as I do for skincare products. I do this at least a couple of times a day and it's made a big difference in the way I feel.
One of the FAQs on the CBDMEDIC website asks if it's ok to apply the cream before, during or after a workout and the answer was yes, yes and yes. I like that I don't have to worry about when I'm applying it, or whether I have to drive later, etc. That was just one of the many things I hated about taking pills for pain relief in the past… this is such a better option!
How Well Does CBDMEDIC Work for my Pain Relief
I was quite impressed at how well CBDMEDIC worked for my pain in my back and especially my neck (where my pain is more intense). I like that it was just as effective the 30th time I used it as it was the first time. This is another differentiator versus pills, where I had to up my dosage after just a month or two in order to feel the same effects (a scary trend if continued).
My husband has entirely different back pain, his caused by sitting at a desk 40+ hours a week (and slouching at that… he has terrible posture!). He said the same thing, it targeted his problem area immediately and let him forget about his aches and pains for a few hours.
My husband has arthritis in his family and is starting to get it in his hands. I saw that CBDMEDIC makes a product specifically targeting arthritis and I'm excited to have him give that a try, too. You can learn more about their products here.
A Legitimate CBD Company
I guess I'm still a little bit old school and wanted to research more about CBDMEDIC and CBD as a whole. I like that CBDMEDIC is a THC-free it isa THC-free, non-psychoactive, and non-addictive hemp extract or oil. It won't get you high, show up on drug tests, and this brand has been vetted through and through. It's sold in familiar, major stores too. We were impressed that CBDMEDIC is partnering with "Gronk" (Rob Gronkowski), one of the best tight ends to ever play football. I once met an NFL player and talked about all of the bangs, bruises and surgeries that they had been through during their career. It makes sense that they'd get behind a product that is so effective and powerful.



On top of all of that, CDBMEDIC is made with natural ingredients, and is developed and manufactured with 15 years of pharmaceutical experience.