This is a sponsored post written by me. All opinions are entirely my own. Dietz & Watson has a campaign on right now called ChooseTheTable, which I feel is aptly named since my family really does choose the table for so many meaningful moments together. Food brings my family closer and I make it a point for us to eat as many meals together as we can. Breakfast is oftentimes hectic and for the lunch hours, my family is pretty spread out with work and activities, so dinner is what I hone-in on as our daily family meal. It's our chance to shoot the breeze and catch up on whatever happened that day. When I think back to the funniest conversations or most meaningful discussions, they always seem to transpire while sharing good food together.
The pop-up picnic in this picture was really thrown together quite quickly. The makeshift table got the job done and I added a little runner over the table for effect…voilà for the setting. It never hurts the mood to have an elaborate meal planned out, but I am a pretty casual person at my core and am very happy to just grab some delicious, easy prep or no prep food to serve. That was the case here, in a few minutes I had everything well-plated from the fruit to the meats and cheeses. I enjoy a good protein all year round, and during these summer months with all of the picnics and barbecues, I plan on consuming a lot! The Dietz & Watson meats and cheeses pictured here are some of the best I've ever tasted. The freshness and purity come through in every bite, and you can definitely taste why the brand has been around for generations.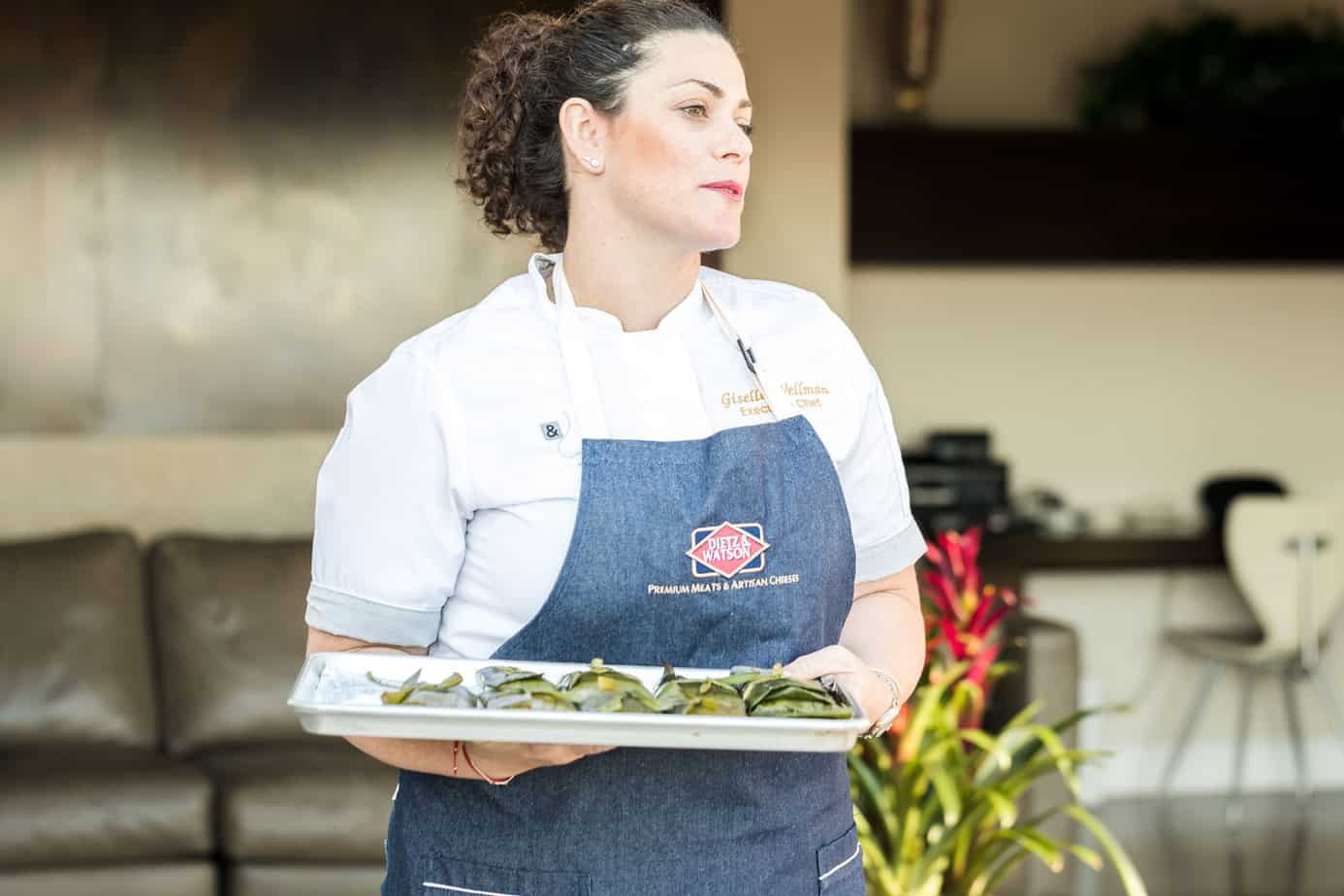 Dietz & Watson #ChooseTheTable Event
With the ChooseTheTable campaign, you can win a dinner series in select cities across the US. Here in San Diego that entails four randomly selected winners and their guests being treated to a mind-blowing dinner from Chef Giselle Wellman and hosted by Dietz & Waston. I had the honor of meeting Giselle (who has gained fame from Top Chef, and role as Executive Chef at the esteemed French restaurant Petrossian in Los Angeles), and was lucky enough to try her food. It is nothing short of a mind-blowing experience! If you are local to San Diego then enter that contest here. If not, please check the other cities across the US where you could win a similar, unforgettable dinner.

For my picnic, we tried out about five different Dietz & Watson meats and each of us had a different favorite. I think the best story to share is about the bologna. My husband grew up on bologna sandwiches and calculated that he has probably eaten at least 1,000 of them over the course of his life. When he tried the Dietz & Watson Bologna he said "I never knew bologna could taste this good. It tastes so much different, so much better." As he said it he had a funny look on his face as if he had been missing out his whole life! He wanted me to tell my readers that if they've never tried Dietz & Watson to have one slice of the Bologna and they'll be hooked. Having premium cuts of meat without all of the additives really brings out the taste of the meat, and when those same cuts are used in a sandwich or other dish it elevates the flavors to new levels.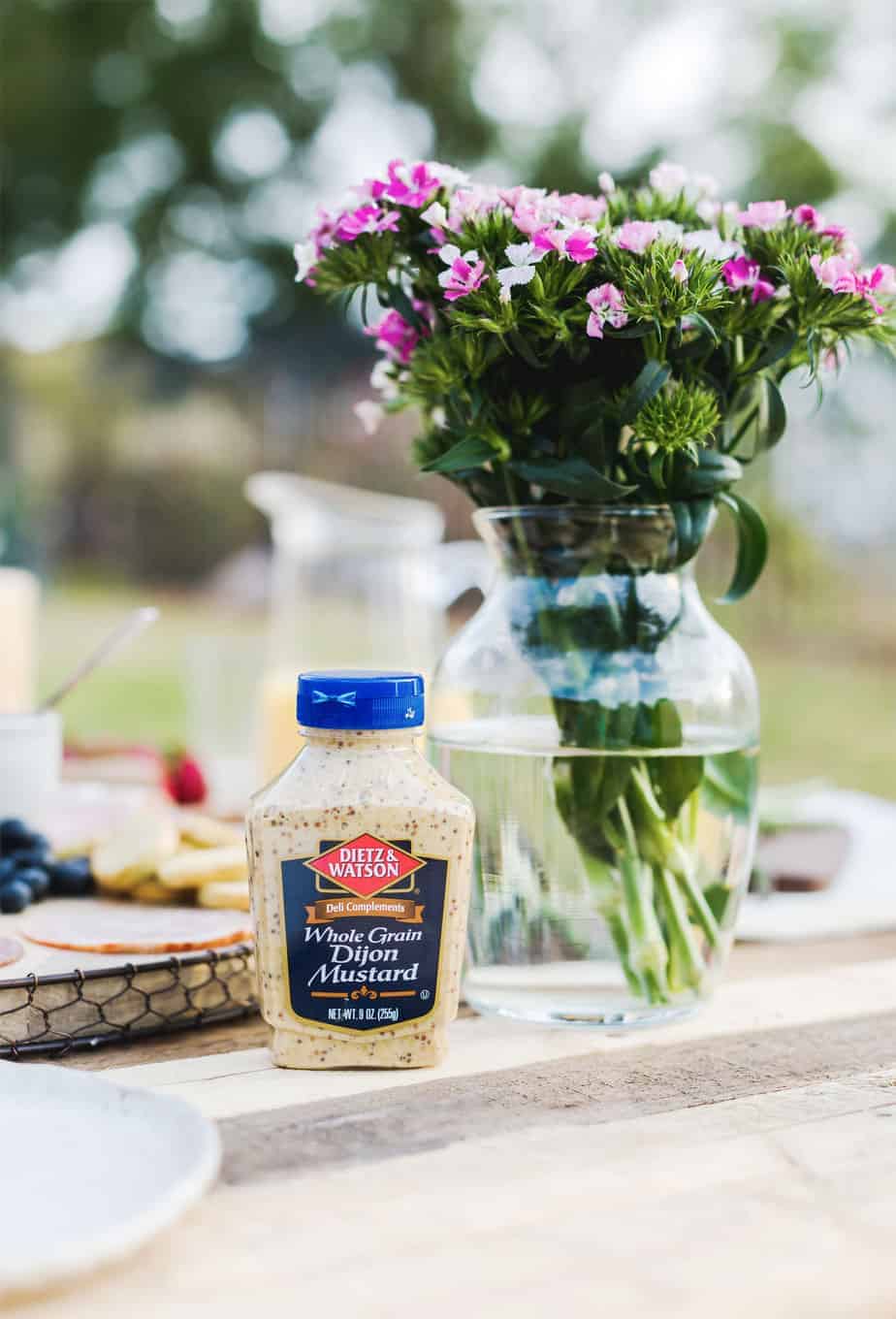 I have always been prosciutto person, and similar to the Bologna the taste is on another level. Whether using it in a salad or on top of a flatbread, prosciutto makes everything better, and the Dietz & Watson Prosciutto will make everything amazing. It's funny that we're always looking for ways to improve a dish, like substituting ingredients or making special sauces. The easiest way to make a dish taste better is to use better tasting ingredients.
I think it's telling when a food company has a whole wellness section on their website. If you go to Dietz & Watson's you'll see that the use all-natural ingredients, select only the highest quality hand-trimmed meats, and stay away from all of the things that I try to avoid in food like artificial flavors, colors, fillers, extenders or MSG. The fat cholesterol and sodium contents are cut way down, so folks like my husband who is keeping an eye on those can still enjoy. All of Dietz & Watson cheeses and condiments are nitrate free, and they have a selection of over 75 nitrate free meats. As I mentioned with the Bologna this comes full circle and you can taste the difference. Healthier food is better tasting food!
The cheeses from Dietz & Watson tasted amazing too and shouldn't be overshadowed. They have multiple varieties of every type of cheeses you'd use on a daily basis like Swiss, cheddar or in my case provolone, and a lot of specialty cheeses, too. I grabbed some Dietz & Watson Whole Grain Dijon mustard to pair with the meats. It too has a purity where the taste of the mustard seeds comes out more than other brands. They have a ton of mustard varieties (note: their cranberry mustard is brilliant, try it on a sandwich).
Try a pop-up picnic as a fun and easy way to bring the family together!
Don't forget to enter the ChooseTheTable contest to win an unforgettable dinner!