Cucumber, Fig and Belgian Endives Salad
Figs are naturally rich in in phyto-nutrients, anti-oxidants and vitamins, each very beneficial to your health.  They are low in calories to boot. 100 g fresh fruits provide only 74 calories. Figs contain high levels of the B-complex group of vitamins such as niacin, pyridoxine, floats and pantothenic acid.
Endive is one of the very low calorie leafy vegetables. 100 g fresh leaves carry just 17 calories. Endive is enriched with a good amount of Vitamin A and ß-carotene.
This recipe is so simple with just a few ingredients.  The juiciness of the cucumber and powerful taste of the figs make it so tasty that it doesn't even need any dressing.  Also the salad is unique and not too common (not in my social circles at-least), so try mixing it up by bringing this to a barbecue or a pot-luck instead of a standard lettuce-based salad.  Most people will like it and especially those who are health conscious will take note!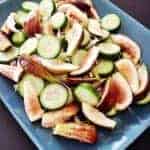 Cucumber, Fig and Belgian Endives Salad
Ingredients
2

Persian Cucumber

3-4

Figs

3

Small Belgian Endives
Instructions
Cut all ingredients and mix them in a bowl. No dressing required! So juicy and very low in calories.

Delicious Balsamic Recipe : Combine the 1/2 cup olive oil, 1/4 cup balsamic vinegar, 1 teaspoon honey , 1 teaspoon Dijon mustard, 1 shallot, 1 garlic, salt, and black pepper together in a glass jar with a lid. Shake vigorously until thoroughly combined.