Easy Lemony Butter Shrimp Pasta
This is probably one of our favorite meals during the busy work week.  So simple, affordable and delicious. Just a quick tip when buying shrimp: be sure to buy the most sustainable shrimp and look for certifications.  STAY AWAY from shrimp that has been peeled and deveined before freezing.  It can cause a loss of flavor and texture. What's the point of buying shrimp if we can't taste it, right?
Instead of throwing away the shrimp shells and cause a smelly/stinky house, you can put them to use in broth to boil your pasta. This will boost the ocean flavors of your pasta.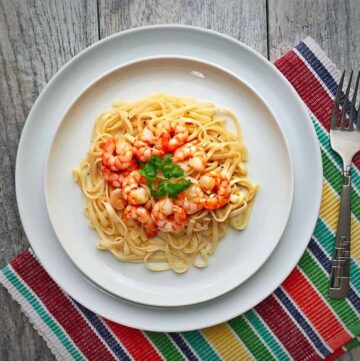 Ingredients
1

Lb

of shrimp

2

Tablespoon

of Butter

I used vegetable butter

Salt/Pepper as desired

1

Lemon

Zest and Juice

6

Cloves

Garlic

minced

1

Lb

of Pasta . I used Organic Udon Noodle

Cook pasta according to the instruction on product packaging

2

Tablespoons

of Olive Oil
Instructions
Marinate the shrimp with salt and pepper, Lemon (zest and juice) and minced garlic in a small bow. Place in the fridge for at least 15 minutes.

Meanwhile, add 5 quarts of water in a small pot then add the shrimp shells. Bring to boil for at least 5 minutes. Once water is boiling, then add about 2 tbsp. of coarse salt. Strain the broth , discard cooked shrimp shells

Add pasta in a small pot and cook according to the packaging.

Heat up olive oil in a pan. Cook marinated shrimp until it turns pink for about 3 minutes. Pour the remaining lemon juice, garlic cloves and butter. Stir until the butter has melted for about 1 minute.

Serve lemon garlic shrimp on pasta. Stir and add salt/pepper according to your preferences.