Easy Lemony Butter Shrimp Pasta
This is probably one of our favorite meals during the busy work week. So simple, affordable and delicious.
Just a quick tip when buying shrimp: be sure to buy the most sustainable shrimp and look for certifications. STAY AWAY from shrimp that has been peeled and deveined before freezing. It can cause a loss of flavor and texture. What's the point of buying shrimp if we can't taste it, right?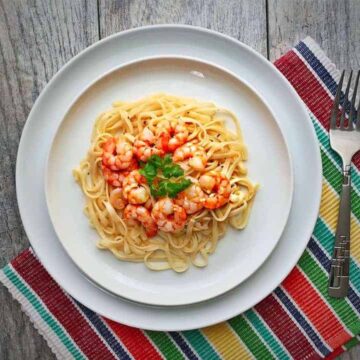 Easy Lemony Butter Shrimp Pasta
Ingredients
1

pound

pasta

2

tablespoon

olive oil

1

pound

shrimp

,

(peel and devein the shrimp)

2

tablespoon

butter

1

lemon

,

(zest and juice)

6

cloves

garlic

,

(minced)

salt/pepper

,

(to taste)
Instructions
Marinate the shrimp with salt and pepper, lemon (zest and juice) and minced garlic in a small bowl. Place in the fridge for at least 15 minutes.

Bring a large pot of salted water to a boil. Add the pasta and cook according to the package instructions or until al dente.

Heat the oil in a large skillet over medium heat, add the marinated shrimp stirring often, and cook, stirring often, until cooked through, about 2 minutes.

Pour the remaining lemon juice, garlic, and butter. Stir until the butter has melted for about 1 minute. Remove from the heat.

Serve cooked lemon garlic shrimp on pasta. Stir and add salt/pepper according to your preferences.