Are you looking for easy vegan recipes? Today I am going to show you how to make easy vegan tacos with simple ingredients. You can make tacos at home in a fun and extremely affordable way. Having the ability to customize and add or remove any ingredients is always a plus and usually results in a much healthier plate than something you'd buy at a taco shop or restaurant. I prefer to use corn tortillas to flour, and bought some corn tortillas for this taco recipe from Trader's Joe.
I found that the word vegan scares off a lot of people who assume that all vegan food tastes like bird food. This is one of many dishes that debunks that theory. Ingredients like cilantro and grilled corn give it a lot of taste and color, and the soy chorizo rivals well against any meat option with its texture and juiciness. If you're looking for a dish to serve to both vegans and non-vegans, or if you're trying to get a family member to eat less red meat or make healthier food choices, this may be a great dish to introduce them to the tasty world of vegan cuisine.
Vegan Taco Salad
I have used this very recipe to also make a vegan taco salad. I simply cook the corn tortillas for an extra couple of minutes to get them nice and crispy, the break them up and mix together with the rest of the ingredients as a salad. Tomatoes and lettuce are simple additions to round out the salad, though I prefer spinach to lettuce for its nutrition and taste.
Crock Pot Taco
Note: If you're a taco lover and not a vegan, feel free to also check out my crock pot salsa chicken recipe as it the meat works great on tacos! Crock pots are great for vegans and vegetarians, too. Tofu and tempeh are two meatless proteins that I often use in a slow cooker along with beans, vegetables and sauces.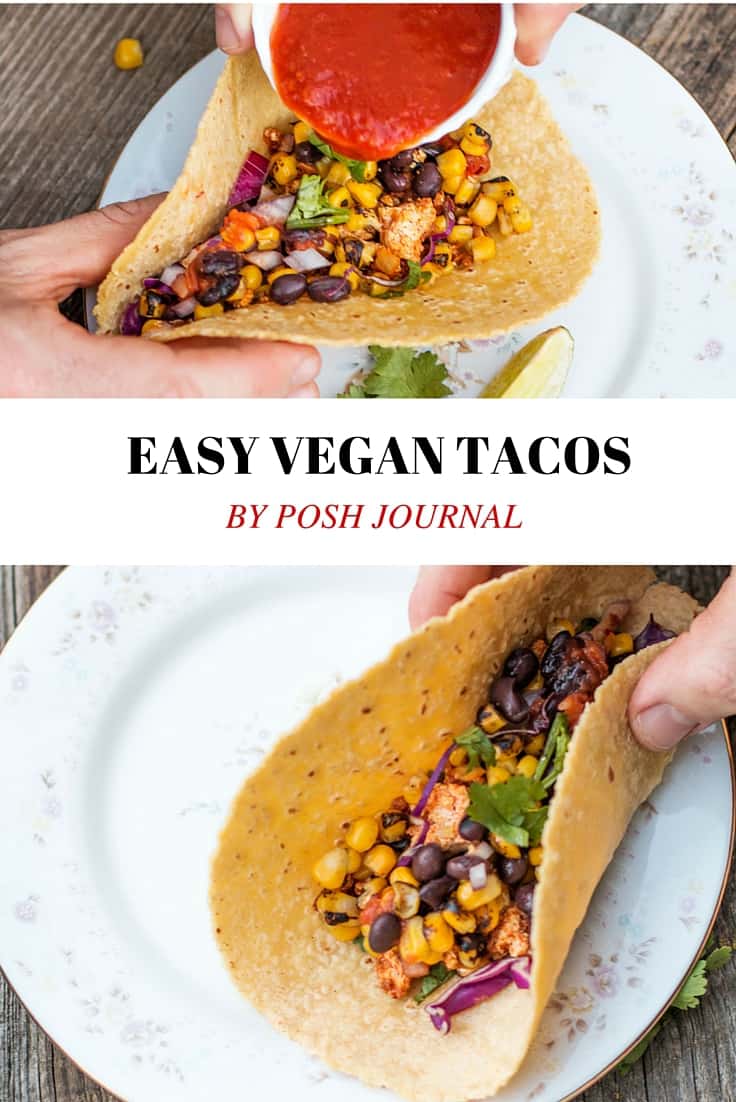 Easy Vegan Tacos Recipe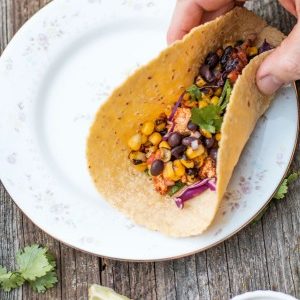 Easy Vegan Tacos
Servings : 6
Ingredients
1

Tablespoon

Vegetable Oil

1

Package Soy Chorizo

1

Package Firm Tofu - crumbled

12

Corn Tortilla

2

Tablespoons

Ground Cumin

1

Cup

Diced White Onion

1

Teaspoon

Chili Powder

1

Pinch Cayenne Pepper

Salt/Pepper to taste

2

Cups

Grilled Corn

Diced Red Onion

1

Can Black Beans/Refried Black Beans

Chopped Cilantro

Fresh Lime
Instructions
Heat oil in large skillet over medium heat, add diced white onion, sauté for about 10 minutes, then add soy chorizo and tofu to heat for another 5 minutes.

Add chili powder, ground cumin,cayenne pepper, salt/pepper to taste and stir for another 2 minutes

Warm up the tortilla and spread the chorizo mix with 2 tablespoon of beans and grilled corn

Sprinkle with diced red onions, cilantro, salsa and Lime