If you buy Egg Foo Young from a Chinese restaurant, there's a good chance that it will be delicious but quite heavy tasting and full of things that aren't so great for you.  This Egg Foo Young dish is different in that it is a recipe based out of South East Asia rather than China, and has a healthier ingredient list and overall lighter taste.  I crave Chinese Egg Foo Young in the winter time, but I crave this lighter Egg Foo Young all year round!  To me it tastes better, but I'll let you be the judge of that.  The sauce adds some sweetness to the dish, if watching your sugar intake you may want to use a smaller portion of sauce.  My whole family loves this dish, and it's an easy way for me to get them to eat proteins and vegetables.
Repin this Egg Foo Young with Chicken and Shrimp
Save it and use the recipe later 
Don't forget to follow PoshJournal on Pinterest to see more updates and recipes!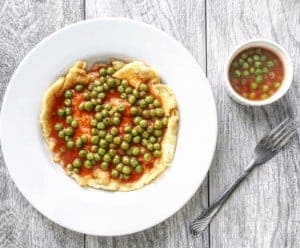 Ingredients
6

whole eggs

1/2

cup

of shredded green cabbage

1/2

cup

of bean sprouts

1/2

cup

of shredded carrots

1/2

Cup

of Ground Chicken

5

Shrimp

1

Tablespoon

of All Purpose Flour

1/2

Teaspoon

of Salt

1

Garlic

minced or use Garlic Powder

Black Pepper

4

Tablespoon

of Olive Oil

For Sauce

1/2

Cup

of Tomato Ketchup

3

Tablespoon

of Rice Vinegar

1/2

Cup

of Water

1

Tablespoon

of sugar

1/2

cup

of green peas
Instructions
In a large saute pan with over medium-high heat, heat up 2 tablespoon of olive oil. Add garlic and ground chicken, and make sure to really break up the chicken while stirring. Cook for about 5 minutes then add shrimp. Cook for another 5 minutes and put aside.

Mix eggs, cabbage, carrots, bean sprouts, cooked chicken and shrimp, all purpose flour in a bowl. Add salt and Pepper.

Heat up 2 tablespoons of olive oil in a skillet. Add 1/3 cup of your above egg mixture, cook until lightly browned on both sides.

For sauce : In a pan, heat the water, tomato ketchup, rice vinegar, green peas and sugar for about 2 minutes

Place egg foo young in a plate and serve with sauce