Looking for tasty lunch ideas? This eggplant panini with balsamic and sun-dried tomatoes makes for a perfectly healthy lunch that is also easy to prepare.
Don't have panini maker? No worries, you don't need to spend $8 to $12 at a sandwich or even buy a panini maker as you can whip this up in a skillet grill pan or on a grill or skillet.
I simply pressed the top of the sandwich with the bottom part of another clean pan and the bread was crispy in a flash.
I used a good quality multigrain sandwich bread to get some extra fiber. The healthier breads often have the best flavor, often adding sweetness or in this case nutty flavors.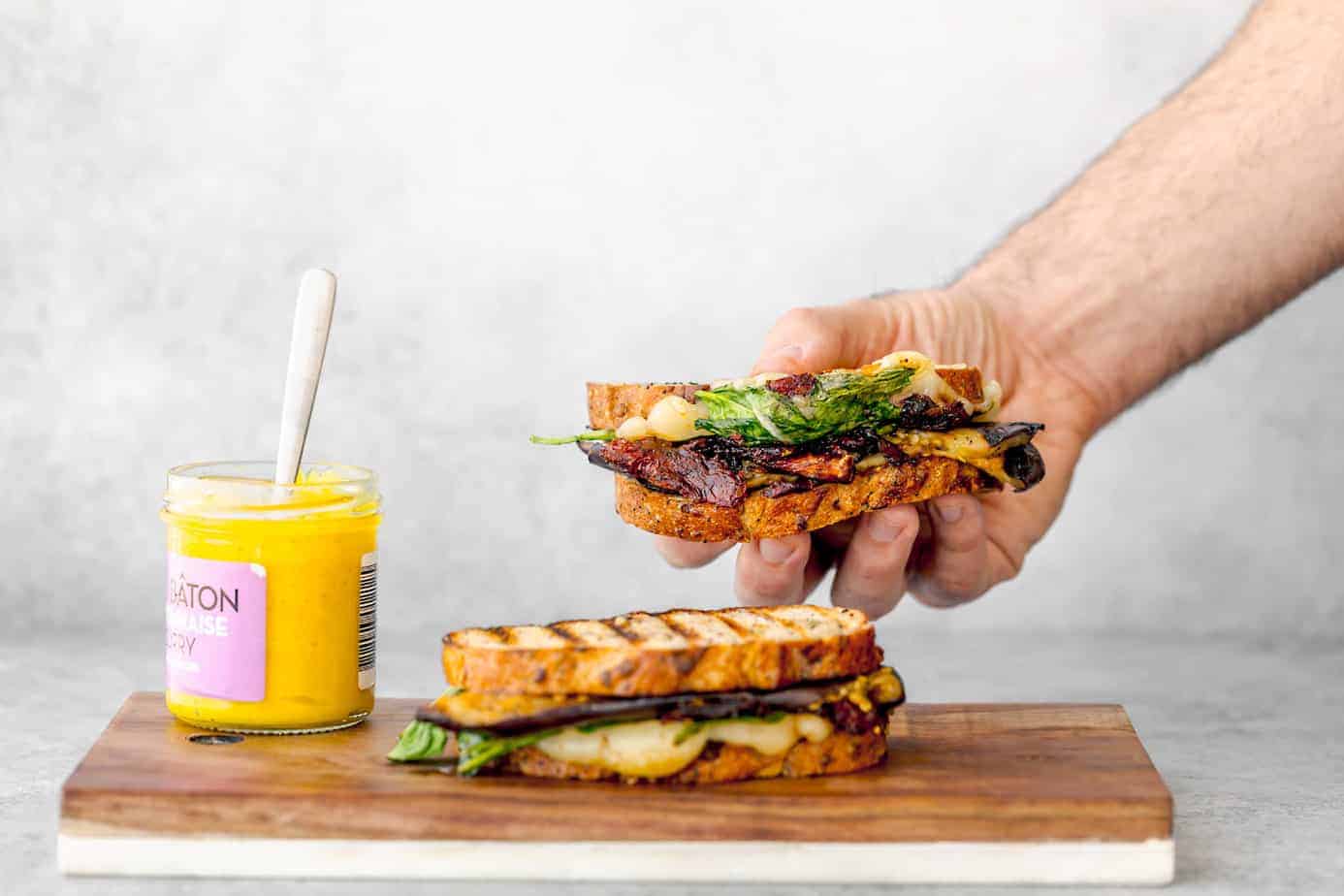 This eggplant panini contains provolone cheese, spinach, grilled eggplant (see recipe below), and cooked sun-dried tomatoes in balsamic vinegar.
Eggplant and sun-dried tomatoes have flavors that compliment one another quite well in pasta dishes and sandwiches.
Vegetarians will surely like this lunch but don't hold back from making it for meat eaters as well. The eggplant can hold its own for flavor and consistency in place of a protein, much like it does in eggplant parmesan.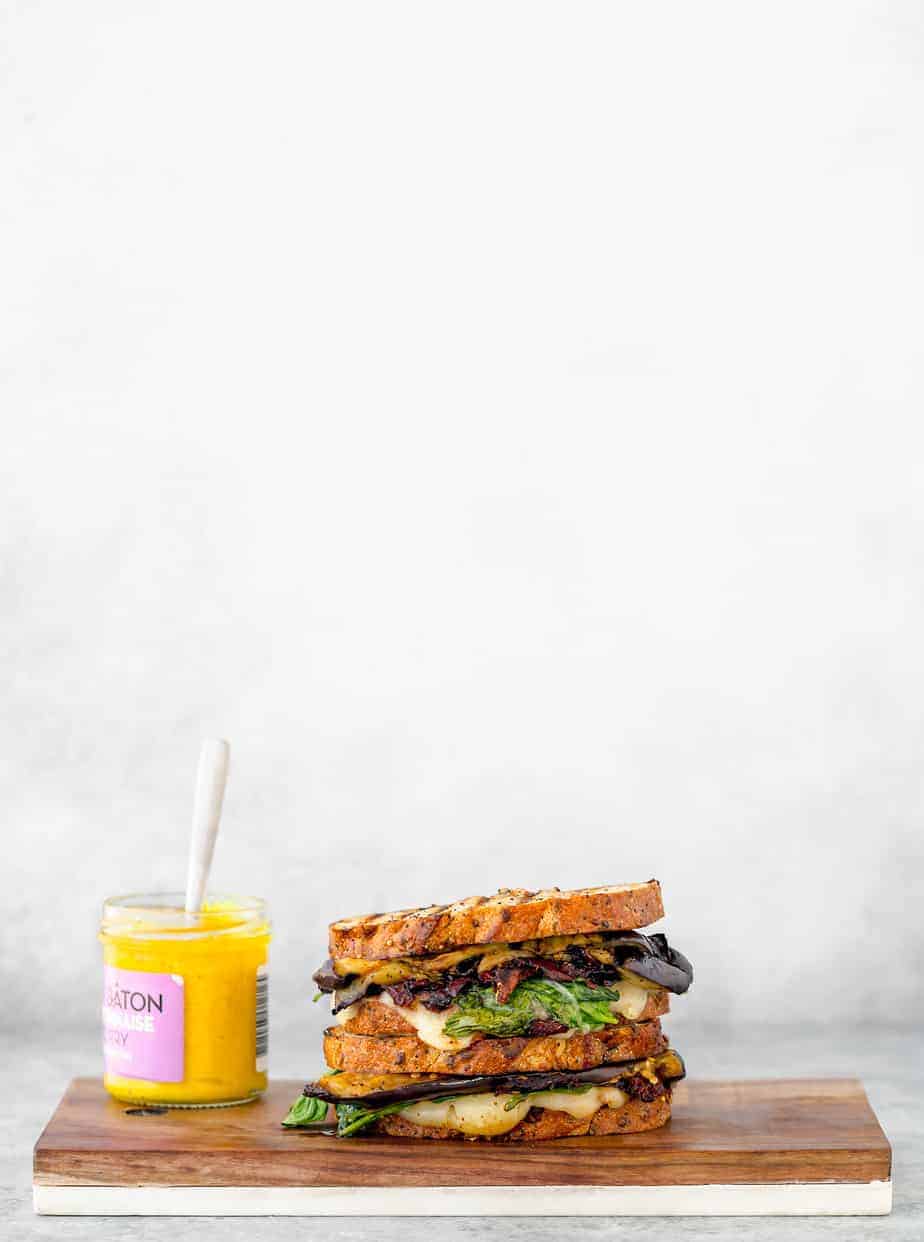 Hope you'll enjoy this easy lunch sandwich recipe of eggplant panini balsamic sun-dried tomatoes. My husband went crazy for it and my kids actually ate it up too. If you're having guests over to watch some sports it's quick to whip up ten or more of these sandwiches without that much extra effort, just be careful on your portions of salt, garlic and pepper.
📖 Recipe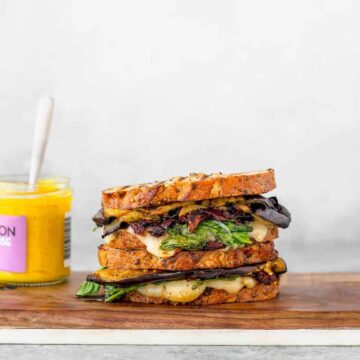 Eggplant panini with Balsamic Sun-Dried Tomatoes
This eggplant panini with balsamic and sun-dried tomatoes makes for a perfectly healthy lunch that is also easy to prepare.
Ingredients
1

eggplant ,

(cut into sandwich sized pieces)

⅓

cup

melted butter

½

teaspoon

salt

½

teaspoon

garlic powder

½

teaspoon

Italian seasoning

¼

teaspoon

black pepper

2

oz

sun dried tomatoes without oil or juice

¼

cup

balsamic vinegar

1

garlic clove

1

tablespoon

olive oil

⅛

cup

white wine

,

(optional)

4

cheese

,

(optional)

8

sandwich bread

spinach
Instructions
Combine the butter, garlic, salt, Italian seasoning and black pepper into a bowl and stir well. Brush eggplant with butter mixture and place on a grill. Cook over medium heat for about 4 minutes on each side or until tender. Set aside.

Heat 1 tablespoon of olive oil in a skillet over medium heat and cook garlic until fragrant. Add sun dried tomatoes, then cook for about 50 seconds. Add balsamic vinegar and white wine and keep cooking until the juice evaporates for about 1-2 minute. Turn off the heat and set aside.

Pre heat the grill pan over medium heat. Slightly butter each side of sandwich loaf. Top each slice with provolone, spinach, grilled eggplant, balsamic sun-dried tomatoes and top with another slice of sandwich loaf, butter side up.

Place a heavy skillet over the panini and press down, cooking for about 2 minutes on each side. Serve immediately.
Nutrition
Calories:
392
kcal
Carbohydrates:
43
g
Protein:
8
g
Fat:
21
g
Saturated Fat:
11
g
Trans Fat:
1
g
Cholesterol:
42
mg
Sodium:
719
mg
Potassium:
847
mg
Fiber:
7
g
Sugar:
14
g
Vitamin A:
638
IU
Vitamin C:
8
mg
Calcium:
179
mg
Iron:
4
mg