Disclosure : "This post was created as part of the Earth Footwear #WalkYourWorld Campaign in which I am a financially compensated blogger. The opinions are my own and based on my own experience."
Fall is here and it's time to put your sandals away.  Fall is the perfect season to wear boots as they keep our feet warm but also work with everything from casual, skirts, denim and boho. There are so many types of boots to choose from: flat, high heel, round toe, over the knee, and more.  I think women should have at least one pair of tall boots in their closet too.
Below is my top boots list for fall : 
(1) Ankle Booties (Types : Pointy Ankle Boots, Wedge Ankle Boots, Stiletto Ankle Boots and Platform Ankle Boots)
These boots are probably one of the best choices for any skirt. You can even wear ankle booties with dresses, knit tunics, cropped pants, jeans, leggings or shorts.  "These boots are made for walking", as the song goes and they can also add height.  If you want to bump up your height for a more feminine look, choose Wedge ankle boots.
 Boots with a slim heel and pointed toe
Think about lady's boots:  They are sophisticated and work with everything from skirts to denim. This type of boot will increase your height appearance with a touch of a modern trend.  They will boost your overall wardrobe to a next level and to grab a lot of attention.
If you want to look edgy, go for Moto Boots. Moto boots look awesome with pair with jeans. Try wearing them with a skirt, a leather jacket and scarf.
(2) High boots
Flat heel high boots add some classic touches and more drama to your wardrobe. You can even wear these boots to your office, simply pair them with a pencil shape skirt and top it with a print. Absolute perfection.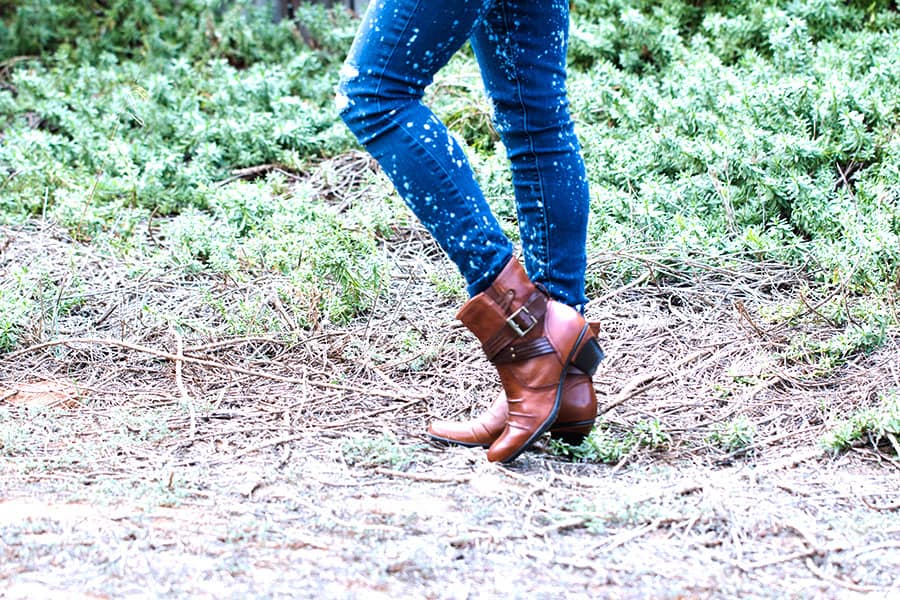 I received a pair of Odyssey boots from Earth Footwear as part of #WalkYourWorld – Earth Footwear program ,  – a company with a more than 40-year reputation in the design of comfortable footwear for women that's good for the body.  They are made with premium leather with glove soft leather lining.  I am happy that the product I received is very similar with what I have seen from their site.  The color is gorgeous and will match almost anything.  I like the placement of the buckle and the contour lines of the boot.  The material is very soft and very comfortable to wear, and unlike some other boots I don't feel any sharp edges anywhere.  I wore them all day to a Kids expo last Sunday and didn't experience any discomfort… pretty impressive for new boots!  They provide great support and comfort from heel to toe. As for the site, I think Earth Footwear has a very large selection and a nice variety 'to boot' J.
Giveaway :  One Winner will be randomly selected on November 5, 2015.  US addresses only ( No Po Box). One winner per household.
Prize : Winner may select one pair of shoes from the fall line.
Don't forget to follow Earth Footwear on Facebook
#WalkYourWorld – Earth Footwear