Feel Confident with U by Kotex Curves® Liners
Undies come in a variety style, colors, shapes, materials and brands. For me, finding the right undies is important and is more than just about how they look. In-fact, they can have an effect on confidence, which in-turn makes a difference in just about everything else that you encounter during your day.   It's one of those things that you may not think too much about yet can really make a difference, as our underwear sits on our skin all day, providing support and protection.  I hate dealing with the discomfort of undies that slip, feel loose or too tight.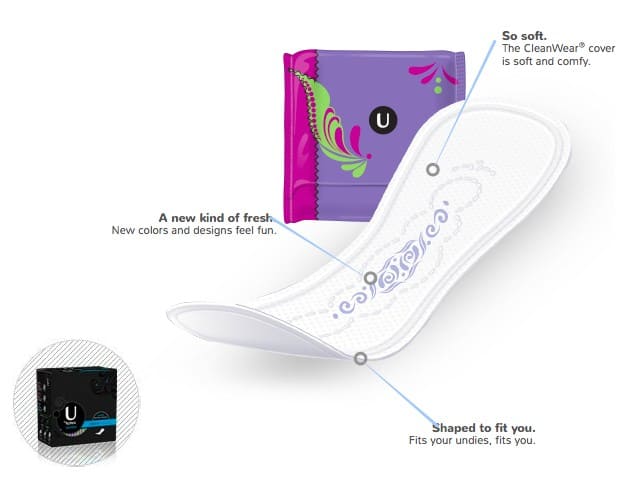 While choosing comfortable underwear could be challenging, you can easily narrow down your choices by knowing what type of underwear are you looking for. I have always loved how lace undies look and the whole intimate emotions that they give off, but I personally feel more comfortable in hipster underwear.  I don't put too much focus on the brand, but I do always check to see if they are 100% cotton because it's the most breathable fabric, (so soft and comfy). Now lets talk about design… who doesn't want to feel sexy right? It gets tricky as I have found some great designs that appealed to me but just didn't fit well on my body. I bought bunch of sexy underwear last Black Friday because the promotion was so good and I couldn't pass it up.  As great as they looked on the rack they just didn't look good on me…I only tried a pair and had to return the rest.  Sexiness comes far after fit and feel, and remember that feeling good gives confidence and confidence is sexy.
Another important thing to keep me comfy is wearing comfortable panty liners and changing them as frequently as needed. If you are just reaching puberty, panty liners will be your best friend so be sure to keep them in your purse. Don't be shy or ashamed of this!. Wearing liners isn't a bad thing and shouldn't make you feel gross in any way about yourself. Actually, it's a sign of taking care of your body. Wearing liners keeps my undies clean and easy to wash. Wearing liners will also help my skin away from undies. Even though people clean their undies well it is possible that detergent residue is still attached and could irritate sensitive skin.  This could be an uncomfortable problem. I always keep liners in my purse, just in-case I have my events sooner than I expected.  Liners will definitely give me enough protection no matter what.
Don't forget to upload #bringcomfyback selfie for a chance to win amazing prizes and get a $1 off coupon to try the liners for yourself !
To enter the #BringComfyBack Contest, visit bringcomfyback.com and upload your creative pic or gif showcasing your best uncomfy face.
Each month, one lucky winner will receive a $200 Urban Outfitters gift card, a Go Pro Hero 3 white camera, a $100 Sephora gift card and U by Kotex products.
At the end of the contest, the most creative selfie will be chosen and the winner will receive a trip to L.A. with a girlfriend, an exclusive U by Kotex photo shoot to be their new social star and $2,000 spending cash!
Many thanks to U by Kotex® for sponsoring today's story and encouraging me to feel comfy in my undies again!
Don't forget to pick up some : U by Kotex Curves® Liners or U by Kotex® Lightdays® Liners