I've purchased many kitchen rugs in the past. I admit that I went cheap on this investment and didn't pay enough attention to quality (or reason!). These rugs would get dirty, get gross, and have to be washed often and usually thrown away pretty darn fast. Many of kitchen rugs I purchased in the past were made of thin materials that did not absorb water well. I sometimes even slipped on a wet floor or because the rugs were sliding around. Others were bulky and would soak up the water, but were then hard to wash and even seemed like a risk for mold.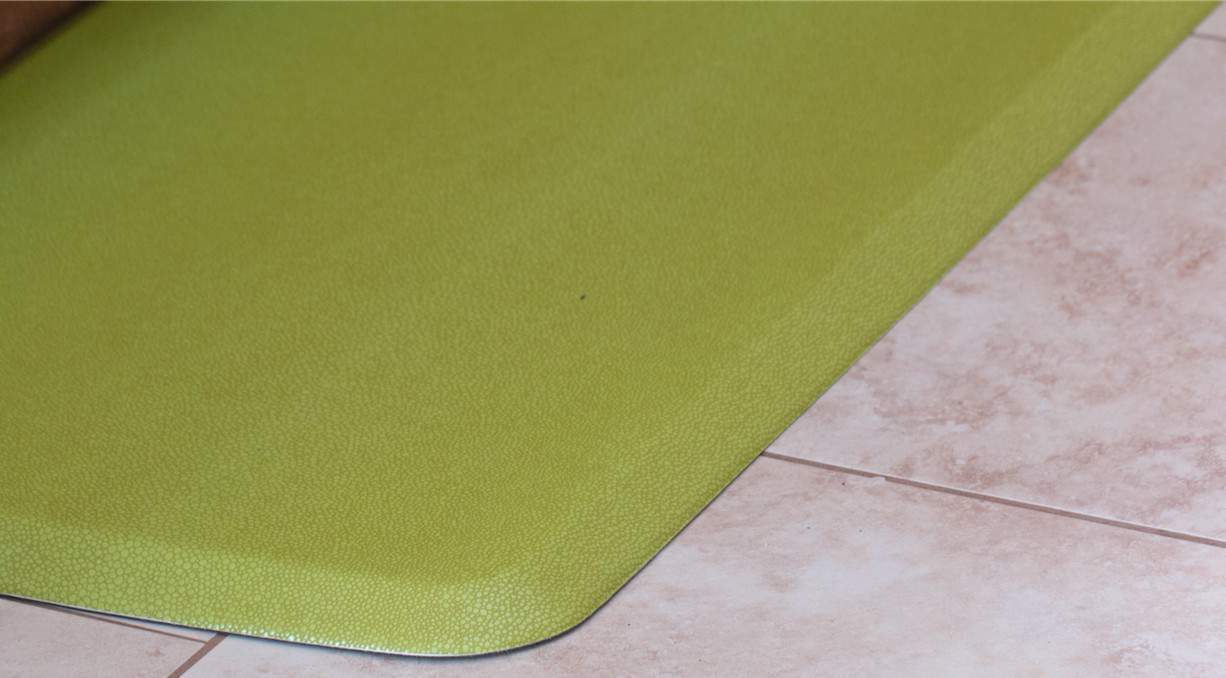 I was therefore very excited to try out GelPro, which looked and felt entirely different than what I had used in the past. I just received this product last week and fell in love immediately after I opened the package. I decided on the green color for my GelPro and am so glad I did as the mat is absolutely gorgeous.
GelPro elite comfort mat is work as it claims. It is a very heavy, thick material and significantly reduces discomfort. It has conforming feel of gel plus energy-return foam, which gives the right support for your back and feet while you are cooking or cleaning your dishes. Especially if you don't like standing for long periods of time or have aches or pains in your hips, legs, back or feet this could really help. If you go to their website, you can find a huge selection of GelPro mats, many patterns and even more colors. They are not as cheap as conventional kitchen rugs, but if you click this link , you could save 20% off on your next purchase. They also have a 5 year warranty and have reinforced edges that won't break down. The top is stain resistant and durable, and the bottom won't slip. It is absolutely worth of investment for many reasons, but I think the one that stands out the most for me looking back on my time in the kitchen is how easy it is to clean. Because of cleanliness reasons I have spent much more than the price of a GelPro on sub-par kitchen rugs, and they didn't even look nice. Looking ahead I think equally important is the support of my feet, back and legs…it's funny how we sometimes overlook the kitchen for comfort. No more!
GelPro was featured on The Talk as one of the five hottest products in the kitchen. See why they are so in love with the GelPro Elite Comfort Mat!

An ergonomic study winner, NewLife® Eco-Pro Mats stand up to the heavy demands of commercial areas while significantly reducing discomfort.

For those of you that have already tried the GelPro Classic Comfort Mat, the GelPro Elite is 50% thicker.
Also this product is made in the USA! 🙂
Disclaimer : I received this product in exchange of honest review