Chicken Lettuce Wraps have practically become synonymous with one of the major Asian restaurant chains across the US.  There are however many variations of the recipe, and in no time at all you can be serving them as either an entrée or appetizer.  They are obviously a healthier choice than a high carb alternative.  I'm sure I don't need to tell you all of the health benefits of lettuce, but I will mention my favorite and that's the sleep inducing and calming qualities.  For those of you that work all the time it's nice to have some natural help to turn your minds off at the end of the day.
Also note that this is one of those dishes that I personally love to add some extra kick to by throwing in a few extra peppers now and again.  The lettuce kind of shields you from the heat for a second or two and then boom, it hits you.
Repin this Ginger Chicken Lettuce Wraps
Save it and use the recipe later 
Don't forget to follow PoshJournal on Pinterest to see more updates and recipes!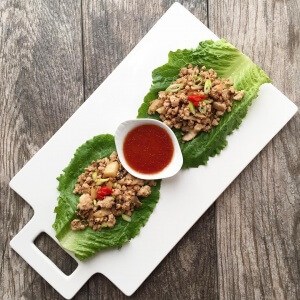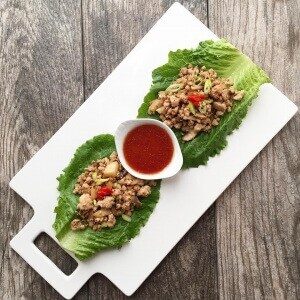 Ingredients
1 1/2

Lb

of Lean Ground Chicken Breast

1

cup

of fresh Jicama

chopped

2

cups

of sliced mushroom

2

Tablespoon

of Oil

3

cloves

garlic

chopped

1

inch

of fresh ginger

3

Scallions

Fresh Lettuce

Stir Fry Sauce :

2

Tablespoon

of Hoisin Sauce

2

Tablespoon

of Soy Sauce

2

Tablespoon

of Rice Vinegar

1

Tablespoon

of Sesame Oil

Not necessary

Salt/Pepper if needed

Fresh Thai Chilies to Serve

chopped
Instructions
Preheat a large skillet. Add 2 Tablespoon of Olive Oil, then add ground chicken. Be sure to break up the chicken. Stir fry for about 2-3 minutes or until no longer pink.

Add mushrooms, cook another minute

Add Garlic and Ginger, cook another minute

Add Jicama and Scallion, cook another minute

Pour the stir fry sauce and cook another minute

Transfer the cooked ground chicken to serving plate then serve with Lettuce.