This is a sponsored conversation written by me on behalf of Tyson Foods, Inc. The opinions and text are all mine.
From potluck dinners to white elephant lunches, Christmas meals with the extended family to New Year's Eve parties with the friends… there are tons of occasions going on in December that require good grub. For a few of those I'll slave away in the kitchen making something that people hopefully enjoy. For the many others though, it's nice to have some sure-bets on items to pick up from the store. The NEW Hillshire® Snacking Social Platters are perfect as they are a true ready to go item that doesn't require any prep work and is enjoyed by just about everyone from kids to adults. I purchased the Hillshire Snacking Social Platter from the refrigerated/deli section of my local Albertsons.
One of the best things about the Hillshire Snacking Social Platters is that you can just pop open the tray and put it out for people to grab. No need for serving tongs, ice, crock-pots, Tupperware or other things that can get lost or make an item more high maintenance. I've lost some expensive Tupperware items at potlucks so I'm glad I don't have to worry about that with these. The time-savings is another great thing about these platters. That's more time to chat it up with guests or top off another glass of eggnog!
My husband and his friends are big football fans and this time of year I seem to see them gathered at our house more and more often. There are the big games on Sundays of course, but the games on Mondays and now Thursdays are all pretty good too. And that's just pro football… with all of the great college bowl games on I can count on it that the boys will be here in all of their loud glory quite a bit this month. The Hillshire Snacking Social Platters are a huge hit for that group. I know that the first thing to go will be the prosciutto, it always is. The Genoa Salame and Calabrese Salame platter is, in my opinion, even better with the cheese and bread. There's just something about salame and cheese together.
Even for adults it's kind of fun to make little sandwiches with meat, cheese and the toasted rounds that have a nice garlic taste to them. I get a kick out of my kids doing the same, sometimes making double-decker sandwiches that are way too big for their little mouths. To top it off these have some dark chocolates in the middle to round-out the meal and satisfy the sweet tooth that we all seem to have. I love that they use dark chocolates as they're perfect for the holidays and of course healthier than milk chocolate.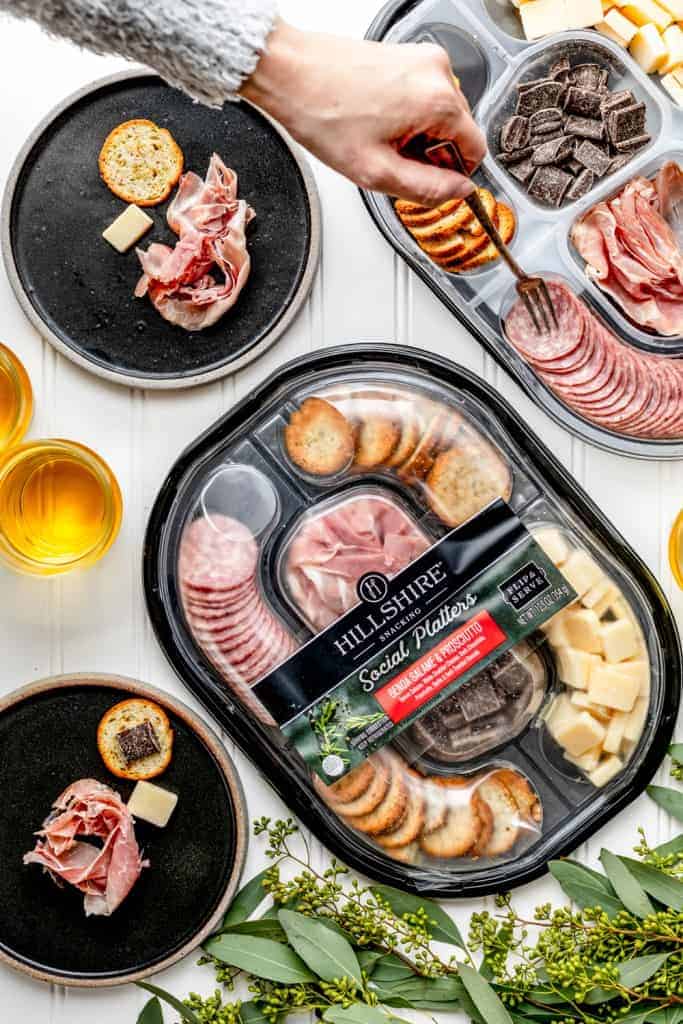 Hillshire has been a go-to brand for meats in my household for longer than I can remember. My husband is a bit older than me and he said the same thing, those quality brands have been long standing through the years and are still coming out with great products. Pictured here is the Genoa Salame & Prosciutto 12.5 oz , but there's also a Genoa Salame & Calabrese Salame 12.5 oz. It's always good to mix it up, and maybe get one of each if you have a big gang coming over (or in the case of my husband and his friends, big guys with big appetites).
You can pick up these Hillshire Snacking Social Platters at your local Albertsons. Check out the My Mixx coupon page to save $2.00 on them through 1/27/19.