Here's a simple recipe for homemade Sweet Potato Chips. Even some of the healthier chips that you can buy in the stores often still have too much salt and too many bad ingredients. These chips are a snap to make and have very few things going in them. Sweet Potatoes are very healthy and by using paprika in place of salt gives it a lot of extra taste and helps keep sodium levels down. I made a few batches of these, the first time around I didn't cook them long enough to be crispy, but they were still cooked and quite delicious. Just make sure you don't overcook them and they should be tasty. If you haven't used Red Palm Oil before I recommend that you add it to your oil repertoire. That coconut oil and of course extra virgin olive oil are household staples for us and each gives a different taste to the dishes they're made with. It's really your call if you want to add a dash of brown sugar, or a tad of salt. For me the taste of the sweet potatoes, red palm oil and paprika is more than enough, but others may need that extra saltiness or sweetness. Even with those added this is so much healthier than the chips you'd find at the grocery store.
Football season is around the corner, see how fast the gang devours a bowl of these chips. Trust me, you'll want to have a second or third batch ready to pop in the oven because they'll come asking for it!
You can purchase Unrefined Red Palm Oil from NUTIVA. It has a mild carrot-like flavor, with a rich, buttery texture and Organic.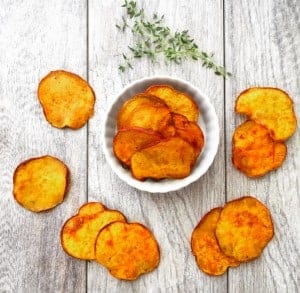 Ingredients
1

Medium Sweet Potato

2

Tablespoon

of Red Palm Oil or Olive Oil

I used Red Palm Oil from NUTIVA

1/2

Teaspoon

of Smoked Paprika

1/4

Salt

1/4

Teaspoon

Brown Sugar
Instructions
Preheat your oven at 375 F

Wash and slice Sweet Potato into very thin rounds. Coat the slices with smoked paprika, Salt, Brown Sugar and Oil.

Place the slices on a baking sheet and bake until lightly browned and crisp, about 10 - 15 minutes.