My Home is getting Smarter thanks to Best Buy! Canary Indoor Wireless High-Definition All-In-One Home Security and Netgear® Nighthawk™ DST Router and DST Adapter
Having your home broken into is even worse than it sounds.  It's terrible to have your belongings stolen from you, such as the electronics that you saved up for and put hard-earned money into.  Even worse are pieces of jewelry or other family items that have sentimental value and can be impossible to replace.  My best friend's house was burglarized last year and among many other things they got away with a necklace and a broach that had been passed down from mothers to daughters in her family for four generations.  She checked pawnshops and online posts for months hoping those items would somehow turn up but they never did.  For many people including my friend the worst part about the break-in wasn't the loss of physical items.  It was the uneasy, vulnerable feeling that she had afterwards.  This was her home, where she went home each night to relax and not have a care in the world.  It was supposed place where she could play with her young kids and just be worry-free.  She said that after the event she felt most uncomfortable at night, and had her whole family sleep in the same room for months.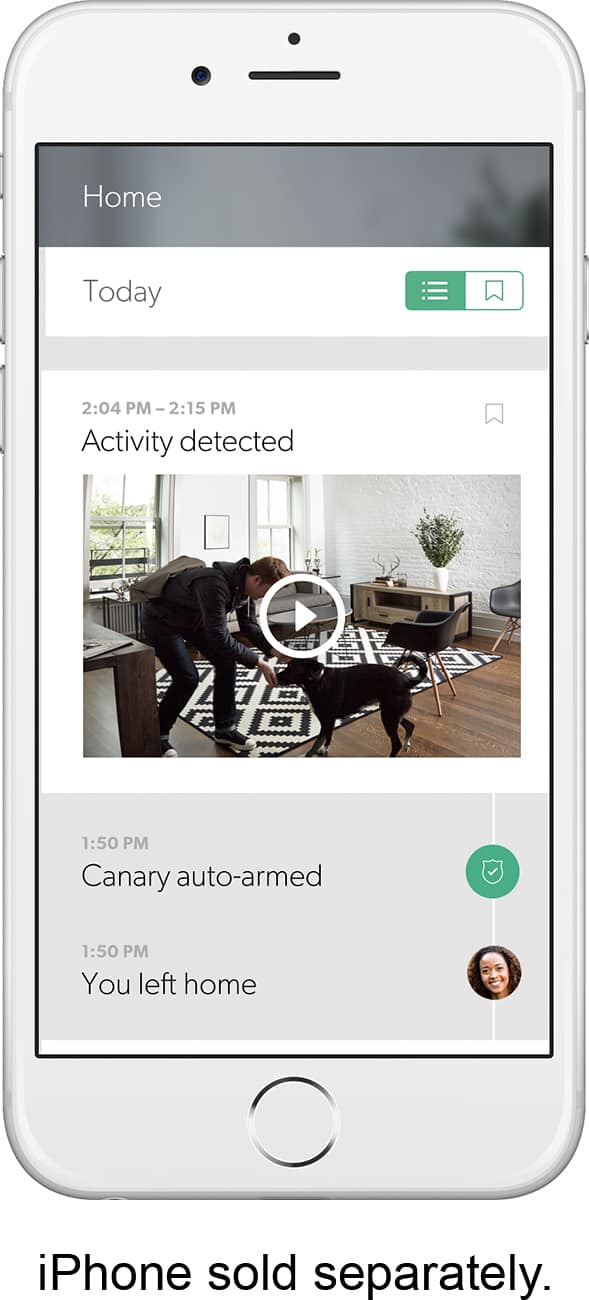 My friend was obviously kicking herself for not getting a security system earlier.  Hindsight is 20/20, right?  Well she picked one up and it immediately made a difference in giving her peace of mind.  It's pretty high tech too, and had cool features that weren't around even a few years back.  With smart technology and the advancements in mobile devices the world is changing all around us and security is right in line with the advancements.  I'm happy today to be able to share with you what I think is one that is a game-changer in home security systems: the Canary Indoor Wireless High-Definition All-In-One Home Security device.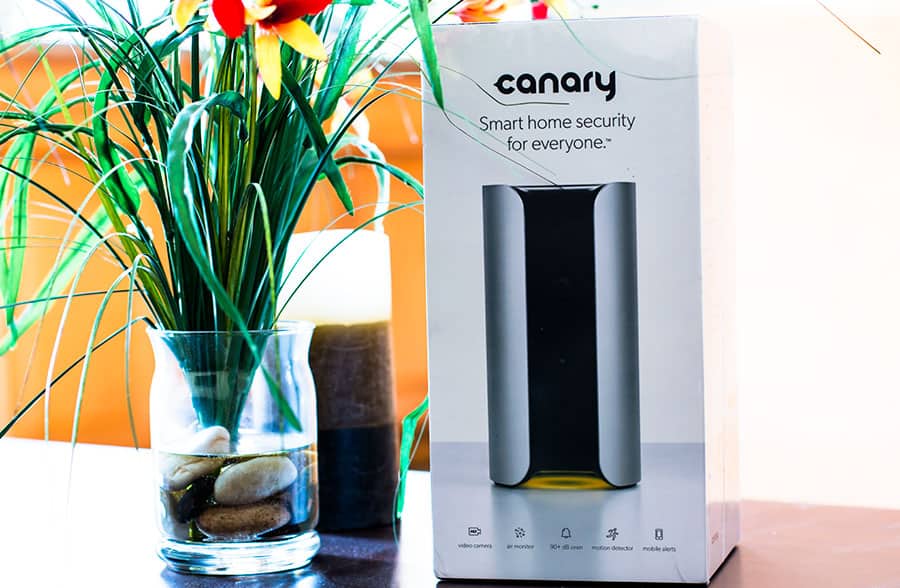 The first thing I noticed when opening the box is that this is far less cumbersome than most of the systems I've seen out there.  There's no way that I could set up most devices out there as I'm not an electrical engineer.  The Canary was as easy as these few simple steps:
1). Place the Canary in a central location.  For us, that's the living room area is it is our Grand Central Station that connects all of the rooms.
2). Plug-in the device (super easy).
3). Connect the Canary to your Wi-Fi (again, super easy)
Easy-peasy.  There weren't a ton of wires, we were easily able to conceal the couple it has.  I like the sleek design and colors, it looks sharp on our shelf next to some art.  The Canary has infrared for nighttime and has a wide-spanning view.  It also has a 90+ dB siren, loud enough to scare burglars away and alert my neighbors.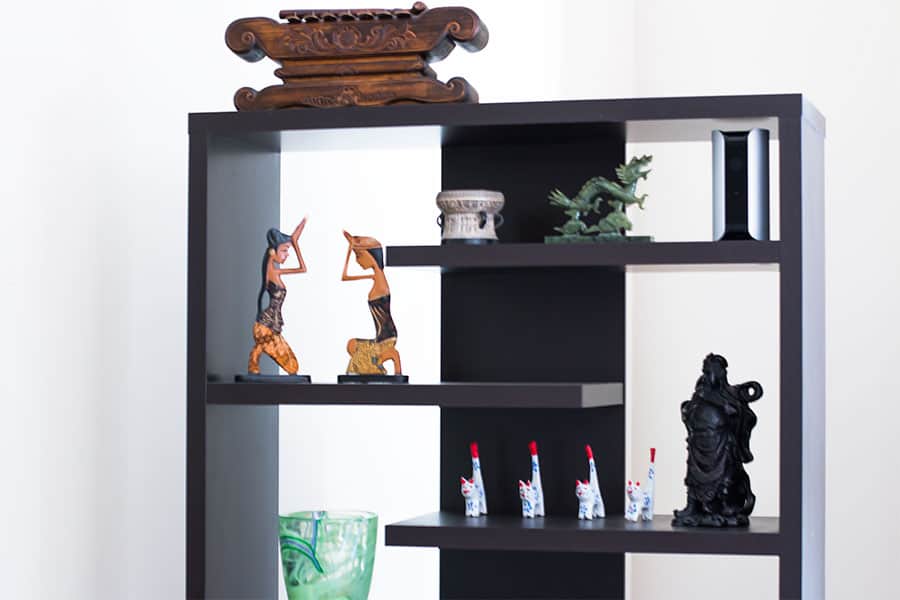 Going back to my comments on smart technology, the best part of Canary is that you can stream live video of your home on your smartphone (iPhone® or Android).  That means I can check in on the pets or when someone is working on something in the house.  I can also use this for my kids to check in on them or make sure they're doing their homework in the afternoon.  If I expect people in the home I'll set the Canary to WatchLive, if not I'll set it to Arm and get notified if someone enters the home (and then stream or sound the alarm).  More along the lines of 'smart', the Canary even has a HomeHealth feature to monitor the temperature and air quality of the home (and give you the power to check on it anywhere).
There's more good information on the Canary Indoor Wireless High-Definition All-In-One Home Security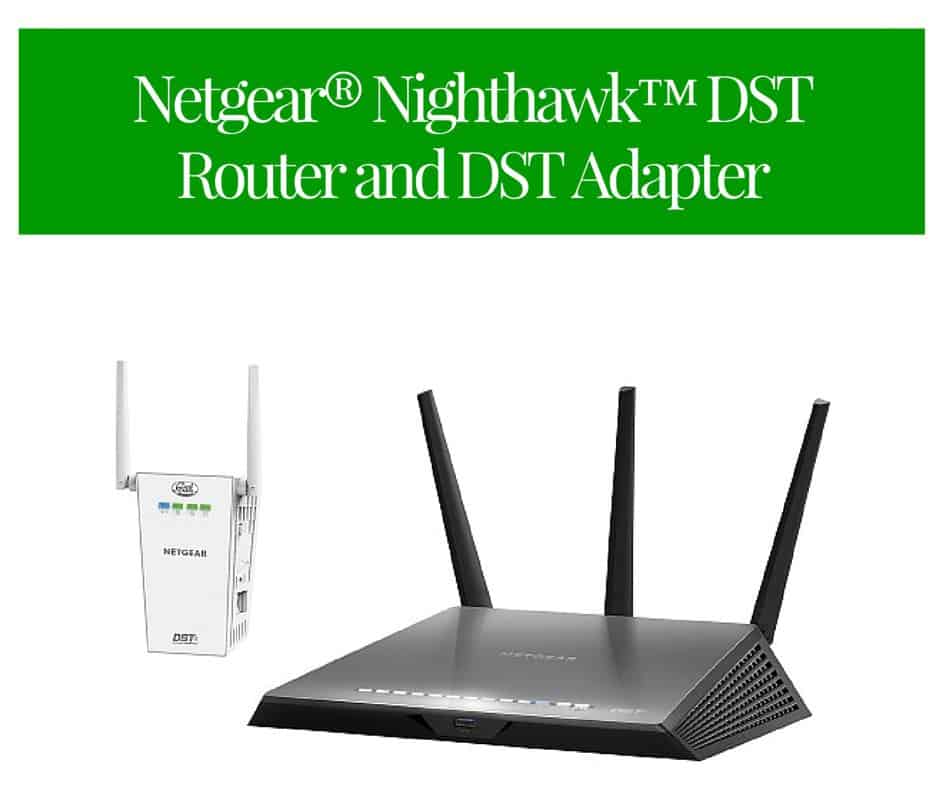 The Canary paired well with another hot item, the Netgear® Nighthawk™ DST Router and DST Adapter, (exclusive to Best Buy).  This router gives a much needed solution to the growing number of connected devices in our homes (the average for the US is 7 connected devices, we are just north of that level in our home with laptops tables and phones and now our Canary system.  As a blogger I have seen a strain on my router over the last year.  I initially made the assumption that it was always our service provider's fault, but then had to do a reality check that my router was outdated and not up to our needs.  Our slow Wi-Fi was bad but others experience dropped calls or dead zones in their house from a sub-par router.  The  "DST" in this router/adapter combo stands for Dead Spot Terminator, and you can place the adapter in one of those trouble areas (and purchase more as needed).  The router was designed to support 10+ connected devices, and you can even prioritize those that need it most (for me my work laptop, but for others it may be the device they stream music or movies on).
The Netgear® Nighthawk™ DST Router and DST Adapter is far easier to setup than the competition as you get Geek Squad Set Up and Support during the install and for any support 24/7 for a full year.  That is HUGE for me!  I've actually returned a router before because the installation was so confusing that I gave up after a few hours.  I went through the steps on this one and it was easier, and having the experts from Geek Squad on the line was very reassuring.  I don't mind dabbling in some things but in others I just want to get coached through it and setting up a router is one of those things.
Since setting up the router my devices have all been performing very fast and I have noticed an increase in download times on my Mac.  I honestly thought I may need a faster processor, I always still sometimes seem to forget about the router being the culprit.  I would like to check back in after 6 months and give an update on how the router is working and let you know if I've had any downtimes or other issues, but it seems like this router was designed to tackle just that and it doesn't hurt that it's from Netgear®, the best brand in that space for years and years.
Disclaimer : The reviewer has been compensated in the form of a Best Buy Gift Card and/or received the product/service at a reduced price or for free