This post is in partnership with Ontario Mills. All opinions are honest and my own.
Denim is so versatile. My husband can wear his denim pants while bumming around the house, then magically turn them into his going-out attire with a nice polo. Well two can play that denim game, this comfortable chambray shirt from Loft's signature fits my style and mood all day long, yet rocks the going out look with heals and fun jewelry. I wear one of my favorite heels, in gold and black to pull together the look together and glam it up a bit.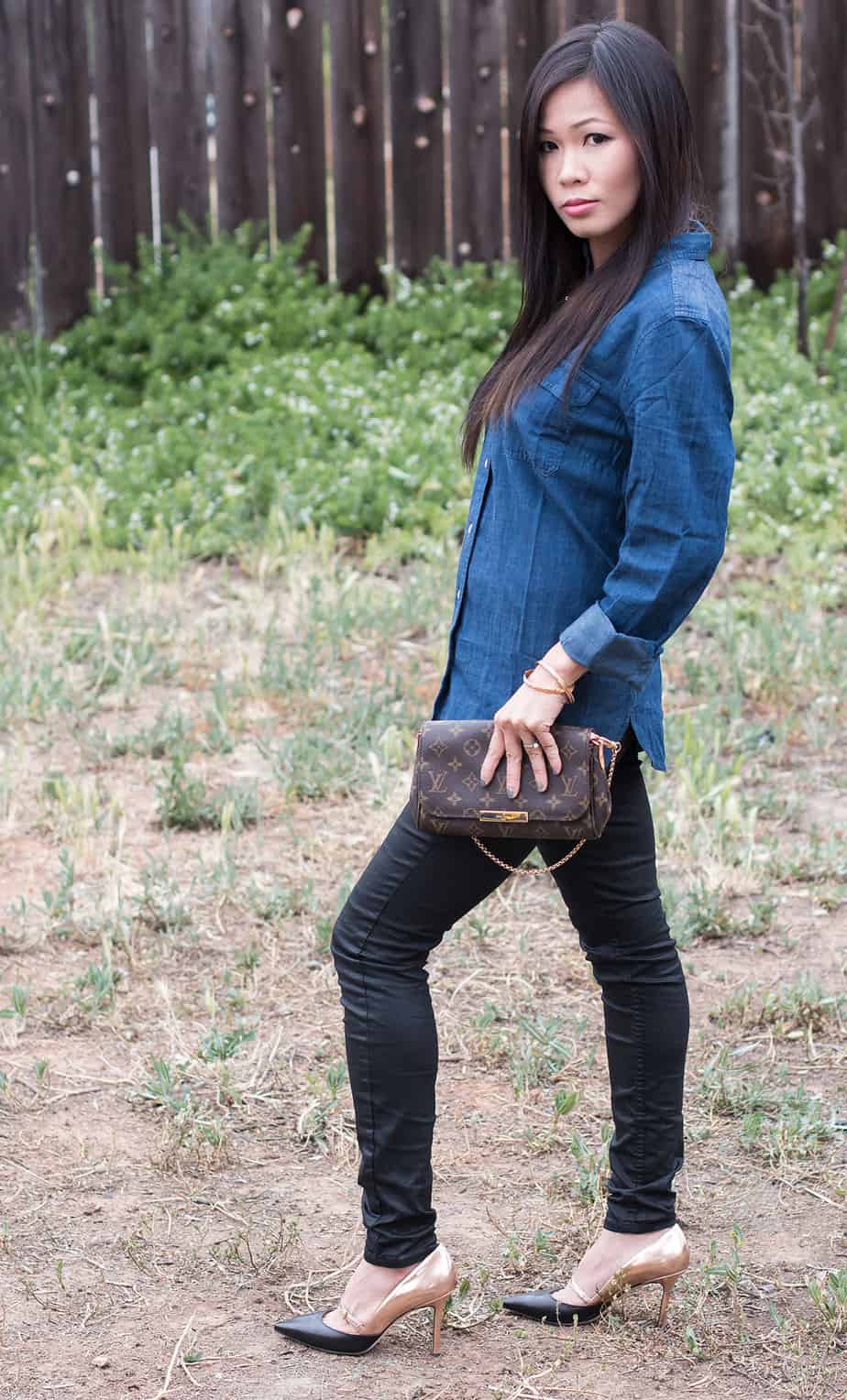 My outfit : Chambray shirt (loft), Kate Spade Shoes (Saks Fifth Avenue), Louis Vuitton Favorite PM, Gold Bracelets (Old)
Are you a savvy shopper like me? Make sure you hit up the California's largest outlet, as Ontario Mills is celebrating all the little things that make an outfit during its first-ever, month-long Accessorize Your Spring Sale (Saturday, May 7 through Tuesday, May 31). Savvy shoppers can enjoy exclusive discounts on the season's hottest accessories on top of everyday discounts of up to 70 percent available at Ontario Mills retailers. Shoppers will also find additional savings at all of the centers' more than 200 brand-name retailers, including Neiman Marcus Last Call, Saks Fifth Avenue OFF 5TH, Coach Factory Store and Nordstrom Rack with deeply discounted spring merchandise and a sneak peek of summer arrivals. There's deeply discounted spring merchandise and a sneak peek of summer arrivals. Everybody is looking for a deal, including me! I love fashion as much as I love food, and that's saying a lot. Finding bargains at events like these is the best way to stay on top of fashion trends without sacrificing other necessities. It's also a guilt-free adventure as you can walk away with tons more than those that full price.
So today I am going to share some of the hottest fashion spring trends :
Crush it in cobalt:
Experiment with cobalt in a new handbag. The fresh pop of color will modernize your look!
Cobalt pairs nicely with gold and silver accessories. Mix a cobalt enamel bangle or beaded bracelet with a stack of gold or silver ones.
Men can also find cobalt in accessories like fun patterned socks, ties and pocket squares. Cobalt accessories look fantastic with a navy or grey suit.
Look fab in florals:
When choosing a floral, be mindful of the size of the print. The size of the pattern should match the size of the person.
Florals can be mixed with other florals for a modern, eclectic vibe. Pair a floral dress with contrasting floral heels.
Men can wear florals, too! A floral tie or pocket square can soften a menswear look and add a pop of unexpected pattern.
Master metallics:
Metallic sneakers in gold, silver or bronze will make your most casual outfits look more pulled together.
Mix your metals. Silver, gold, copper and gunmetal all look great when mixed together – in clothing and jewelry.
Treat your metallics as neutrals. Nothing will clash with them.
Serious stripe style:
Vertical stripes help to elongate the body.
Mix and match! Stripes look great when paired with other patterns like polka dots, florals and even animal print.
For a woman who's smaller on top, horizontal stripes in a t-shirt will help to balance a larger bottom half.
If you're at Ontario Mills shopping during the Accessorize Your Spring Sale, be sure to share your accessory finds on social media using #accessorize!