Disclaimer:  The reviewer has been compensated in the form of a Best Buy Gift Card and/or received the product/service at a reduced price or for freeImagine, explore, create!  I try to instill these three virtues in my kids and am always hunting for activities, toys and games that do the same.  In Minecraft I have found a gem of a game that pushes my kids thinking in each of these areas as they navigate worlds using blocks to construct houses, boats, castles and even massive cities.  My family is gung-ho on stocking up on everything to do with the game, and the Best Buy's Minecraft landing Page has a killer assortment of Minecraft games, toys and collectables.
Minecraft – A Family Friendly Game 
There are very few games out there that get my parental stamp of approval that also keep my kids enthralled for hours.  Of those, only a handful also keep my attention for the same duration.  Minecraft is one of them, with a huge appeal to all ages of being entirely in charge of your own adventure.  I enjoyed watching my kids play and seeing their artistic creativity flourish.  I saw real world problem solving skills and watching them play Minecraft conjured images of them as future engineers, architects, or project managers!  I try my own hand at the game too, especially after watching videos of lavish structures that others have created.
Best Buy is THE Place to Buy Minecraft Games and Toys
From the Minecraft Xbox One S console bundle that has everything you need to be on your way, to Minecraft games for other consoles and systems they have it covered.  From their page I also found tons of other Minecraft toys and collectibles that were perfect for my kids playroom and even mini figures for my husband's office at work.  The design of the Minecraft products is different from anything else around with its "blocky" theme to it that seems to appeal to males and females, young and old.  From Minecraft playsets to card games there are a lot more ways to keep the Minecraft gaming going, even when screen-time is up.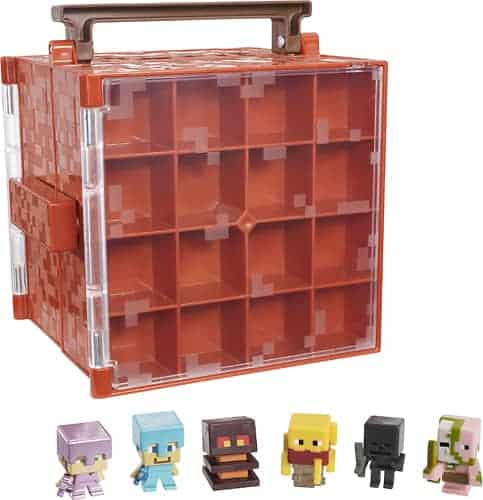 Minecraft – Creative Mode and Survival Mode
We started our Minecraft gaming with Creative Mode, where we ventured through worlds at our leisurely pace sans pressures and stresses of the world.  When we tried out Survival Mode we embraced our true gamer spirit, where we had to develop tools and weapons and fend off attacks and other threats to survival, including starvation!  I find both games entertaining and love how different they are going from single player to multiplayer.