We had a motley crew of a group hitting the movies on August 5th: one parent who likes funky movies like funky movies (ala The Big Lebowski), one parent who likes more slapstick humor (think Airplane), a four year old and a two year old.  What movie that just came out could have all four of us hysterical?   Shaun of the Sheep!  We were invited to a press screening and quickly accepted as it is rare that a kids movie hits the theater that our very young kids can go to (a lot of the PG movies are too scary for them).  I was really anticipating the event as I couldn't wait to hear them laughing, and seeing them enjoy a movie would make it a good day.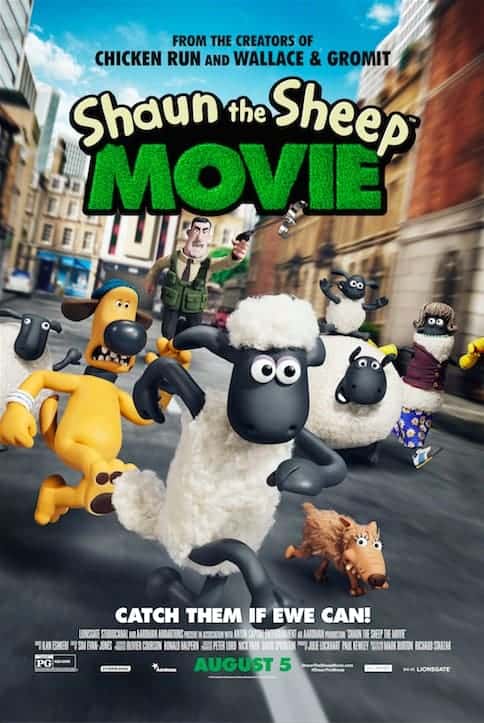 I was also expecting to get some good laughs myself.  I had enjoyed stop-motion animation shows in the past like Wallace and Gromit, and Shaun of the Sheep is from the same studio (Aardman).  I underestimated the movie though, it has to be one of the funniest movies that I have seen in a couple of years.  It is downright hilarious!  The adults in the theater were laughing just as hard as the kids, there is so much adult humor in every scene.  You also can't help but fall in love with the characters, there's no speaking in the movie but each character says so much in other ways throughout the movie, be it through grunts, squeals, hilarious facial expressions every scene.  Even the harshest critics are raving about this movie and this time I agree with them.  Go see Shaun of The Sheep now (and thank me later). J
SHAUN THE SHEEP MOVIE
In Theaters August 5
When Shaun decides to take the day off and have some fun, he gets a little more action than he bargained for.  A mix up with the Farmer, a caravan, and a very steep hill lead them all to the Big City and it's up to Shaun and the flock to return everyone safely to the green grass of home.
Lionsgate presents a Studiocanal and Aardman Animations production.
Directed by: Mark Burton, Richard Starzak
Screenplay by: Mark Burton, Richard Starzak
Produced by: Julie Lockhart and Paul Kewley
Music by: Ilan Eshkeri