Many women say men are too hard to shop for, or that their guy already has everything. On Valentine's Day and anniversaries, it's even more challenging because the gift also has to be romantic; it can't be another power tool – there's no romance out in the garage!
My man is adorable and kind of geeky, the kind who will never splurge on something special for himself beyond the odd game or computer component. Gifts for him have me tearing out my hair! What could I get without asking him and ruining the surprise, that also happens to scream "You're the love of my life!" Was there anything out there that he would love getting and I would enjoy giving, packaged in a fun way that made both of us feel lucky and close?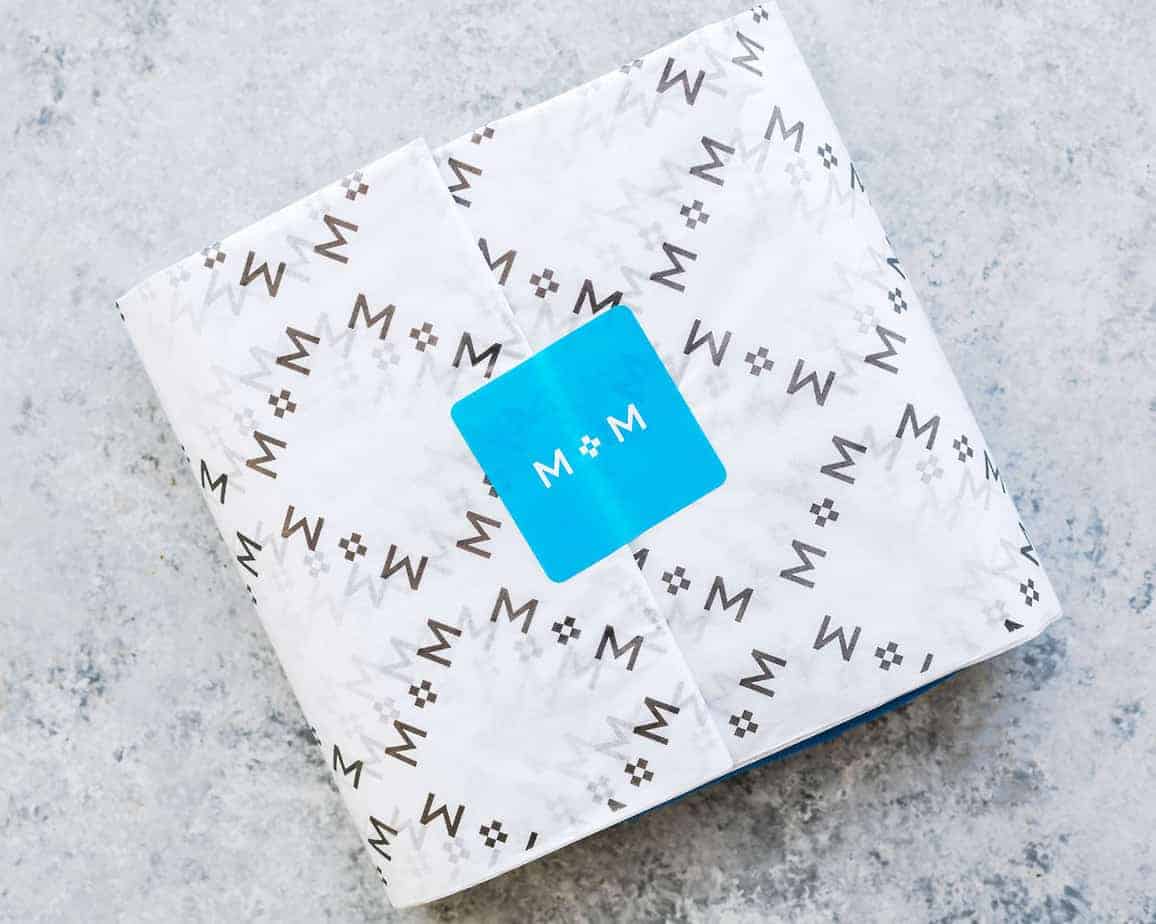 I'm a romantic. I want everything to be perfect for Valentine's Day, and with every couple on earth making plans for the same night, that sometimes means planning details early. Reservation made months in advance (seafood please!), sexy outfit tried on twice, babysitter booked, clean sheets! Getting his gift was the only part I struggled with, and I always procrastinated. Lunchtime on Valentine's Day you'd find me scrambling in the men's section of the department store with all the other last-minute V-Day hopefuls, making the best of romantic gift giving with a tie, and praying the reason it caught my eye and made me think of him wasn't that he already had it!
It doesn't help that he seems to know just what to get me, too. (Yes, maybe the hints I drop help.) He buys me sexy underwear sometimes, and I love it! But I never thought of buying underwear for him. Maybe because his underwear choices were always three pack of white boring boring boring – what's special about men's underwear? I think if I'd asked him about premium underwear he wouldn't have known what I was talking about – all he thinks about in underwear is that it has to be comfortable and functional. Well, let me share the gift idea that will solve your Valentine's gift dilemma for good!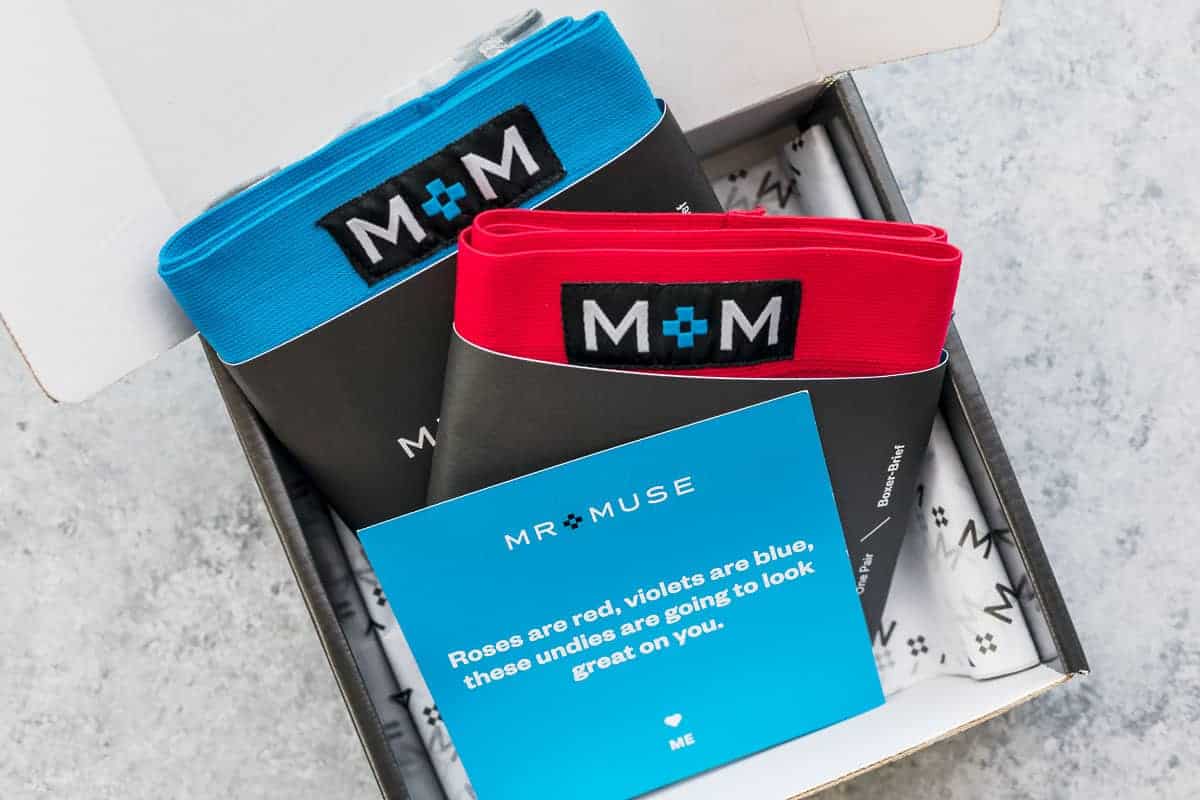 Trendy Premium Underwear from Mister & Muse- the Gift Men Love!
Have you ever heard about premium men's underwear gift boxes from MR & MUSE? First of all, this company knows what all men want in underwear – it better feel good when it goes on and it better perform all day! MR & MUSE use luxurious fabrics like bamboo and cotton; the premium sport underwear is ultra-soft Micromodial with spandex that will never ride up, and yes – it's moisture wicking too! This premium underwear keeps him cool in the summer and warm in the winter. But what you will love is the fantastic look of them. Gorgeous and masculine in vibrant contrasting colors, with an easy cut that is flattering on any body type, sizes S through XL. Me, I'm a sucker for stripes; I can't help it- they turn my head! black and white, blue and grey, nautical, I found exactly what I wanted to see him in at MR & MUSE.
What makes this gift an even more perfect Valentine's Day gift is the special way it's boxed up for your man. You get to select exactly which premium underwear are included in the box, and importantly, you get to choose the gift note! It can be the simple "Happy Valentine's Day, Babe," or the heartfelt "You are my everything." But I chose something a little more fun and sexy. With all of the everyday things going on we forget to give compliments and show enough love and passion… how slick to have it be an easy one-click option for the gift box. And the best part -he was thrilled! It was unexpected gift with the right mix of romantic, and fun. For the man in your life, this gift isn't over on Valentine's Day. Now every time he pulls on his premium underwear from Mister & Muse, he's thinking of me and the message I sent him. He thinks, "I've still got it!!" There's no better way to say I love you on Valentine's Day than a gift that gives him that swagger. Trust me on this one for Valentine's Day – MR & MUSE.
Best Sexy Men's Underwear
After just thirty seconds on the MR & MUSE website I was totally drawn-in, not just from the underwear design but also the hunky models… it gets attention and has the appeal of a modern and hot trend brand. These are a best bet for eye catching, sexy underwear. My husband is trying to get his body in better shape and "bring sexy back" as the song goes… these will be great for working out as they give so much more support than boxers and other underwear made from sub-par material. It's very cool that they are functional and oh-so-sexy, too! On that note, I really hope Mister & Muse starts up a women's line someday.