Big thanks to  Ocean Pacific Grille for inviting me to review their restaurant. All pictures are PoshJournal's and opinions and viewpoints are based on our own experiences.
Downtown San Diego keeps upping its game as a destination for food and entertainment, with Ocean Pacific Grille topping our list for best new restaurants in the area.  Going there is refreshing in every sense of the word, from the stylish atmosphere to the hip drinks and especially the Pacific Rim style cuisine.  Each dish brings creativity in fusions unlike anywhere else, with a simplicity and pureness that lets the flavors themselves stand-out.  It is one of those restaurants that had us thinking about and craving their food for days.
The genius behind the Ocean Pacific Grille's flavors is Executive Chef Charles Andres, who spent many years crafting his skill at the Monte Carlo Hotel And Casino, Roy's Maui and the Rusti Harpoon in Kaanapali Maui, HI.  His carrier path guiding him to where he is now, opening Ocean Pacific Grille.  Chef Andres also draws a lot from his family and childhood.  He cooks with many of the traditional Filipino ingredients he watched his grandma and mom use while growing up in the Philippines, and applies the same passion for cooking that he learned from his father while he was a teenager in Hawaii.   Adding to this rich background of tradition and experience is a brave, "no boundaries" approach in the cooking styles, ingredients and complex flavors that you'll find at Ocean Pacific Grille.
We have tried quite a few dishes from the menu at Ocean Pacific Grille, below are some of our favorites.
Herb Grilled Island Opah with Celery Puree
The opah taste was spot-on and complimented well with local baby vegetables and garnished with watermelon radish.  The baby carrots were confit in olive oil and a pattypan curry that is amazing but not overpowering.  A flavorful ingredient that worked so well with the opah is the kabocha squash.  We should note that the seafood at Ocean Pacific Grille is always premium and often local, as is the specialty produce (from Santa Monica farmer's market and other choice sources).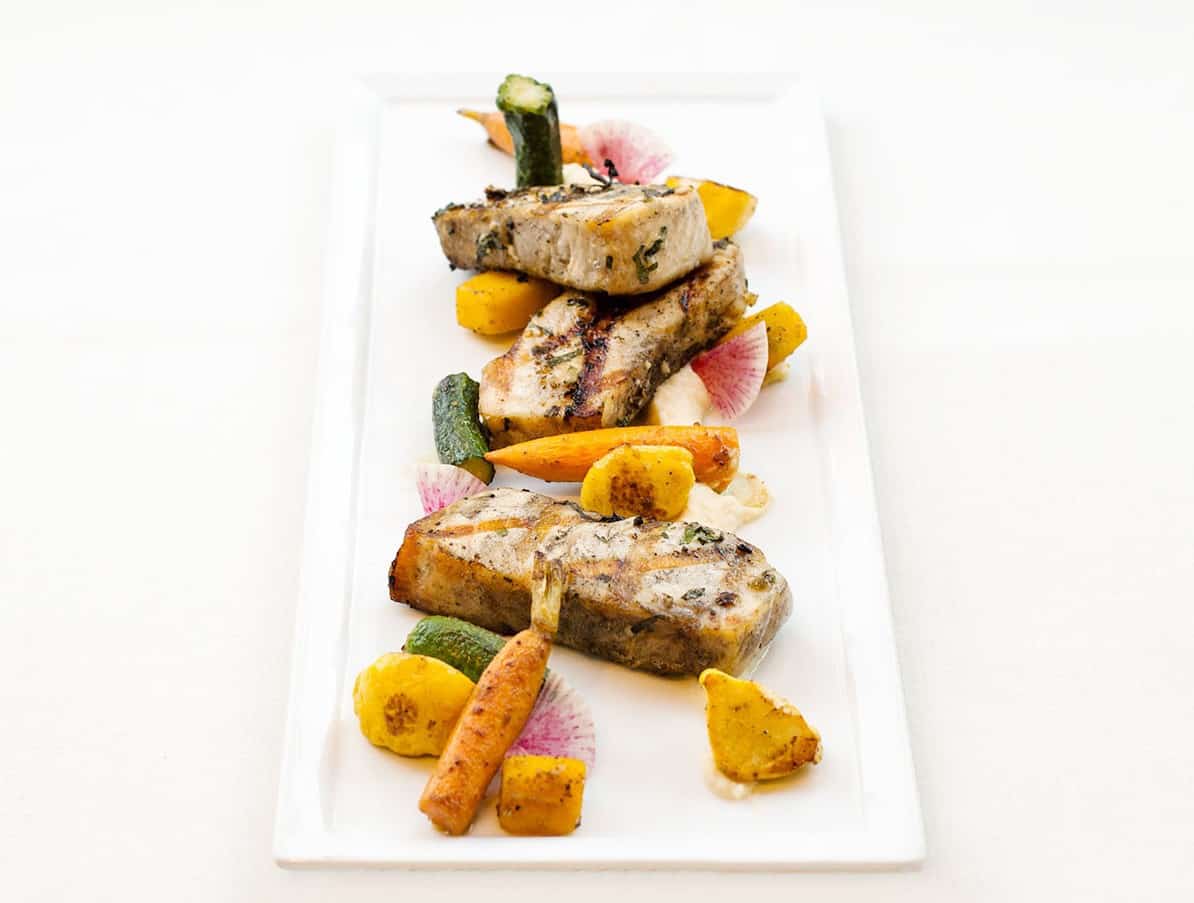 Olive Oil Charred Octopus 
Octopus is a popular dish these days, and this one stands out.  It is slightly charred and mixed with Asian influences (including one of my favorites, jicama).  The octopus is pressure cooked in lemon, ginger, lemon lime oranges and pickled in sukaan ilocano.  Blood Orange jelly, grilled hearts of palm, watermelon radish, watercress round out the flavors on this beauty.
Longanisa Flatbread
Longanisa is a traditional style of sausage from the Philippines with vinegar and garlic savory flavors.  This dish combines a tomato and onion salad, all atop a garlic butter flatbread.  This was another favorite of ours, it tasted like comfort food, elevated to a new level.
Miso glazed C.A.B. Burger 8 oz.
This burger is glazed with miso lemongrass when grilled, and served with a Korean kimchee aioli.  It's served on a brioche bun, with lettuce, tomato and a side of fries (that don't even need ketchup).  A burger at just an average restaurant is the same price or higher, and here at Ocean Pacific Grille you are getting a top-notch cut of beef with some visionary flavors.
Crispy Skin Sea Bass
Ocean Pacific Grille's  take on a traditional Senegong dish (tamarind tomato-based broth).   A prime seabass with crispy skin, baby bok choy, Chinese long beans, toite, 2 green lipped mussels.  The broth (made in-house) has ginger, tomato, lemon grass, tamarind based, fish bone and water. The dish has intelligent flavors and textures:  a little bit of fish sauce gives a slight touch of tanginess alongside the savory broth, with the flaky, mild seabass.  This is one of the most popular dishes and for good reason.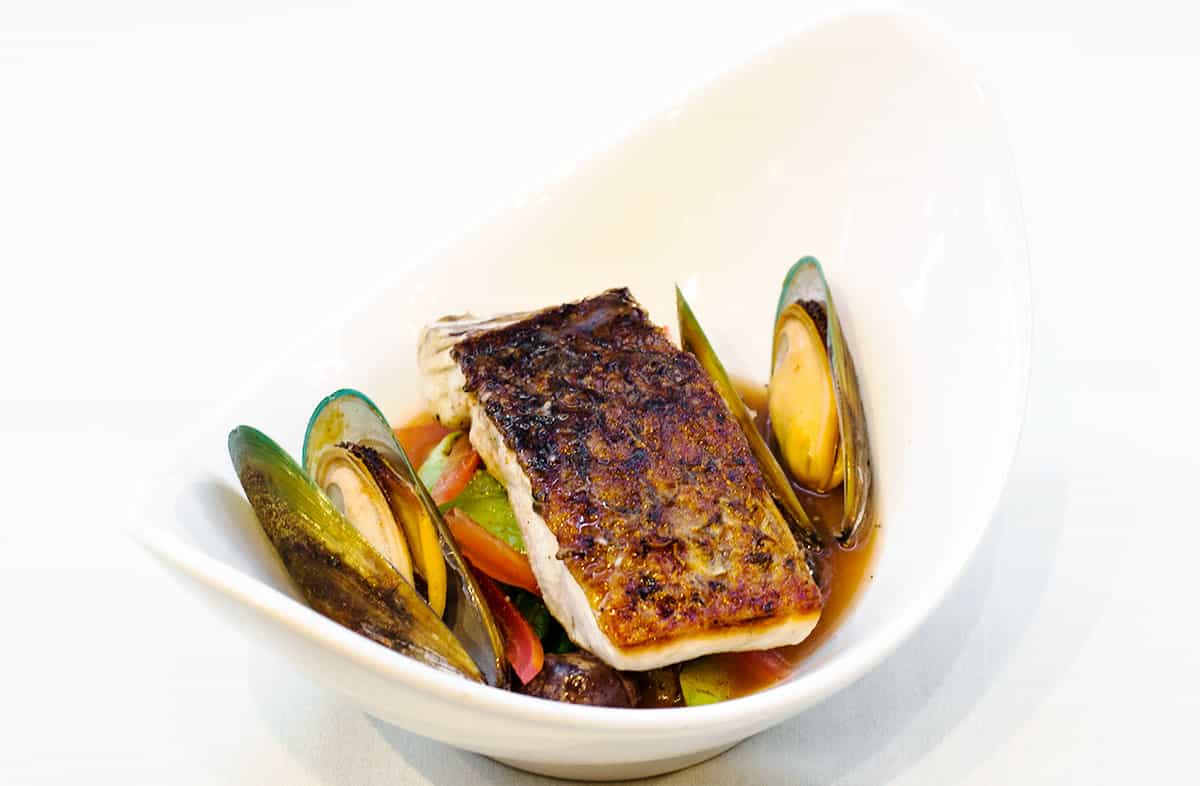 Ocean Pacific Grille has a killer location right in the center of downtown, close to the Horton Plaza mall and all of the best nightlife.  If you're looking for dining on 5th Street or 6 Street in the Gaslamp look no further.  With the food and décor the dining room is perfect for date night: upscale yet unpretentious.  The bar area has the same appeal, with flat screen TVs and lots of comfortable tables to enjoy the same amazing food.  Even the bathrooms are unique and chic.
One thing I noticed is that the Ocean Pacific Grille has insanely low prices for happy hour.  With its modern look, passerby on the street looking in may assume that the bar is extremely expensive but that's not the case:  Happy Hour bar menu items $6; Craft Cocktails $7; Beers $4.  They even offer a reverse happy hour from 9-11 on Fridays and Saturdays.
Ocean Pacific Grille
531 F St. San Diego, CA 92101
info@oceanpacificgrille.com
Tel: 619-578-2828
Fax: 619-578-2760