I created this post as part of a sponsored series with Socialstars and SPLENDA® Brand; all opinions are my own. #SweetSwaps #SplendaSweeties
A New Year's Resolution is a tradition where most of us make promises around our health, wealth and happiness. I remember the old days when I wrote a huge list of goals, and few if any were tied to health.  As I got older and had a family, I started to focus on things that will bring positive impact to my family, and good health for all of us tops the list.  My kids, husband and I are foodies and spend a good portion of our spending money on groceries and eating out at restaurants. When we travel to other cities one of the highest things on our list of things to do is to check out the local restaurants.  
One of our main 2016 New Year's Resolutions is to be smarter about what we eat. Our specific goals are as follows: Start reducing our sugar intake and overall calories, and to avoid junk food and fruit juices.  And also to try to eat more greens and not skip meals (especially breakfast). When I am craving sweets, I prefer to swap my sugar with  SPLENDA® Sweetener Products. SPLENDA® offers a wide variety of products that can be used as sugar substitute for salad dressing, snacks, full meals and more.  Swapping in SPLENDA® will reduce the calories and carbohydrates compared to sugar. SPLENDA® helps me stick with my New Year's Resolution.  SPLENDA® has the sweet taste you love, without all of the calories and carbohydrates of sugar.
I have other 2016 resolutions that will I hope lead to living a happier life, I focus on positive things, like enjoying every minute and not to sweating the small stuff too much with worries about tomorrow. As a full time blogger, it is also easy to fall into habits of always being connected to the computer or phone.  I started to limit the amount of time I spend on my computer, especially on Saturdays and Sundays as those are family days.  So far it's been great, my focus is all on the kids (multitasking is so overrated sometimes!).
Some of my past resolutions and life goals in general were not too realistic.  I noticed that I wouldn't even be close to reaching them after many months, so I would just kind of abandon them (and sometimes my full list of goals as a whole).  A business book that I read said goals should be SMART: Specific, Measurable, Achievable, Results-focused, and Time- bound.  I found this process to be really helpful.  I gain some momentum and confidence crossing goals off my list.  Oh that's another tip on resolutions, keep an actual goal list where you can cross each one off as you reach them. There's something so fulfilling about doing that!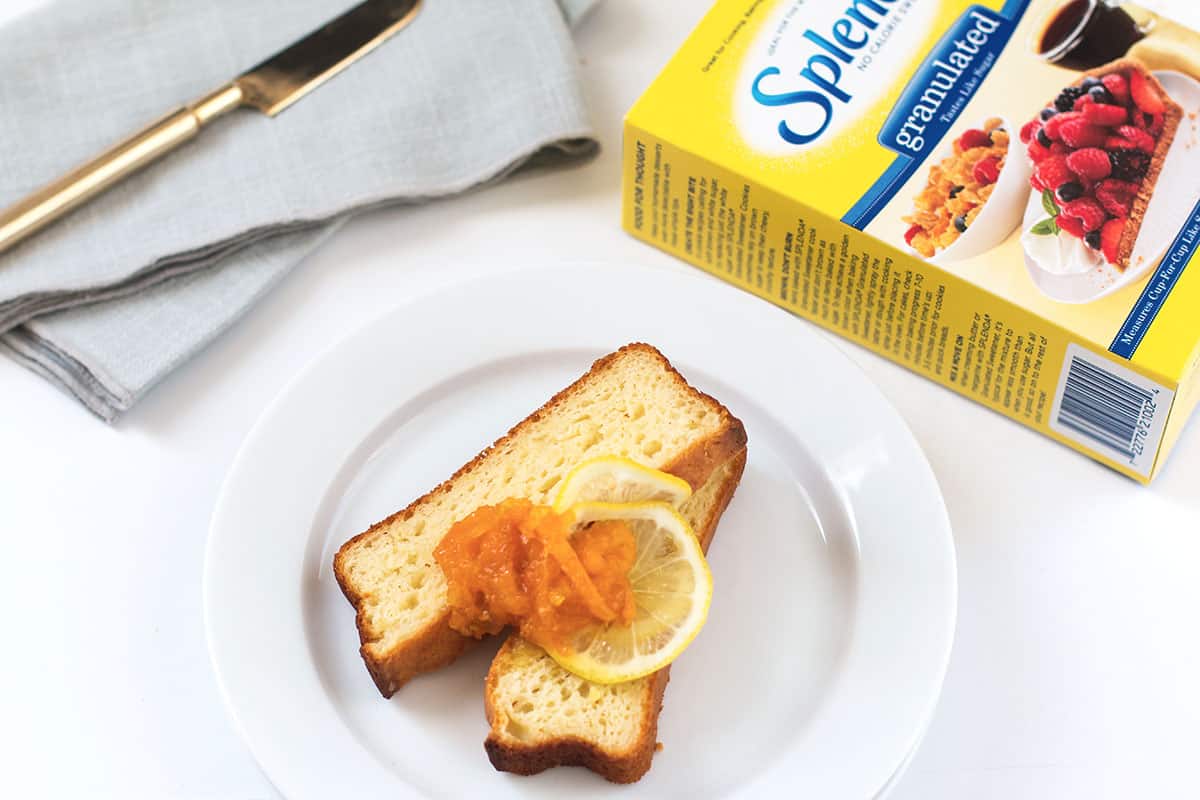 Follow SWEET SWAPS™  for recipes & tips to help you save calories all year! Click here to get Sweet SPLENDA® savings.  Today I am going to share with you a Old Fashioned- Lemon Pound Cake recipe with Orange Lemon Marmalade (no butter required). Without butter it drastically reduces the amount of fat and calories. This cake is  still moist though, and the lemon flavor will make you want a second piece. When swapping sugar for SPLENDA® Sweetener Products in your own recipes, please refer to the SPLENDA® Brand measurement conversion charts
I hope you are doing well with your New Year's resolutions!  Stay happy and healthy. Think Sugar, Say SPLENDA®, Use SPLENDA®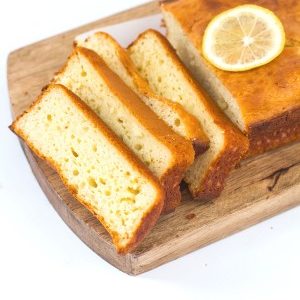 Ingredients
2

medium oranges

1/2

lemon

zest finely grated and juiced

3

cups

water

1.5

pounds

SPLENDA® No Calorie Sweetener

Granulated (It measures cup for cup like sugar – so whatever amount of sugar your recipe requires just substitute the same amount of SPLENDA® Granulated Sweetener)
Instructions
Wash the oranges and lemon throughly

Cut the oranges into 1/8-inch slices

Add oranges, lemon, SPLENDA® No Calorie Sweetener and water to the pot and boil for 5 minutes

Reduce heat and keep stirring for about 20 minutes until the fruit is soft
Ingredients
1 1/2

cups

all purpose flour

2

teaspoons

baking powder

1/4

teaspoon

salt

1

cup

whole milk greek yogurt

1

cup

SPLENDA® No Calorie Sweetener

3

large eggs

1 1/2

teaspoons

grated lemon

1/2

cup

vegetable oil

1/4

teaspoon

vanilla extract
Instructions
Preheat oven to 350F

Lightly spray oil the metal loaf pan

Sift flour, baking soda and salt into medium bowl.

Mix greek yogurt, SPLENDA® No Calorie Sweetener, lemon peel, vanilla extract in a large bowl and whisk until well blended.

Add eggs,1 at a time, beating just until combined or until yellow yolk disappears then gradually whisk in the mixed flour, baking soda and salt

Transfer batter to metal loaf pan and bake for about 50 minutes

Cool cake in pan for at least 5 minutes. Cut around cake in pan to loosen cake, remove and serve