Hearty and delicious! Try this easy-to-follow One Pot Spanish Chicken Stew Recipe,
Spanish Chicken Stew Recipe
This chicken stew recipe is the perfect recipe for everyday dinner. The soup is so delicious and is from simple ingredients. It can be cooked using a crockpot or a Dutch oven like the one I used for this recipe.
The recipe uses dry white wine. I highly recommend Sauvignon Blanc. It also calls for pine nuts as one of the main ingredients, which you may skip and replace with a blanched almond. Pine nuts are a bit pricey but their taste is unique and they add another element of consistency to the stew which is a plus in my book. The meat came out juicy and tender and easily parts from the bone.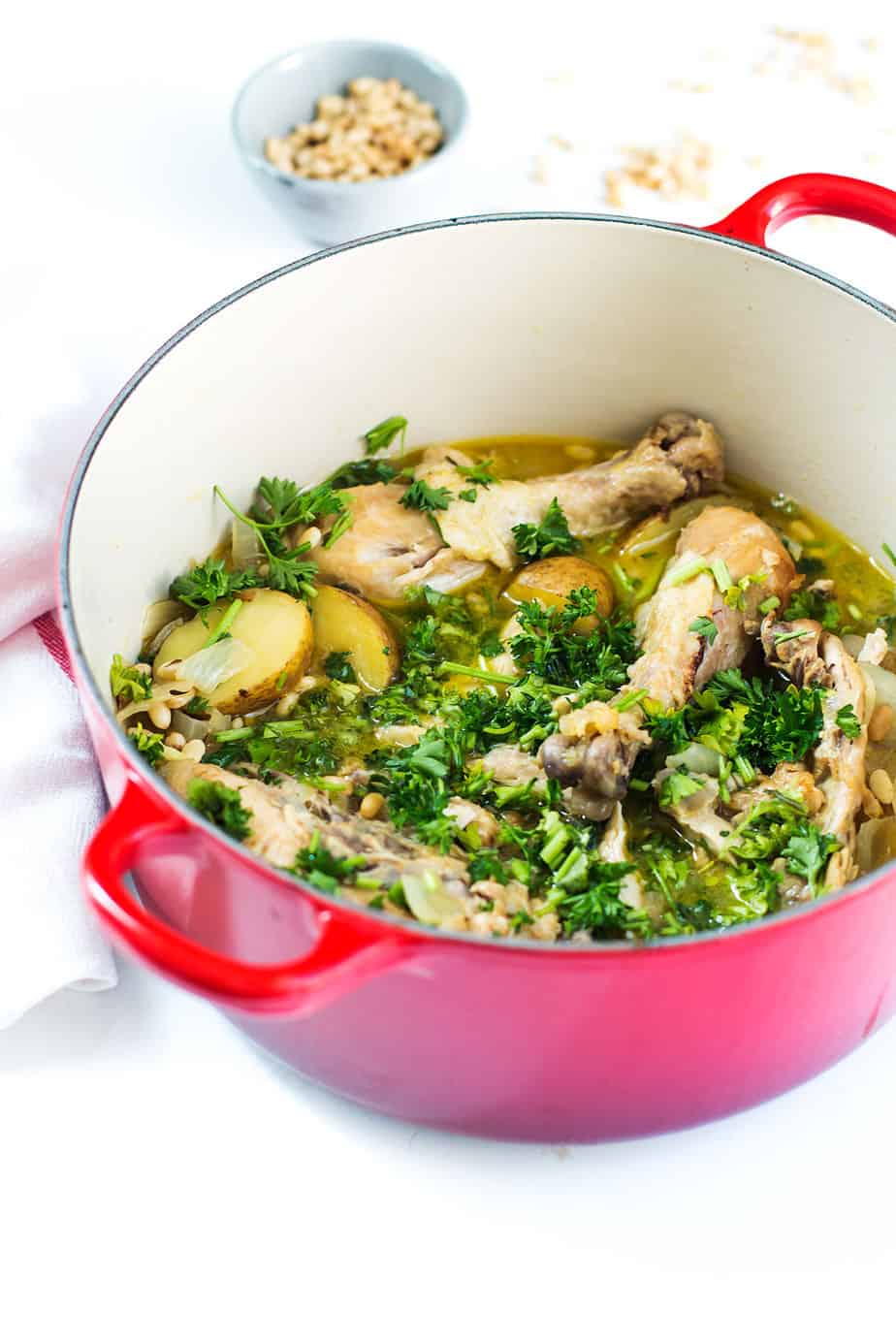 A Healthy Chicken Stew
As a white meat meal, the chicken stew is a great option for those of us trying to cut down on red meat but still need to love something flavorful and filling. Adding in vegetables and nuts only makes the dish healthier. I probably consume more chicken than any other meat, I love it in all forms. Stew chicken (aka casserole chicken) has become one of my favorite ways to enjoy it as I love being able to drop ingredients in and come back hours later to a great meal.
Tips Cooking with Dutch Oven and Slow Cooker :
Cook chicken 1 to 1 ½ hours in a Dutch Oven = 2 hours high setting in the slow cooker
Be sure you have plenty of liquid. Check the meat as it cooks, add more liquid if needed
Braise in the oven at 350ºF.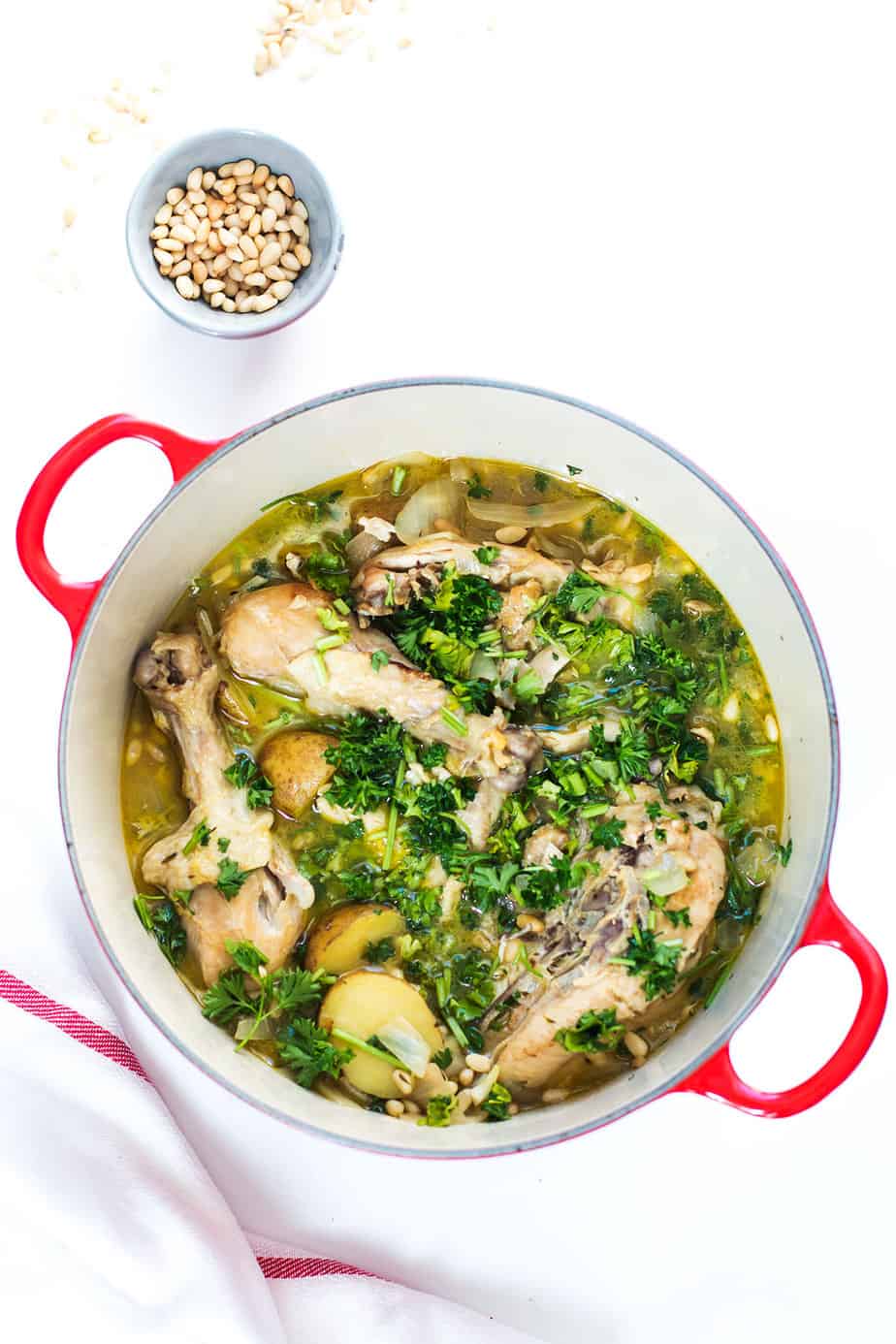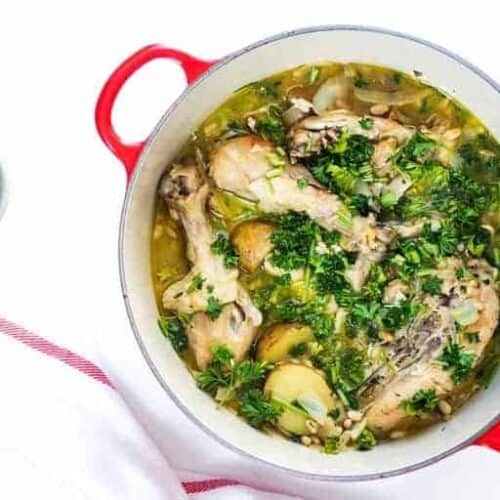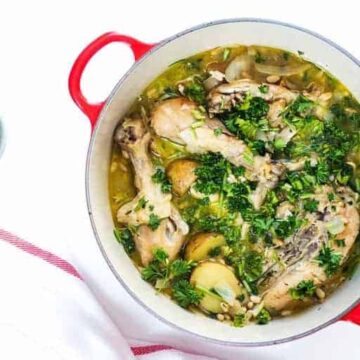 One Pot Spanish Chicken Stew Recipe
Ingredients
3

lb

chicken legs and breasts

1

medium onion

,

(chopped)

3

cloves

garlic

,

minced

½

cup

pine nuts

½

fresh lemon

3

cups

chicken stock

1

cup

dry white wine,

(such as: Sauvignon Blanc)

2

tablespoon

olive oil

3-4

whole medium potatoes

,

(washed and quartered)

⅓

cup

lemon juice

½

cup

fresh parsley

,

chopped

3

tablespoon

fresh thyme
Instructions
Preheat the oven to 350F.

In a large dutch oven, heat the olive oil over medium-high heat. Cook the chicken until browned. Transfer the chicken to a large plate. Set aside.

Add onion into the dutch oven and keep stirring for about 5 minutes. Turn off the heat.

Add the chicken back into the dutch oven, potatoes, nuts, chicken stock, wine, lemon juice, garlic, thyme, and ¼ cup parsley

Cover and cook in oven for about 1 hour.

Serve chicken and sprinkle with remaining parsley.
Notes
Adapted from the Chicken book