This recipe is for Polenta Parmesan With Chicken Sausage and Zucchini. I cooked it family style with the intention of having a lot left over for lunch the next day, but we polished the whole thing off in one sitting J. Oh well, as they say "Mangia! Mangia! (Eat! Eat!)
It's always sad to see summer go but I do love the fall season. With the sun going down earlier and the cooler months almost upon us it is fitting to spend some extra time around the dinner table enjoying the company of family and friends. I am not Italian but there's something both comforting and nostalgic about cooking up different pasta dishes. It brings me back to the time when I first started cooking, or at least being my mom's little helper. I began with basic stirring and mixing, then graduated to cutting vegetables and eventually to oven and stove duties.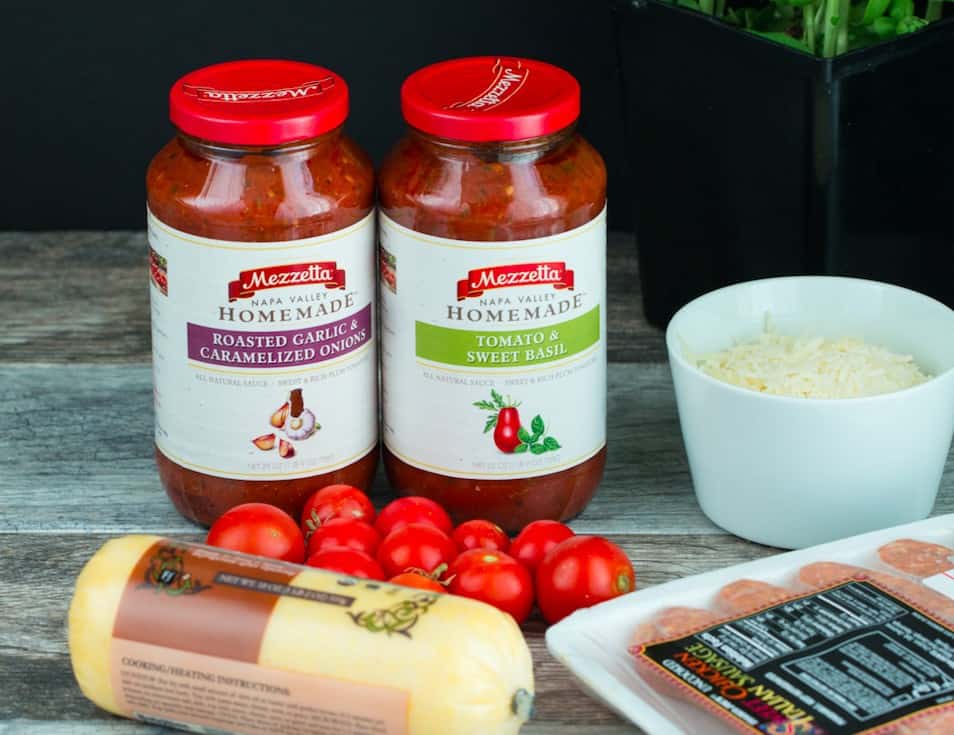 I overcooked the pasta more often than not when first getting started but after all of these years finally have my timing down. Equally important to cooking the pasta right is selecting the perfect sauce. There are a lot of options out there, so I make sure to have a checklist of things that are important when selecting my sauce. I have been introduced to the new Napa Valley Homemade Pasta Sauces from Mezzetta, a trusted family owned and operated brand for 80 years.
Click image to enlarge 🙂 
They have the finest quality ingredients, starting with their hand-selected plum tomatoes (with no added sugar or paste!). If you haven't yet tried these new sauces yet then you are in for a treat. Napa Valley Homemade has the slogan "The Sauce Memories Are Made Of", and I agree, there is a profound and memorable difference in the taste of their sauce. They have 6 different flavors to choose from, the below recipe uses one of my favorites: Roasted Garlic & Caramelized Onions.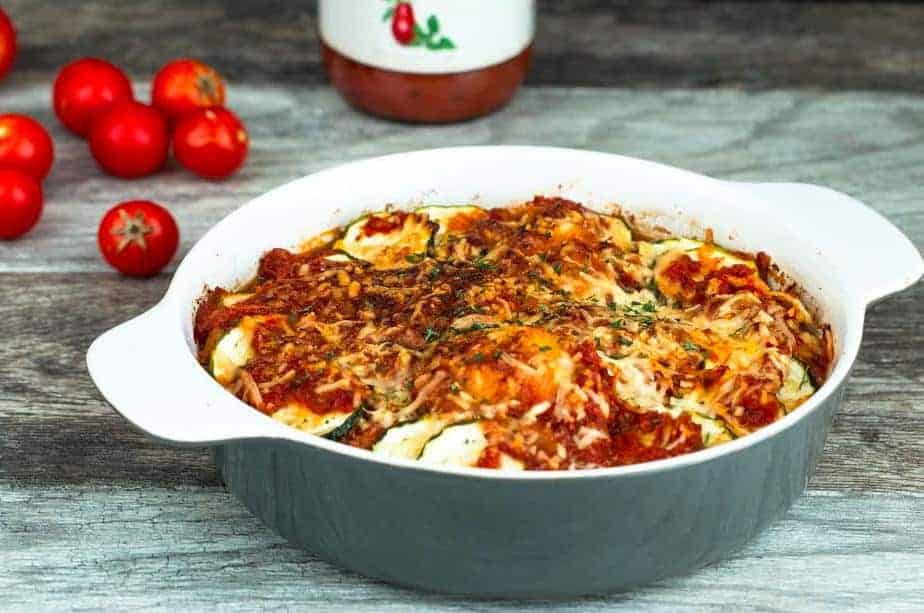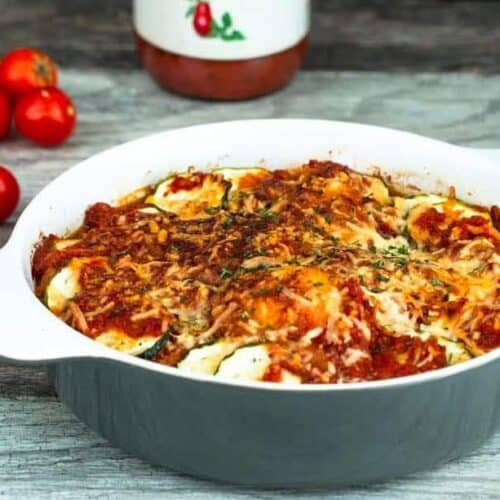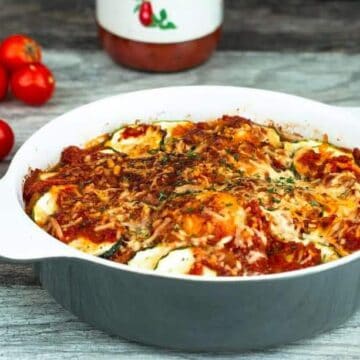 Ingredients
Chicken Sausage . As an alternative feel free to use ground chicken or other option.

I removed the casing

Ready to Use Polenta

Mezzetta Napa Valley Homemade Pasta Sauce

Zucchini

Parmesan Cheese

Fresh Garlic

minced

2

Tablespoon

of Olive Oil
Instructions
Preheat the broiler.

Heat the olive oil in a large pan. Add polenta and fry for about 2 minutes per side. Transfer to a baking dish

Add chicken sausage and garlic to the pan. Stir and Break them apart. Cook for about 5 minutes. Transfer chicken to a baking dish

Pour in the Mezzetta Napa Valley Homemade Pasta Sauce and Layer with Zucchini

Cook for about 3 Minutes then sprinkle with Parmesan Cheese

Cook again for another 1 minute or until the cheese is melted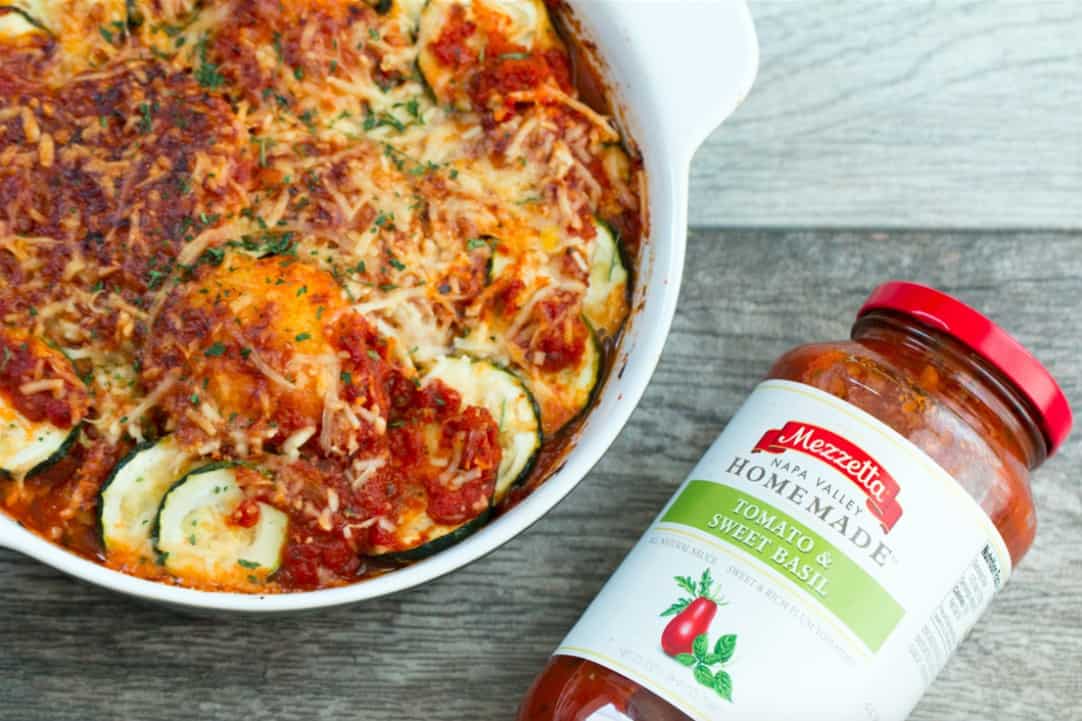 Mezzetta® Napa Valley Homemade™ flavors:
• Marinara
• Tomato & Sweet Basil
• Spicy Marinara
• Roasted Garlic & Caramelized Onions
• Parmesan, Asiago & Romano
• Wild Mushroom
Mezzetta Napa Valley Homemade; The Sauce Memories Are Made Of
• Real Food. 100% hand-selected plum tomatoes. No added sugar. No paste. No shortcuts.
• Real Farmers. Committed to farming the highest quality ingredients, without compromise.
• Real Family. Family owned and operated for over 80 years.
• Real Recipe. Made in the Italian tradition from our Napa Valley kitchen.
• Real Good. Pull up a plate and taste the difference.
Thank you to Mezzetta for sponsoring today's post and inspiring me to try their Napa Valley Homemade pasta sauce!