Pomegranate Beet Juice
This is an absolutely delicious juice recipe! When I first made it I just loved the color, but wasn't sure how the tastes would blend together. Mixing orange and carrots is a no brainer but adding in beets and ginger? Well it is absolutely different from other juices I've tasted but in a very good way! The beets and pomegranate hit your taste buds straight away and the ginger (yum) stays with you for an extra second or two after each gulp. It's so easy to make and ready in less than 5 minutes. My kids enjoyed this one and my husband said it's one of his favorite juices ever, no lie! I think the pineapple is a secret weapon as it only takes a little bit to give a natural sweetness to any juice blend.
A quick note on pomegranates: they provide health benefits and they are high in polyphenols, including flavonoids and tannins. The antioxidants in pomegranates also reduce inflammation and may have anti-aging effects. I purchased a bag of Organic Pomegranate Seeds from my local Costco Store in San Diego ( $7.99 per bag).
As far as beets, they are high in many vitamins and minerals, cleanse the body and lower blood pressure.
Repin this Pomegranate Beet Juice
Save it and Use the recipe later !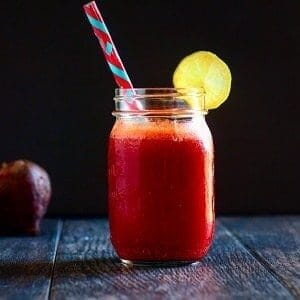 Ingredients
1/2

cup

of Fresh Orange Juice

1/2

cup

of Fresh Carrot Juice

1/3

cup

of Fresh or Frozen Pomegranate

1

inch

ginger

1/4

cup

of Fresh or Frozen Pineapple

1/3

cup

of Fresh Beet
Instructions
Add all ingredients in a blender and blend until its smooth