"This is a sponsored post for SheSpeaks/Rubbermaid®." Radicchio Salad, served with Pear Vinaigrette, Glazed Walnuts and Gorgonzola Cheese. The ultimate mixture of sweet and savory salad recipe for lunch or side dish.
You can probably imagine that there's a ton of food being prepared in my kitchen with two kids and a food blog to maintain. As a primary shopper for all of this, meal planning is a very important part of my daily routine. To avoid multiple visit to grocery stores, I often buy cooking ingredients in larger quantities. This strategy has worked out well with dry foods, but for produce? Not so well. Fresh vegetables and fruits often spoil after just a few days and leave me no choice but to throw them away. It breaks my heart as I absolutely love produce, and I feel additional pain and guilt from throwing money away, too.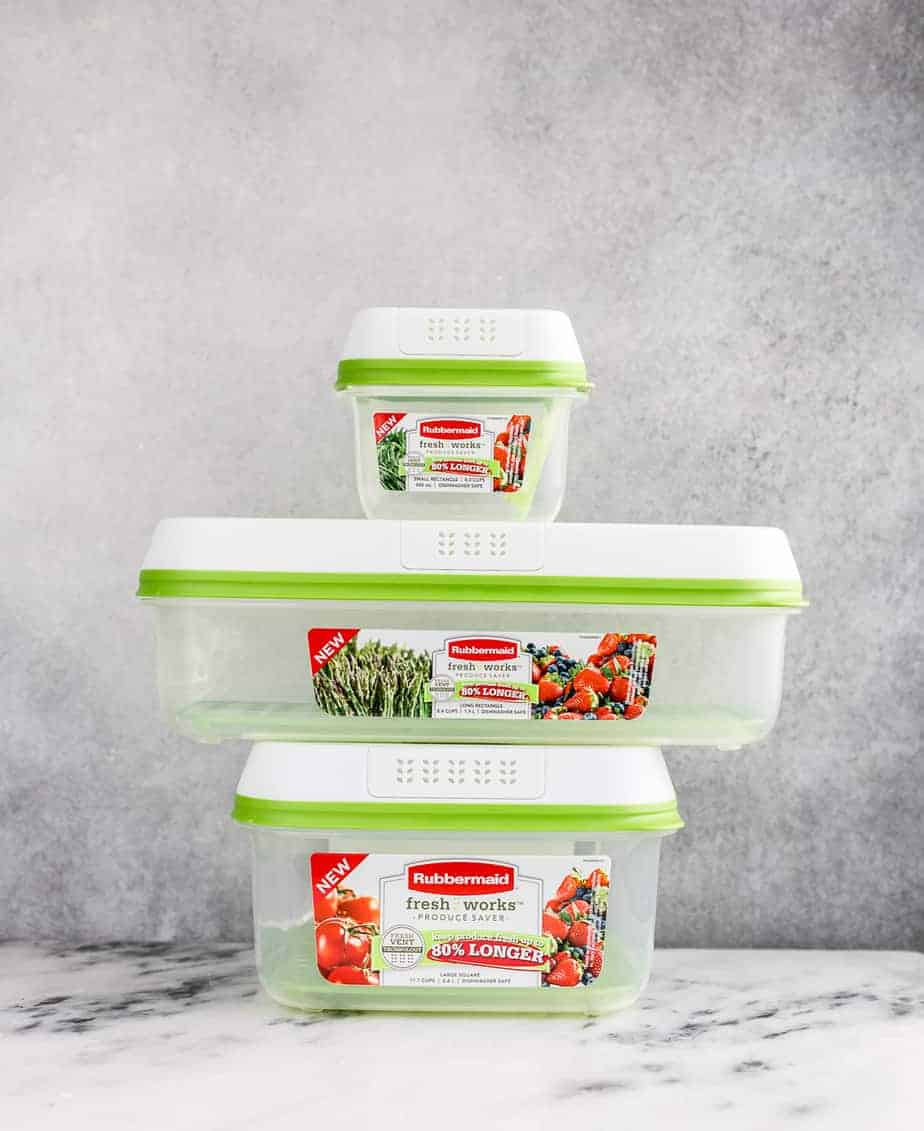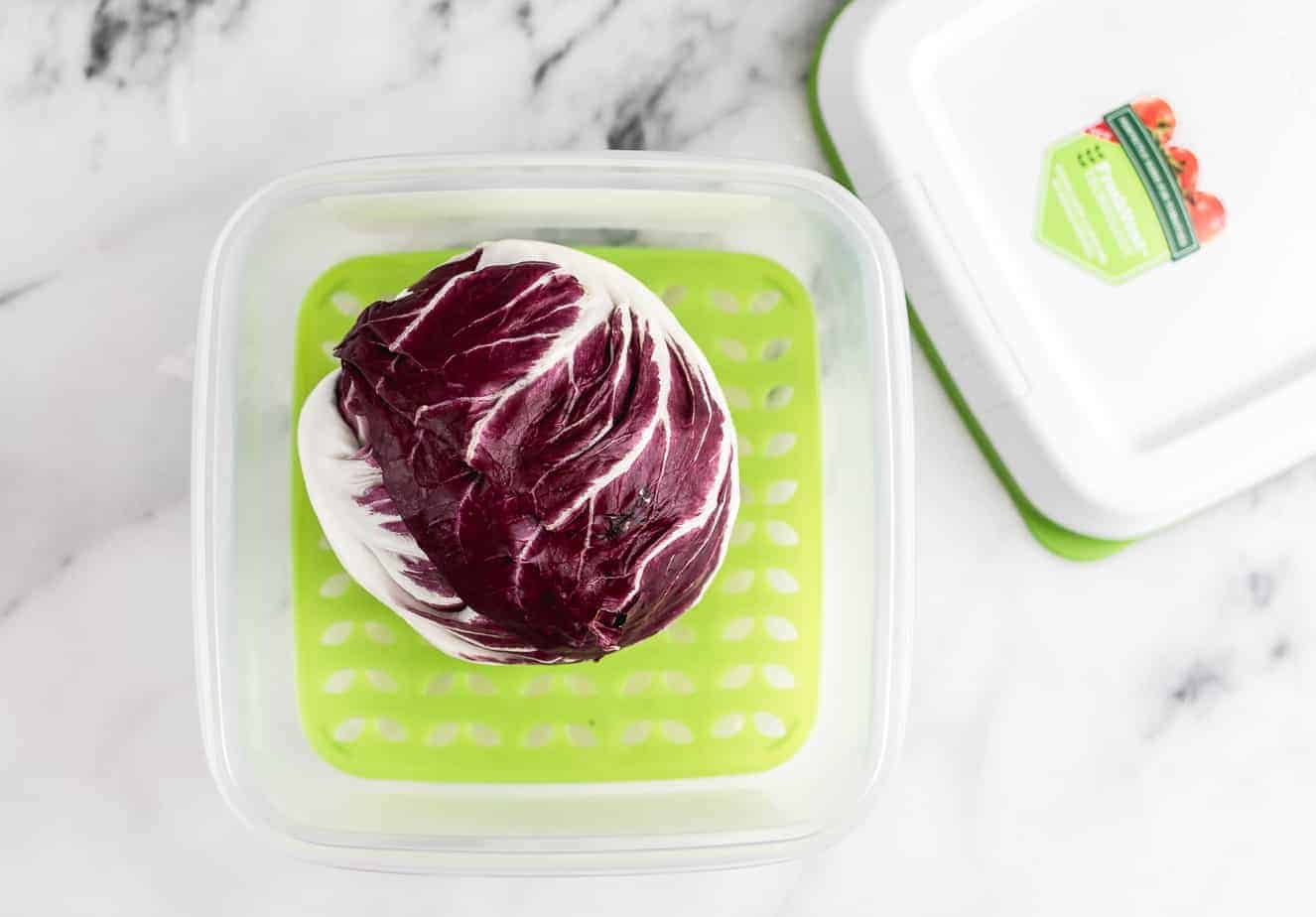 My parents visited us from overseas and they stayed with us for more than a month. During their stay, I took them on multiple road trips where we had no choice but to dine out. Even during downtimes I still had to go to the grocery stores on daily basis, but for dinners especially I changed my plan from cooking meals at home to going to the restaurants to try new foods. When I'm in my regular groove I still end up throwing out produce, but under these circumstances I was especially afraid of how much food I would waste. When taking even a two day trip from San Diego to Los Angeles I'm accustomed to coming home to spoiled food and regretting my trip to the store earlier in the week.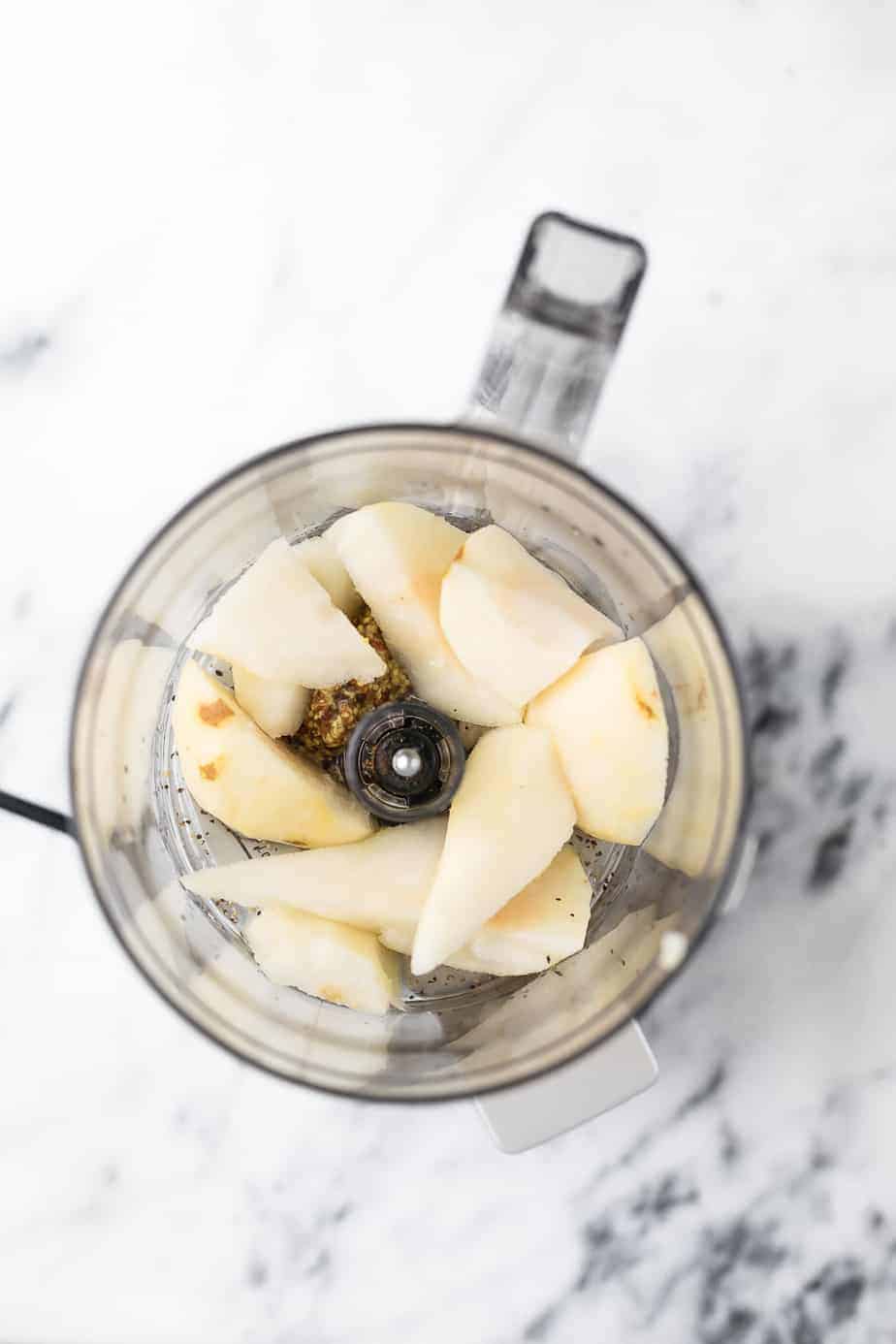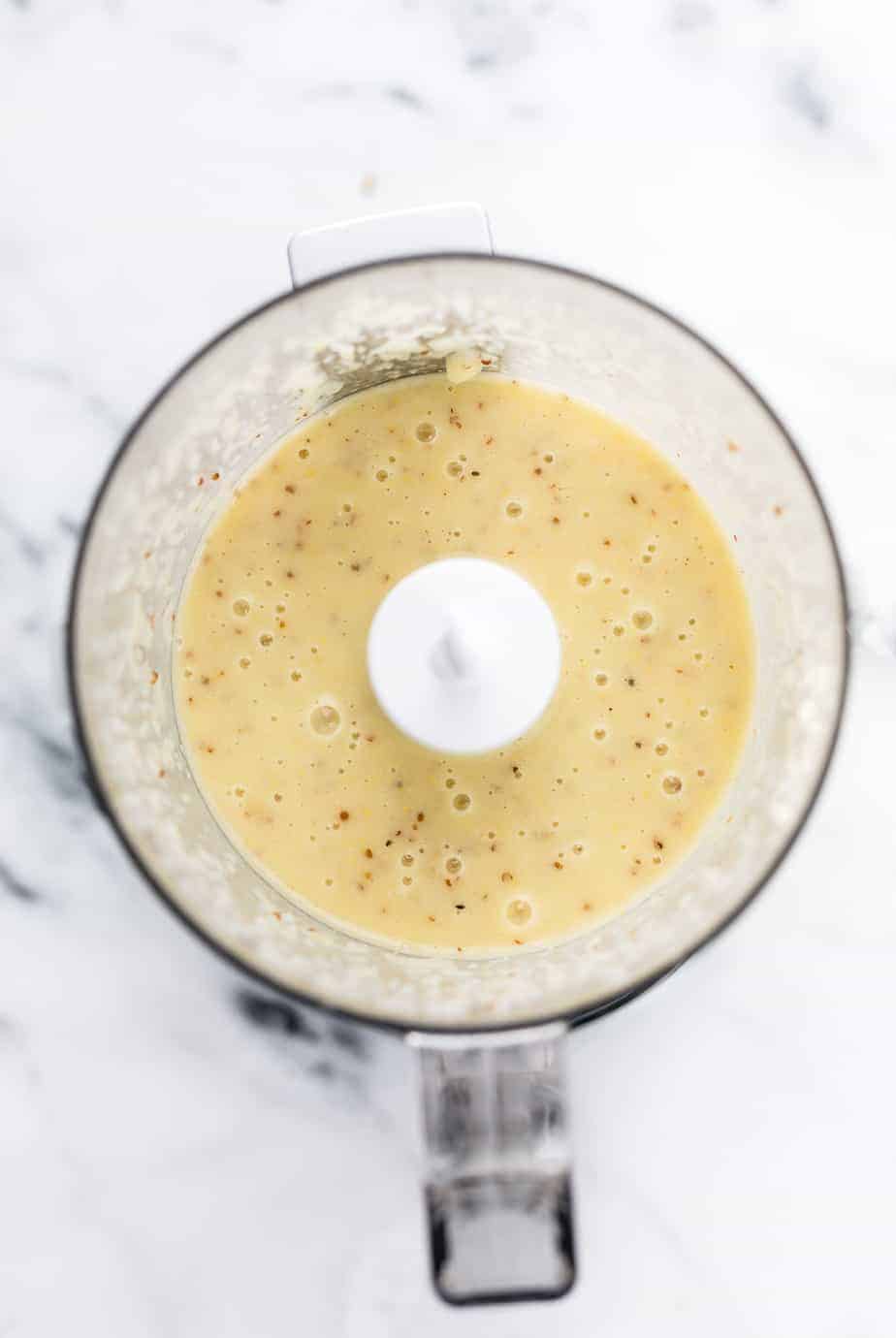 I'm so glad that I was introduced to the new line extension of FreshWorks, offering three new sizes for keeping produce fresh up to 80% longer* than traditional store packaging. These produce savers worked wonderfully to keep my fresh produce fresher longer than traditional produce packaging. They worked great for all types of produce, and that's due to the FreshVent ™ technology that differs from other products on the market. It regulates the flow of Oxygen and Carbon Dioxide to be at optimal levels, which is everything when it comes to avoiding spoiled produce. There's also a CrispTray ™ at the bottom of the containers that bring the produce away from moisture and help with the ventilation. Rubbermaid has been the market leader in storage containers and helping with my meal planning for years. To now see this special line designed specifically around produce is a game changer.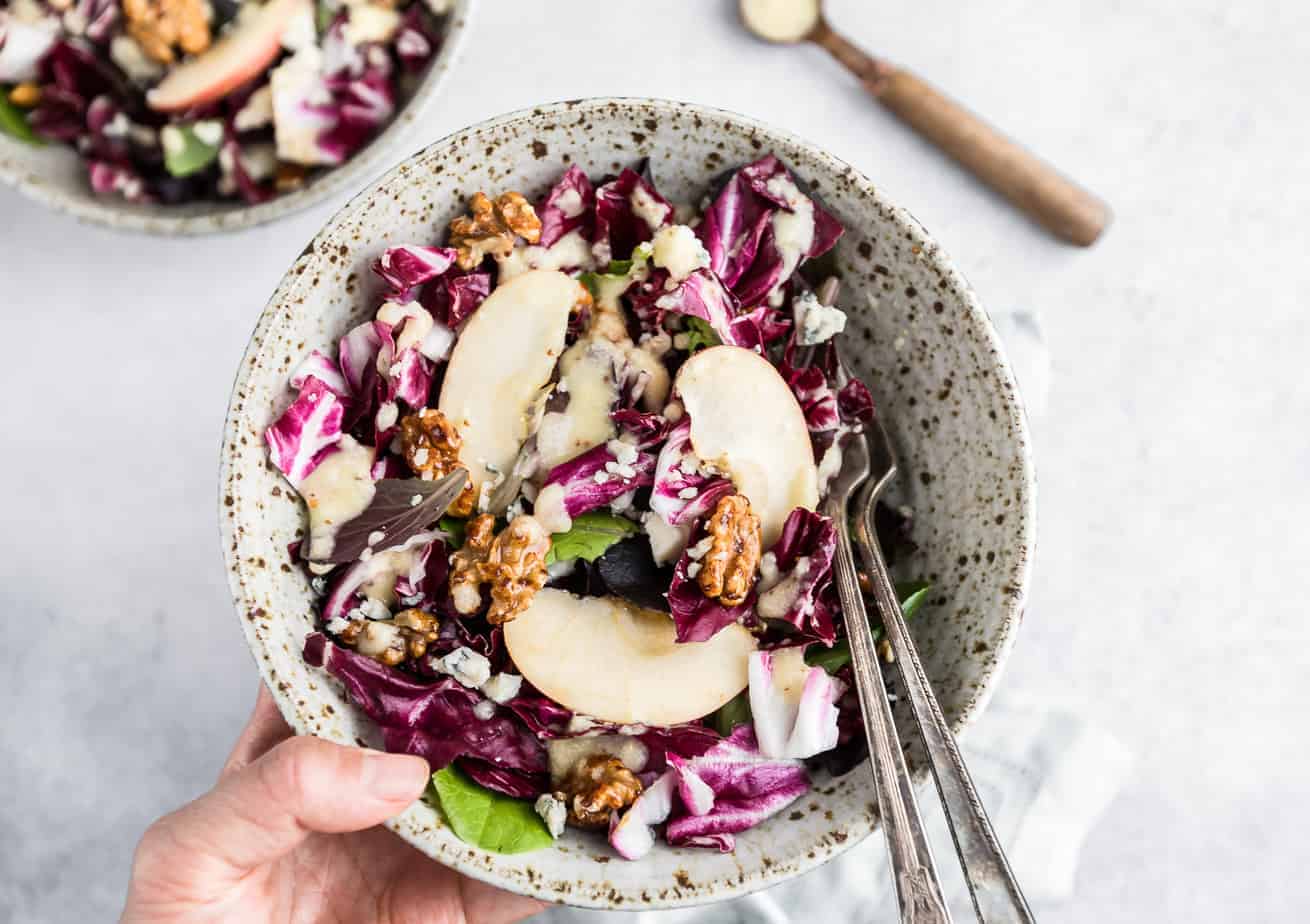 Today, I want to share this delicious Radicchio Salad with Pear Vinaigrette, Glazed Walnuts and Gorgonzola Cheese recipe. I served it with homemade pear vinaigrette salad dressing, candied walnut, fresh apples and gorgonzola cheese. This recipe is perfect for lunch or as a side dish. Making frequent salads has had a major impact on the health of me and my family, and I plan on integrating them more and more to my family's diet. Keeping the produce fresh beforehand is an immense help, and gives me the freedom to switch gears and add in different produce ingredients that I may not have planned as they weren't purchased the same day. On top of saving money and reducing waste, the FreshWorks line is also helping me to get more creative with my recipes as I can pull from a broader list of ingredients.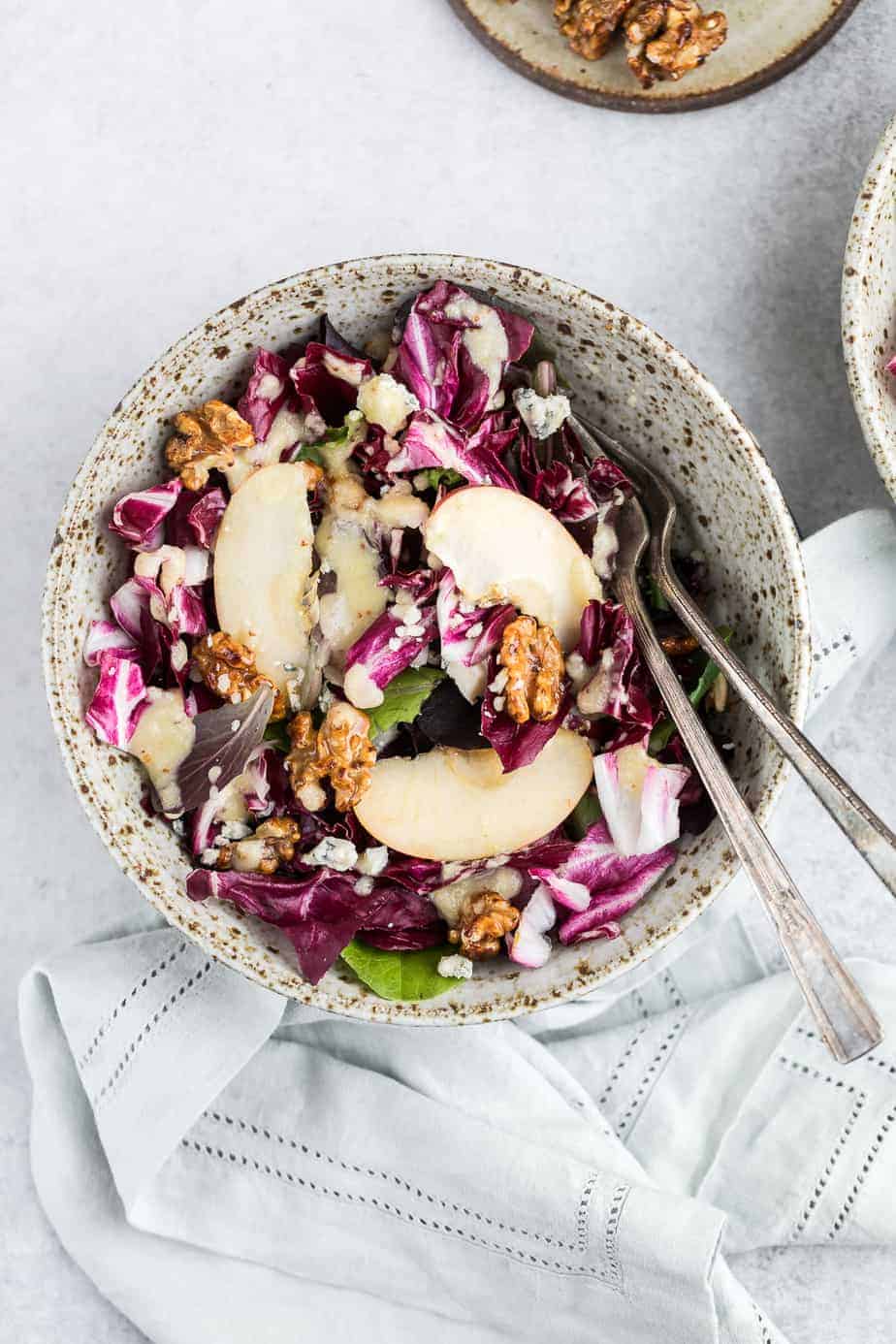 To learn more about the FreshWorks Produce Saver products check out this link:
And here are a few more key bullets to know about it… (impressive stuff!):
Made in the USA of global components, BPA-free.
Available now in six sizes to hold all types of produce:
Large Square (11.1 Cups): Perfect for Tomatoes
Long Rectangle (8.4 Cups): Great for asparagus or zucchini
Small Rectangle (4.0 Cups): Will keep your green beans fresh.
Small (2.5 Cups): Ideal for small berries.
Medium (6.3 Cups): Perfect for strawberries.
Large (17.3 Cups): Optimal for leafy greens.
*Based on strawberries in FreshWorks™ containers vs. store packaging. Results may vary depending upon produce and use.
Giveaway: Win a Rubbermaid FreshWorks prize. Prize will include 2 or 3 products from the FreshWorks line. Valid for U.S. residents only and SheSpeaks will ship a Rubbermaid FreshWorks prize to our giveaway winner.
To enter:
Share this post on social media and you must use use the hashtag #FreshWorksFreshness and #ad for all social sharing.
Leave your share links on the comment box below.
Radicchio Salad with Pear Vinaigrette, Glazed Walnuts and Gorgonzola Cheese
Ingredients
Pear Vinaigrette Salad Dressing:
1

ripe pear

,

peeled and cored, cut into small pieces

⅛

cup

white wine vinegar

,

Modena

¼

cup

white wine

1

tablespoon

fresh lemon juice

1

teaspoon

dijon mustard grain

1

garlic clove

,

minced

½

teaspoon

black pepper

⅛

teaspoon

kosher salt

¼

cup

extra-virgin olive oil

½

tablespoon

honey,

(add more according to your liking)
Glazed Walnuts
2

cups

raw walnuts

4

tablespoons

100% pure honey

,

(add more according to your liking)

⅛

teaspoon

sea salt
For salad:
Radicchio

Mixed baby lettuce

Gorgonzola Cheese

Glazed Walnuts
Instructions
To Make Pear Vinaigrette Salad Dressing:
Place all the salad dressing ingredients in a food processor and blend until it emulsifies.
To Make Glazed Walnuts:
In a skillet over medium heat, add walnuts, honey and salt. Cook and keep stirring until the honey caramelized for about 2-3 minutes.
To Make Radicchio Salad:
Arrange a generous amount of radicchio leaves, baby lettuce leaves, glazed walnuts and gorgonzola cheese on a salad platter.

Drizzle with homemade Pear Vinaigrette Salad Dressing.