Easy Ratatouille Recipe
This Easy Ratatouille Recipe is one of my popular posts. You can make one day in advance, keep in the fridge (covered) and reheated before serving. Ratatouille is a traditional French Provençal stewed vegetable dish, originating in Nice.
France is famous the world over for many things, first and foremost their unrivaled cuisine. From hors d'oeuvres like brie and pate, entrées such as bouillabaisse and duck confit, and desserts ranging from mousses to crepes, France has something for everyone. I was fortunate enough to visit France a few years back and thoroughly enjoyed every part of the country. My husband is a history buff and loved visiting Normandy and cities like Caen that we visited in the North. We could have spent weeks and weeks in Paris alone, but unfortunately only had about five days to see the city. Five days isn't enough to cover the museums alone, so we had to rush around like tourists (we still tried to blend in every now and then by slowing it all down and sipping on a café and people watching, not sure how convincing we were!). We found the Parisians to break stereotypes as nine out of ten were for the most part very courteous and even helped us to find our way. The Eiffel Tower was breathtaking day and night, and we found the Arc De Triopmphe to be nothing short of triumphant. The Palais Garnier was another favorite of ours, though we didn't catch an opera there (on our list for next time). As we journeyed south we made stops in scenic Lyon and the home of the Pope's Palace (Palais des Papes) in Avignon.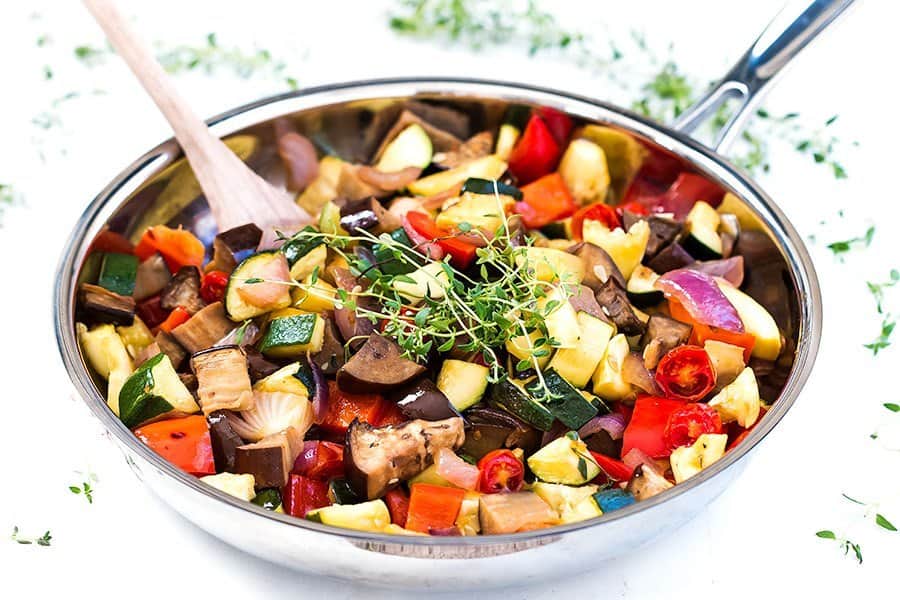 Our favorite area of France (in addition to Paris) was the French Riviera. Friends told us to stay in Nice, not bad advice but there are some many other great cities along the coast worth seeing. Montpellier was a unique, gem of a city and we took enough pictures in Èze to start a postcard company. I still think of the lavender scent in Grasse, and it was more than evident why Cannes was chosen as the perfect destination for A-Listers to flock to once a year. Our train ride to Italy along France's southern coastline fortunately was right on the coast and gave us direct views of some of the prettiest, blue water paradise enjoyed by swimmers, boaters and gazers. The food in South of France so impressed us at every turn. The seafood from Marseille and the region as a whole whether having a bourride (a light fish broth that has garlicky aioli and is served over crunchy French bread and parsley) or Sole Meunière.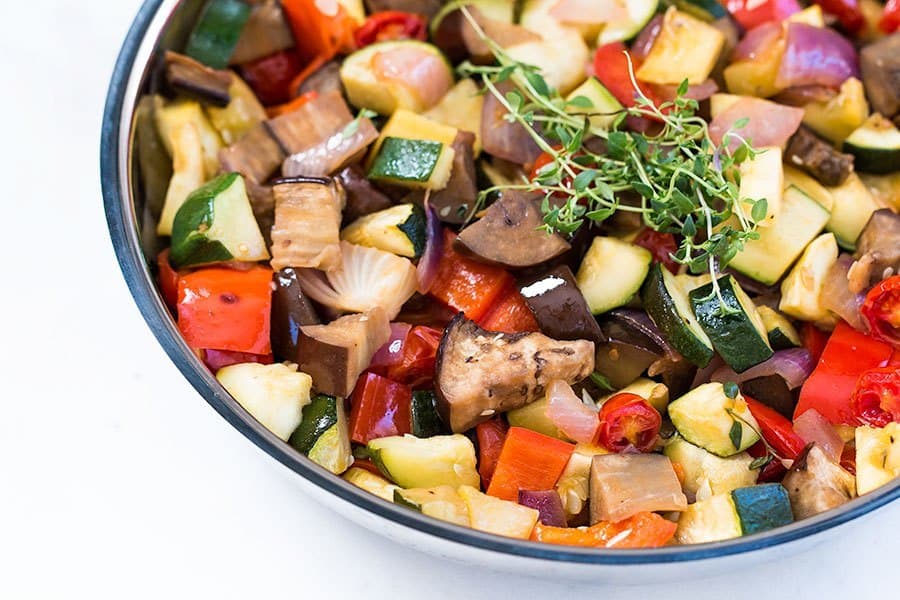 Another couple of favorites from the South of France are Ratatouille and Ciambotta , both vegetarian dishes. There are different approaches to cooking each, and they are flexible to work as appetizers or entrées, lunch or dinner. Ratatouille often has two vegetables that are my favorites to work with in eggplant and zucchini, and while the vegetables in France are some of the freshest tasting on Earth the Ratatouille tastes just fine when I make it at home here in the US.
Easy Ratatouille Recipe and Ingredients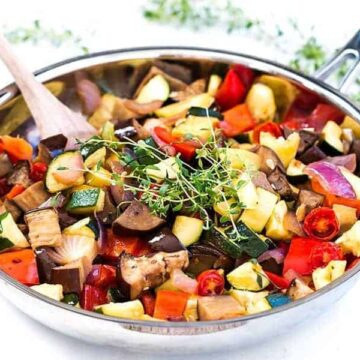 Ratatouille Recipe Inspired by my Unforgettable Trip to France
Ingredients
1

Medium Sized Eggplant

1

Cup

of Zucchini

1

Cup

of Yellow Squash

1

Green Bell Pepper

1

Red Bell Pepper

1

Whole Onion

1

Cup

of Tomatoes

,

Chopped

Salt/Pepper

1

Clove

Garlic

¼

Cup

of Olive Oil

¼

Teaspoon

of Oregano

⅛

Teaspoon

of Ground Coriander

¼

Teaspoon

of Thyme

½

Cup

of Shredded Fresh Basil
Instructions
Preheat the oven to 375 degrees F.

Chop and add Eggplant, Zucchini, Squash and Tomatoes on a baking sheet. Sprinkle with Olive Oil and Salt.

Roast for about 20 minutes then remove from the oven

Heat the Olive Oil on a large saute pan . Add the Onion and Garlic. Stir and cook until lightly caramelized. Add the roasted vegetables to the pan and continue to cook for about 5 minutes.

Season the vegetables with Oregano, Thyme, Coriander, Salt, and Pepper to preferred taste

Stir in the Basil and mix well. Serve
Adopted from Emeril Lagasse and Epicurious