Two years back we had a Thanksgiving bird emergency, with a Turkey that wasn't defrosting in-time and a lot of hungry people already gathered it made for quite a stressful situation. I've seen this on many different sitcoms and yes, it really happens! If you find yourself in this predicament don't panic, you can still enjoy some T-Day white meat with a quick chicken recipe. Chicken works well also if you just aren't a turkey fan, or if you just want something quick to prepare. I paired the chicken with potatoes, but chicken fits right in with stuffing, green bean casserole and all of the other traditional components of a Thanksgiving dinner.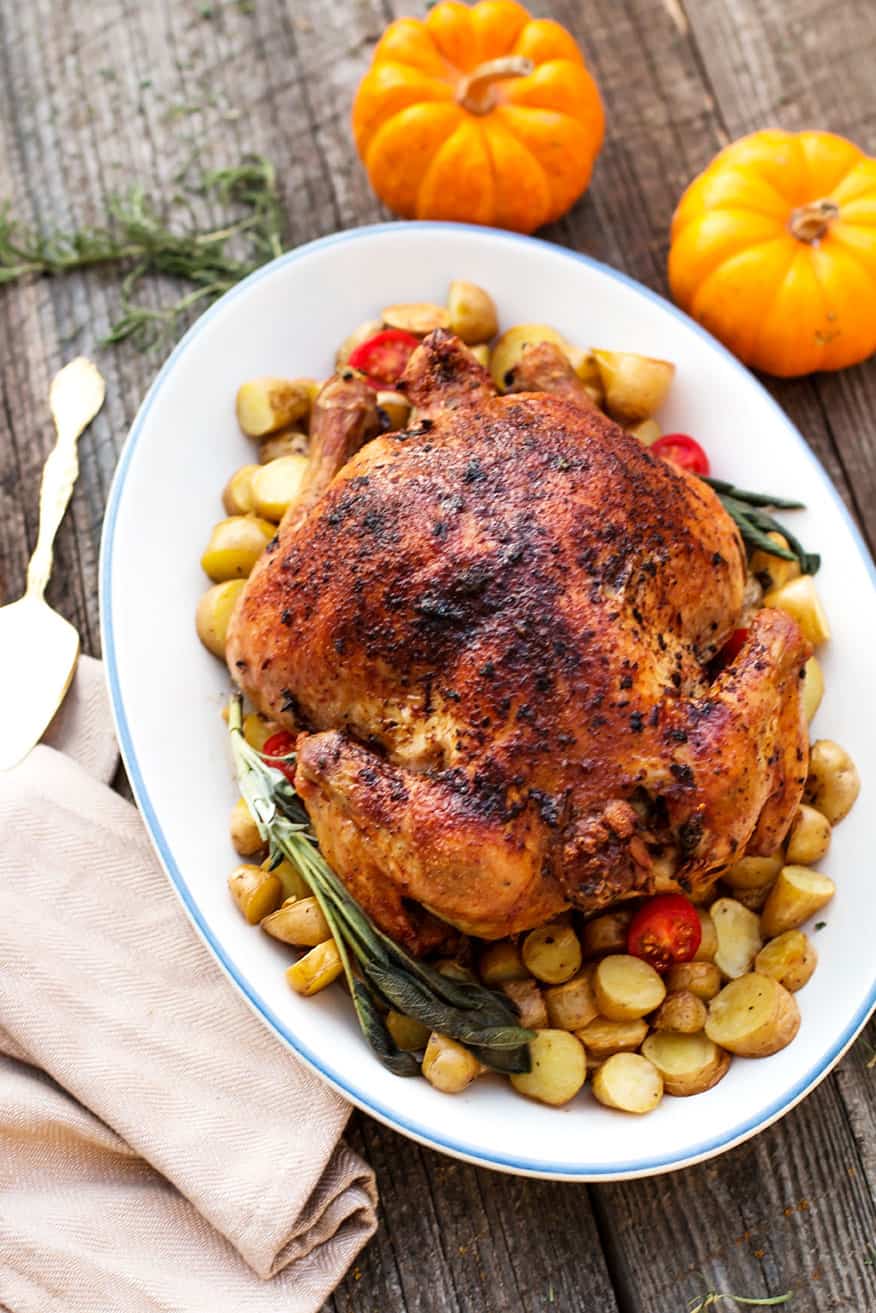 Many people buy rotisserie chickens from different stores around town. It is extremely convenient, but if I have a just that little bit of time that it takes to make my own I really prefer to do so. I love being able to regulate exactly what ingredients are put into a dish, and on that note when I make it home there isn't an overbearing salty taste. I baked the potatoes in the oven separately, but brought them together on the plate as the juices from the chicken make each bite of the potatoes all that much better.
Enjoy and happy holidays!
Rotisserie Chicken with Sage Butter and Garlic Recipe :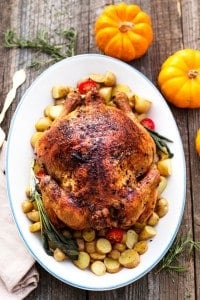 Rotisserie Chicken with Sage Butter and Garlic
Instructions
Pre-heat over to 475°.

Rinse chicken with cold water and pat dry

Peel lemon with the white pith

Finely chop lemon peel, sage and garlic. Then add butter, garlic powder and kosher salt. Stir to combine.

Using your fingertips, loosen skin from breast.

Rub outer skin, breast, wing and thigh areas with sage butter mixture.

Rub remaining butter onto skin under the chicken. Use most of it on the outside to get crispy skin.

Pour olive oil on each area of chicken and season with salt/pepper

Stuff with quartered lemon

Cook for 1 ¼ to 1 ½ hour or until chicken is tender and juicy

During last 5 minutes of cooking time, rub the herb oil mixture over chicken
Easy Roasted Garlic Potatoes Recipe :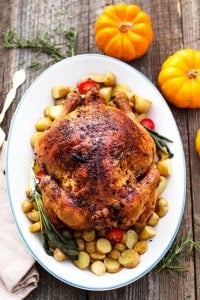 Easy Garlic Roasted Potatoes
Instructions
Preheat the oven to 475°.

Cut the potatoes in quarters and rub with the olive oil, minced garlic, garlic powder, salt and pepper.

Transfer the potatoes to a baking pan and roast for 35 minutes or until browned and crisp.