Are you a vegan and want to try a new recipe using tempeh? You are in luck! Read on to learn how to make this delicious tempeh recipe. It's flexible and works for breakfast, lunch or dinner. This recipe is super quick, easy and affordable.
Tempeh is one of my favorite plant-based protein sources. It's type of flavorful, fermented soy beans and it's very filling. I usually use one tempeh package to serve 2 people. My local Trader's Joe sell tempeh for around $1.99 and it's organic!
For this recipe, I use coconut and hemp oil to stir fry tempeh and vegetables. Coconut oil, unlike other vegetable oils is very stable when heated and does not create toxic byproducts. So it is a much better choice for stir fry. Don't forget to break apart the tempeh with your hands before cooking. This recipe has little preparation because the tempeh package I purchased from the store is pre cooked. So please adjust your time according to the packaging.
Watercress is about as healthy a vegetable on Earth. In-fact, the superfood sets the bar (scores 100) in this article by the Washington Post which ranks powerhouse fruits and veggies:
The benefits are too long to list, I wish I had been eating this vegetable my whole life!
Hope you will like this scrambled tempeh watercress recipe. Enjoy:
📖 Recipe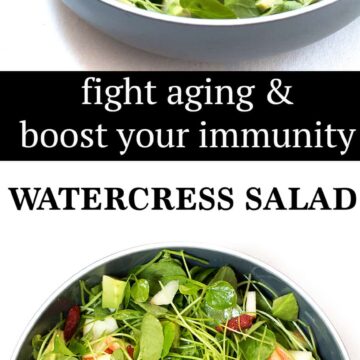 Scrambled Tempeh with Watercress
Ingredients
1

pack of Tempeh

2

cups

of Watercress/Kale/Spinach

1

Tablespoon

of Tamari Soy Sauce

2

Tablespoon

of Coconut Oil

1

Tablespoon

of Hemp Seed Oil

½

Cup

of Slice Onion

1

Cloves

Garlic

2

Tablespoon

of Ground Turmeric

¼

Cup

of Vegetable Broth

Salt/Pepper according to your taste

½

Tablespoon

of Curry Powder
Instructions
Heat the coconut oil in a frying pan.

Add onion and garlic, cook until they turn yellow and add broken tempeh.

Cook for about 2 minutes and add vegetable broth, turmeric, curry powder.

Cook for another 2 minutes before you add watercress/kale/spinach

Cook for one minute and Drizzle with Hemp Oil ( you can skip this one if you like)

and you're done.