Keeping Dinners Interesting for a Fish Lover - Seared Ahi Tuna with Mixed Greens and Asian Citrus Vinaigrette Salad Dressing My husband had a health checkup a few years back and didn't get the best results, and has since been eating tons of fish and chicken. For chicken I grew up learning many different styles and recipes, and even just winging it and throwing together some different familiar ingredients usually worked pretty well. For fish, however I felt a little bit out of my element. I made a lot of different fillets and put those on sandwiches or cut them up into salads, but he and I were both hungry (literally) for some new. Well it took a couple of years but I know have just as much fun working with fish and have added quite a few fish recipes to my repertoire. Like any ingredient it is fun to mix it up and try new things, and I'm always glad when I have some products that lend a hand in that area.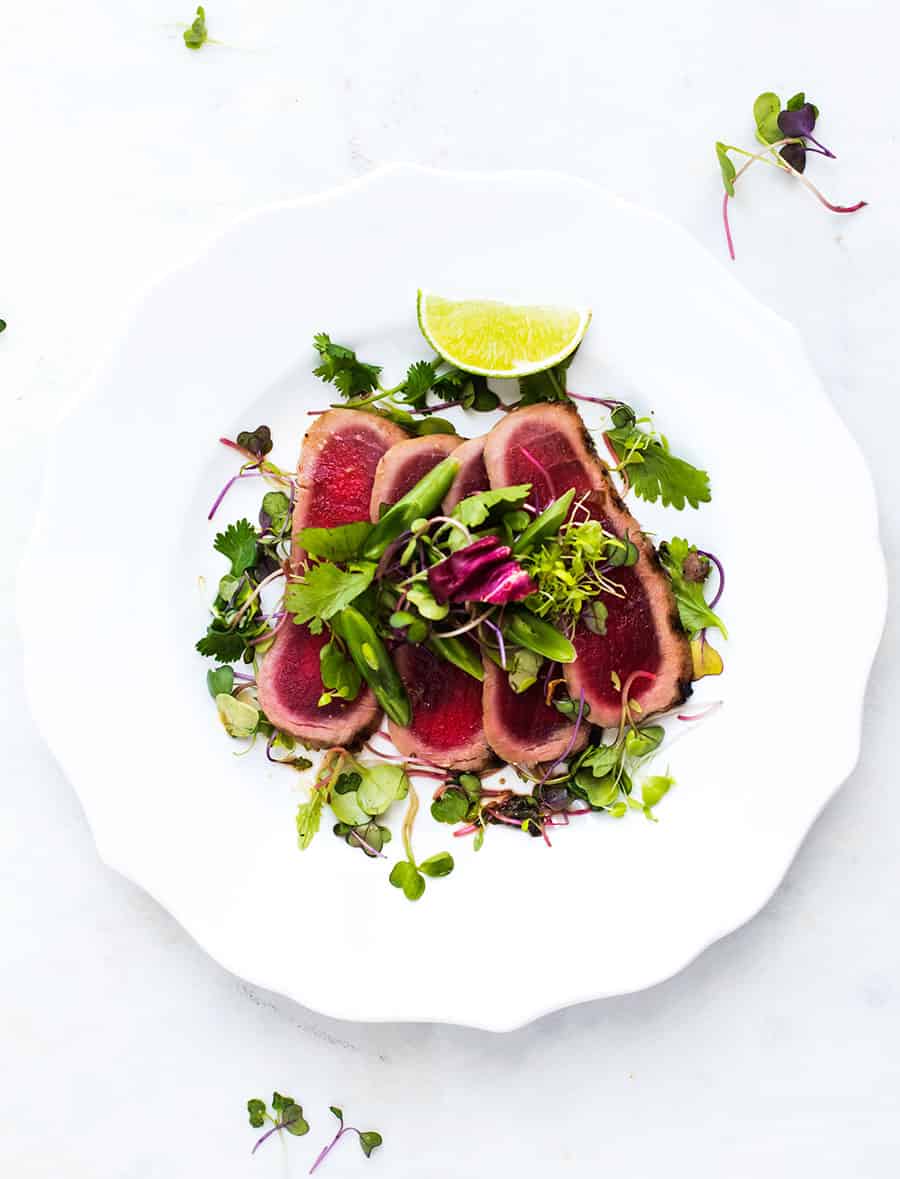 I recently discovered Bumble Bee SuperFresh®. It is a great time to check it out if you haven't before, they even have a coupon on their website right now: What I like most about Bumble Bee SuperFresh® is that the quality tastes the same as that of a restaurant. The line of products is all-natural and raises the bar (and then some) on frozen food. Another thing that I am a fan of is the types of fish that you can choose from: Tilapia, Salmon, Ahi, three of my absolute favorites right there! And the seasoning options on them are not overbearing or too heavy: extra virgin olive oil and garlic, or lemon, pepper and herbs are thoughtful and let the taste of the fish be the star of the show. The Bumble Bee SuperFresh® Salmon with Garden Pesto is so unique, and like the others it is no mess and no fuss! I can serve some up for my husband in a hurry, and he can maintain the healthy diet that he is trying to keep, I can save some time and don't feel guilty because I know he loves the taste.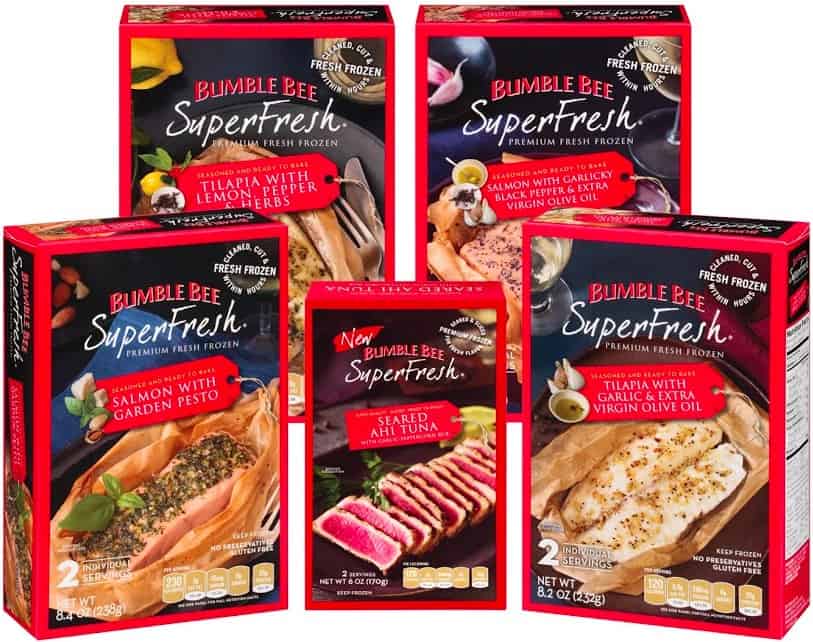 Fish is the one of the healthiest foods on the planet and it makes me mad when food companies offset this by adding weird ingredients that you can't even pronounce, or by drowning it in fried batter, breadcrumbs and other things that really aren't necessary. They also marginalize the freshness by letting it thaw out somewhere along the journey to you (true for most of the seafood you will find at the seafood counter). Not with Bumble Bee Superfresh. By the taste and the smell I can tell the difference. Talk about fresh, there is even a Bumble Bee SuperFresh® Seared Ahi Tuna! It is kept frozen during the processing where it never fully defrosts.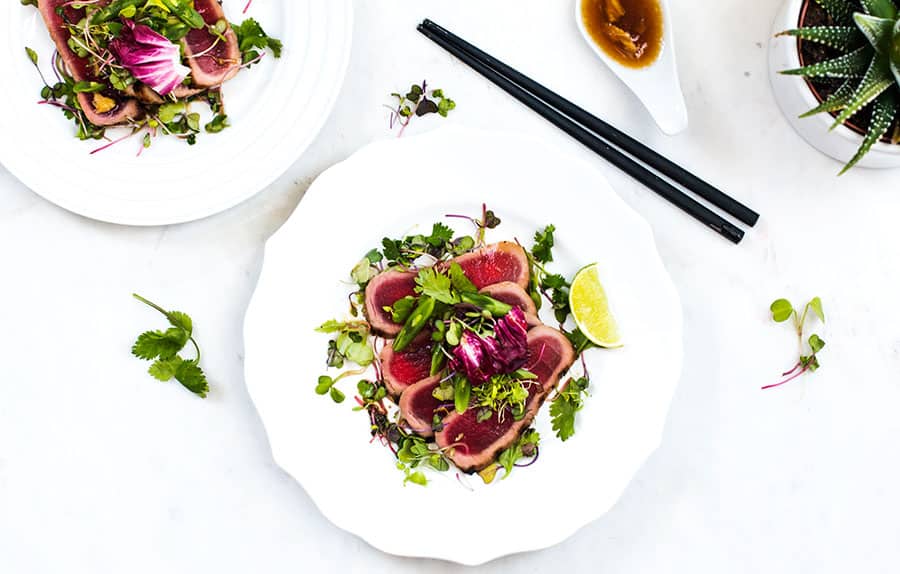 It has a garlic peppercorn rub that is light and delicious, making it perfect accompanying flavors. Ahi Tuna is one of those dishes that is served in expensive restaurants across the world. Having fresh fish is the cornerstone, and without it the dish will fail no matter how great the other ingredients and flavors. I now have extremely fresh fish that's so easy to use and mimic what I taste at those posh eateries. I can experiment with different tastes and wow my guests with ahi tuna appetizers, salads, tacos and more. Bumble Bee SuperFresh® Seared Ahi Tuna is the first ever sushi quality "Thaw and serve" packaged seafood product. I am so excited to add it as a recurring item on my grocery list, and happy that the Bumble Bee SuperFresh® line offers different options. It's giving me a complete paradigm shift on preparing fish at home!
📖 Recipe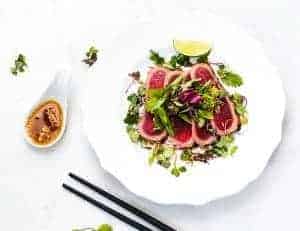 Seared Ahi Tuna with Mixed Greens and Asian Citrus Vinaigrette Salad Dressing
Ingredients
Seared Ahi Tuna Salad

1

pack of Bumble Bee Seared Ahi Tuna

½

cup

Sliced Fresh Green Beans

½

cup

Microgreens or any salad mix

1

Tablespoon

Chopped Cilantro

Asian Citrus Dressing

3

Tablespoons

Soy Sauce (choose Lower Sodium

,

you can adjust the amount according to your taste)

¼

Cup

Rice Vinegar

½

Fresh Lime

,

Squeezed

¼

Cup

Fresh Orange Juice

2

Tablespoons

Agave Nectar

,

add more per your preference

1

Tablespoon

Grated Ginger

¼

Cup

Peanut Oil

,

Grape Seed Oil or Extra Virgin Olive Oil

1

Teaspoon

Toasted Sesame Oil
Instructions
Whisk all dressing ingredients together until well combined

Place Ahi Tuna and greens on a salad plate

Drizzle with salad dressing
I was selected for this opportunity as a member of Clever Girls and the content and opinions expressed here are all my own.