One of my favorite Asian dishes is pad Thai noodles, a dish that is delicious with or without meat. I always customize my pad Thai recipe using chicken, pork, beef, tofu or combine some or all of these. My husband used to order his favorite take-out Pad Thai from a local restaurant, but the restaurant became so popular that they decided to significantly raise their prices from $6.99 to $11.99. We are able to make it at home for a fraction of the price, and curtail it to our liking by reducing some of the sweetness and increasing the portions of meat and veggies (here in the US restaurants often give 80% noodles and 20% everything else, whereas we prefer much more meat, egg, tofu and veggies).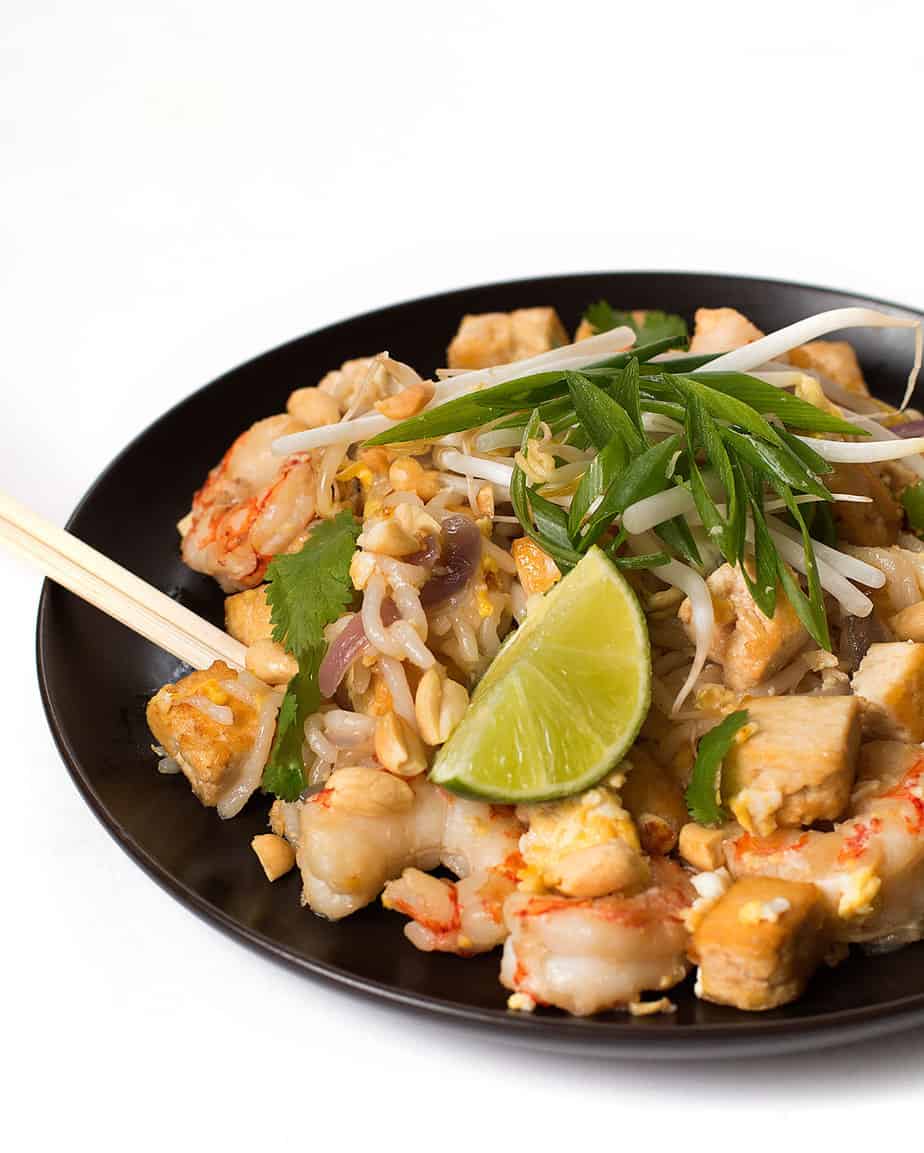 I grew up in a family that absolutely loves noodles! My mom and I used to go to the local farmers market in the morning and share a bowl of noodle soup for breakfast. I can eat noodles every day and usually enjoy them in one of three ways: noodle soup, fried or as dried noodles with sauce and soup on the side. Noodles are still a must in my life almost every day, be it at home or dining out. Like many other of the best recipes from around the world, Pad Thai noodles started out as a street food. It's delicious often a go-to choice with chunks of egg, wider noodles and the sweeter sauce. My friends who doesn't like Asian food even likes pad Thai noodles!
Today, I am going to share my favorite shrimp and tofu pad Thai recipe. The recipe contains a tiny portion of Thai fish sauce and Tamarind paste so you may want to grab those bottles if they're not in your cupboard.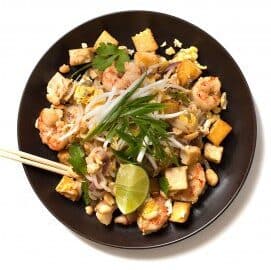 Shrimp Tofu Pad Thai Noodles
Ingredients
8

ounces

rice noodles

8

ounces

shrimp

1 ½

tablespoons

fish sauce

2

tablespoons

tamarind paste

2-3

tablespoons

sugar

1

tablespoon

lime juice

¼

cup

of water

1

pieces

package firm tofu

,

pressed and cut into

½

cuprefined coconut oil or peanut oil

,

I used Nutiva

3

cloves

fresh garlic

1

teaspoon

minced ginger

1

tablespoon

sliced red onion or shallot

⅓

cup

chopped salted peanuts

3

tablespoons

chopped cilantro

3

scallions,

thinly sliced

1

lime,

cut into wedges

2

cups

mung bean sprouts washed and drained
Instructions
Soak the rice noodles in a bowl and cover with cold water. Let it sit for an hour. You can also soak the noodles in warm water and let it sit for 20 minutes OR follow the instructions according to the product packaging. Drain the noodles and set aside.

Remove the heads and shells from shrimp. Wash and set aside.

In a small bowl, whisk together the fish sauce, tamarind paste, sugar, lime juice and ¼ cup of water. Set aside

Heat 1 tablespoon of coconut oil in a wok over medium high heat and sear the firm tofu on both sides until slightly brown. Set aside.

Heat the oil in a wok over high heat until smoking. Add the garlic and ginger, sauté for 30 seconds.

Toss the shrimp and cook for about 30 seconds.

Add ½ part of rice noodles to the wok, stir fry for about 10 seconds and move the noodle to one side of pan.

Crack in the egg into the other part of pan and scramble the egg for a few seconds until cooked then add the remaining noodles into the wok.

Quickly stir the noodle and egg, then pour in the reserved sauce. Continue stirring for a few seconds until it's mixed well.

Add onions/shallots or vegetable of choice, stir to combine for about 1 minute.

Remove from the heat and place the noodles onto a serving plate.

Garnish with chopped peanuts, fresh cilantro, scallions, fresh lime wedges and fresh sprouts.

You can mix the contents together and serve, or keep in separate bowls and let people pick and choose how much of each thing they'd like to eat. Some people in my family don't care for sprouts while others love them, so we at least keep those separate each time. Same goes for lime, most of us love to squeeze a lime over the top of our dish but I think it's best to leave that as an option for each person to do on their own.