This post is a collaboration with my favorite online store SkinStore
SkinStore is the ultimate website for great deals on the hottest skin, hair, cosmetic and other beauty products. I have been a customer of theirs for years and partnered with SkinStore to try out products from Kat Burki and other top brands; below is my full review of those products and the site as a whole.
Getting spa treatment makes me feel at my very best and on top of the world, probably not surprising as pampering is never a bad thing. It's not so easy for me to get to the spa these days with my kids, work and all the other obligations I have going on. A trip to the salon can also be a pretty big hit to the wallet. Most of my trips are while traveling and already staying in a hotel and a bit looser with my money as I'm in vacation mindset. All of that said, it's great to find spa-quality products that I can use in the comfort of my own home and on my schedule, and throughout the year instead of just while traveling. Having reviewed hundreds of skincare, hair, cosmetics and other beauty products over the years I know a thing or two about their standards of quality, and which ones actually work that much better than the rest. When I discovered SkinStore I was blown away as it's a one-stop portal for the quality, brands and groundbreaking products that I look for on my own.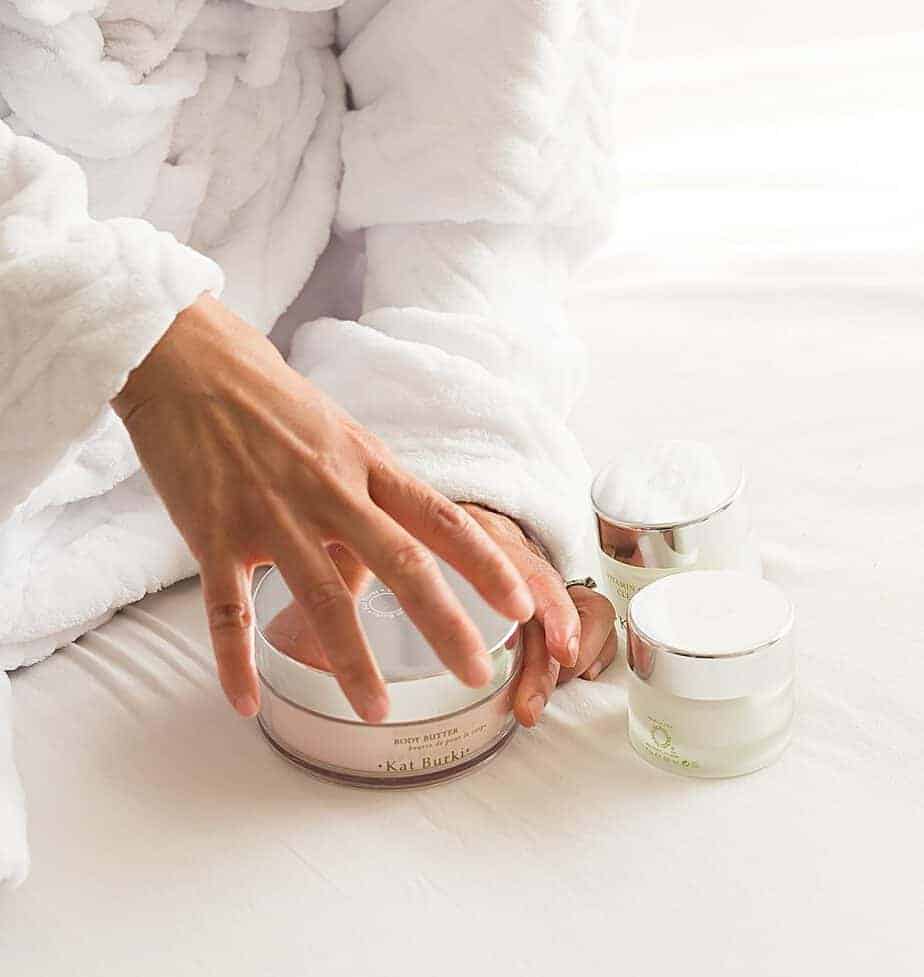 The first thing I noticed about SkinStore is that they have many of the acclaimed brands that I've used over the years, including some that I've reviewed on my blogs. I have always targeted products that have a lot of natural ingredients, and those that have both an immediate and lasting effect on my skin, hair and body. Many brands out there do this ok, but the standout brands seem to always have something extra that set them apart. It really comes down to the research and science behind the products and adding those extra ingredients that make my skin glow, make-up pop or hair shine.
One brand that I'm fanatical about is Kat Burki! SkinStore has a full line of their products to bring that spa experience home, and the results that I saw and felt took my breathe away. I used the Kat Burki Vital Hydration Facial Mask and from the first time felt a transformation in the health of my skin. Using it regularly has completely elevated its softness and my pores look better even in some of my trouble areas. Adding Kat Burki Vitamin C Nourishing Balm and Kat Burki Vitamin C Intensive Face Cream have brought my skin to glow and look better than it has in years. I stay hydrated all day, and with younger looking skin I've been smiling and glowing with pride (which kind of perpetuates the whole affect even more). I actually tried out five different Kat Burki products (links shown below) including a firming wand that is phenomenal…it maximizes the results of the skin products by allowing the anti-aging nutrients to penetrate deeper into the skin by 30%. Kat Burki has some great ingenuity behind everything they put out… similar to food items the trust factor must be there for products we put on our skin and with Kat Burki they have mine.
Other products I've tried from SkinStore include Wei (their Stress Relieving Soothing Mask) and Skin Medica Total Defense and Repair SPF as well as Skin Medica Rejuvenating Hydrator. SkinStore keeps me abreast of new products from these premier brands on the market, I can easily spend 30 or 60 minutes on SkinStore navigating around to check out the latest trends and breakthrough products. On that note there's always something new! The Juice Beauty Green Apple Peel is a product I'd heard about from friends but hadn't tried out until now. I've been using it about once or twice a week and my skin absolutely looks amazing. I didn't experience any burning feeling, a huge plus for a peel since I have sensitive skin.
SkinStore offers free shipping on purchases of $49 or more. I check-in pretty frequently as there always seems to be other promotions and bonuses going on. I usually start by going to the 'New' tab on the site but hit up most areas. They even have a Mens section for bear oils, serums etc. As a blogger I'm also quite impressed with their blog, like those that look at the science behind products (written by Hira Malik who has a Masters in Pharmacy): http://www.skinstore.com/blog/author/malikh . To me this just goes along with the SkinStore's overall approach to empowering the consumer to make smarter decisions about the products and tools we use for skincare and beauty, and only using trusted brands when doing so.
Kat Burki Vitamin C Intensive Face Cream $100
Kat Burki Vitamin C Nourishin Balm $65
Kat Burki Vital Hydration Facial Mask $140
Kat Burki Micro Firming Wand $95
Juice Beauty Green Apple Peel Full Strength $45
Wei Stress Relieving Soothing Mask $12
Skin Medica Total Defense and Repair SPF 34