This slow cooker creamy chicken wild rice soup with no flour is a hit! My husband who has never been a big fan of creamy soups couldn't stop eating this and enjoyed two bowls yesterday.
This slow cooker creamy chicken wild rice soup is made with simple seasoning blend.  It's a comforting, easy soup recipe that is perfect for those chilly, long days.  It's also something that can be prepared in the morning and be ready for you to dig into after a long day.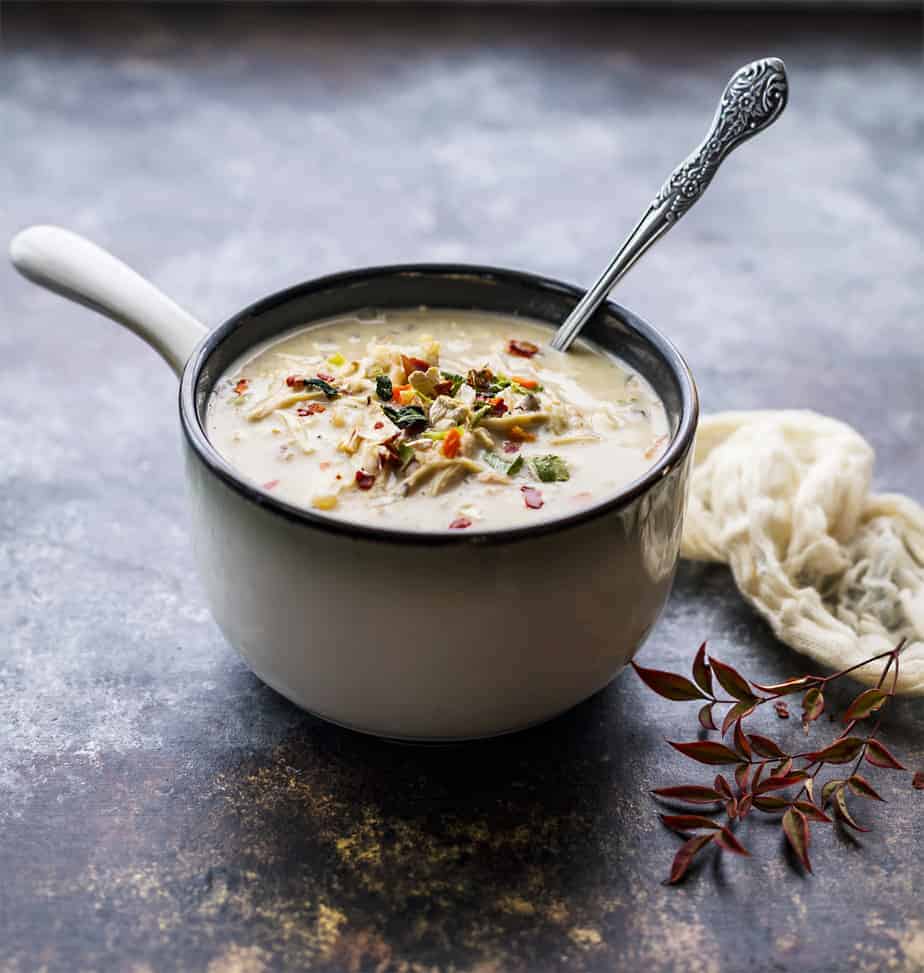 To make this creamy Slow Cooker Creamy Chicken Wild Rice Soup, I used organic heavy cream, but no flour. I finely chopped and sautéed the mirepoix vegetables with butter before adding them into the slow cooker.  This gives it a sweeter, heartier flavor. Mirepoix is a combination of aromatic vegetables for soups, stews, and braises that consists of chopped onions, celery, and carrots.
I poured in the wild rice blend about halfway through the cooking process for a harder texture (pouring in at the beginning is fine for a softer texture, which may entail adding a bit more broth). I love the harder texture that wild rice brings in every bite. Wild rice contains more protein, zinc, and potassium than both brown and white rice varieties.  Possible the best component of my slow cooker creamy chicken wild rice soup is the wild rice itself.
Since wild rice comes in varieties of texture and brand, the length of cook time may affect the final result of this soup.
If you are worried about the rice getting too mushy by adding it at the beginning and don't have time to add it midway through cooking,  you can use pre-cooked rice and add it to the slow cooker about 10 minutes before serving.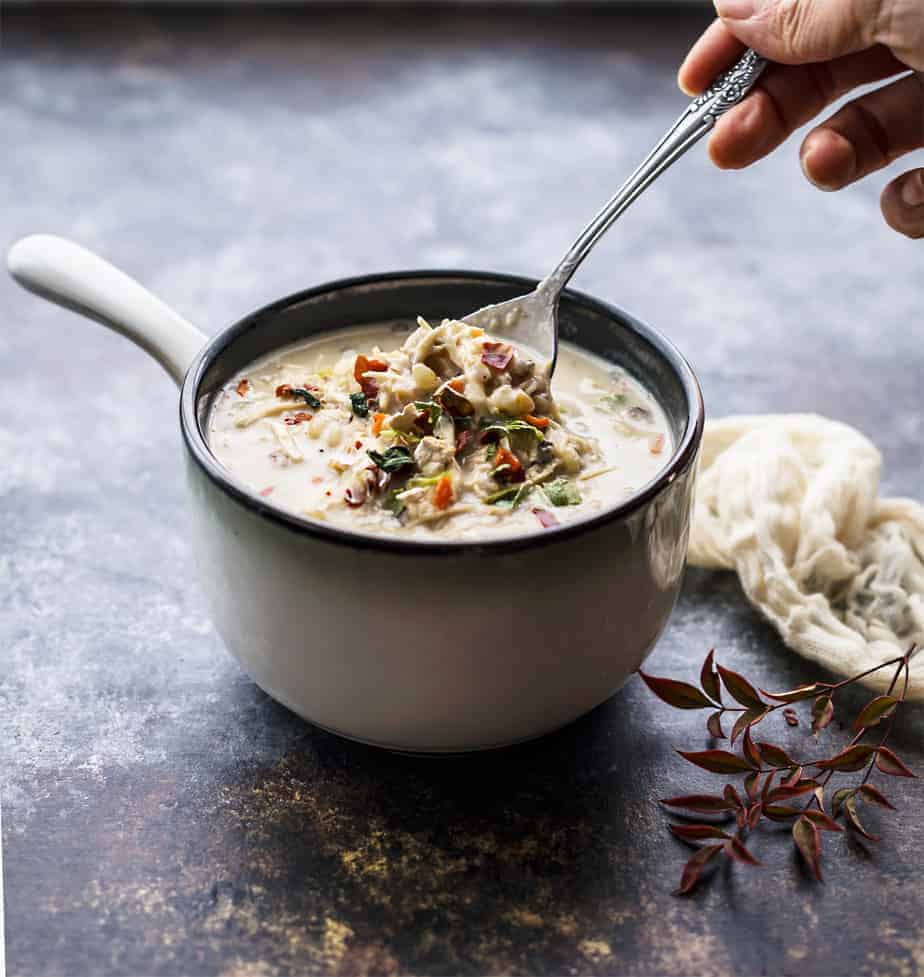 Want to try more tasty slow cooker soup recipes? Check out these: Slow Cooker Cabbage Roll Soup  and chicken pot pie
Products used in this recipe: Lundberg Wild Blend Rice, Organic Heavy Whipping Cream from Horizon.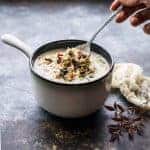 Slow Cooker Creamy Chicken Wild Rice Soup
Ingredients
1

pound

chicken breast

1/2

cup

dried wild porcini mushrooms

1

medium

onion

chopped finely

2

cloves

garlic

minced

1/2

cup

carrots

chopped finely

1/2

cup

celery

chopped finely

2

tablespoons

butter

1 1/2

cups

wild rice blend

(do not use instant rice)

1

cup

heavy cream (or add more until desired consistency is reached)

(pick organic like Horizon brand)

1 1/2 - 2

(32 oz)

low sodium chicken broth

(add more if you like more liquid in your soup)

1

teaspoon

salt

to taste (add more according to your liking)

pepper

to taste

1

bay leaf

optional

1 1/2

teaspoons

finely chopped thyme

(Or use 1/2 teaspoons Poultry Seasoning)
Instructions
Place the porcini mushrooms in a small dish, add boiling water, leave to soak. *Note: Strain the soaking liquid before cooking.


Heat the butter in a heavy-bottomed pan over medium heat.

Toss in the onions, saute them until softened and browned.

Add the garlic and cook until soft.

Add the carrots, mushrooms and celery stalks and let it cook slowly until they soften.

Place the vegetable mixture in the bottom of the crockpot.

Place the chicken on top of the vegetables, bay leaf, thyme and pour in low sodium chicken broth.

Rinse the wild rice thoroughly and pour it into the slow cooker at the beginning, or halfway through the cooking process if you desire a harder texture.

Cover and cook on low for 6 - 8 hours or high heat for 3-4 hours.

About 20-30 minutes before the cooking is done, remove cooked chicken from the slow cooker and shred into small pieces.

Pour in the heavy cream. The heavy cream will make the soup thicker and less liquid.
Recipe Notes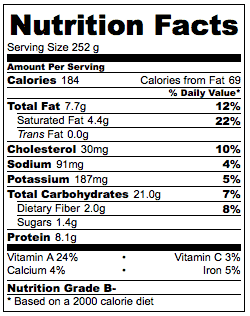 More Tasty Recipes: