Thank you Prego® for sponsoring this post. All opinions are my own.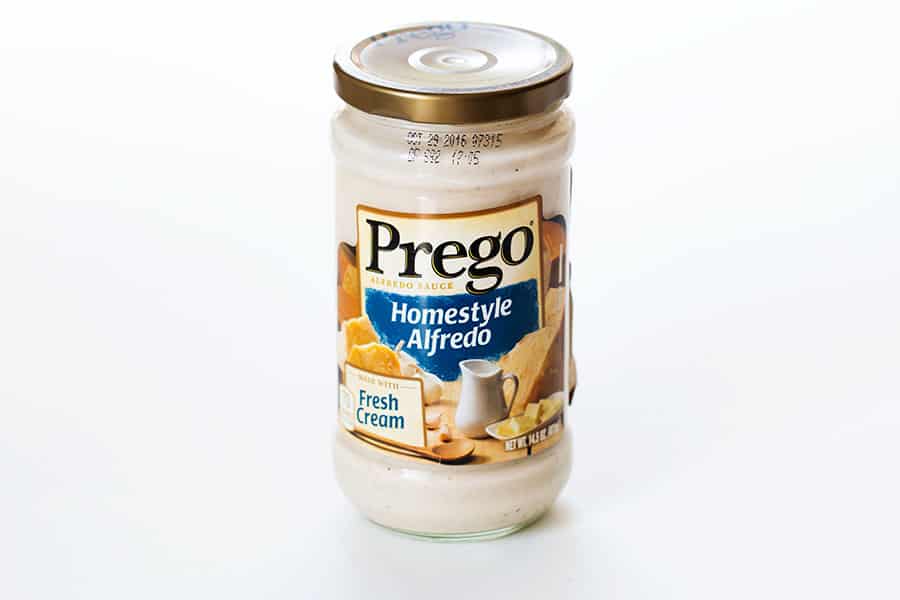 Spaghetti Alfredo with Pancetta and Shrimp
Food can bring people together and families closer. It is one of my favorite subjects to talk about. I think about food when I wake up in the morning and even sometimes in my dreams! Cooking for my family is one way that I like to show my love for them. Planning a meal and eating together as a family brings a positive elements into our lives. We rotate who gets to pick out the meals, who does the prepping, the cooking and the cleaning.
There are so many great life lessons that can be taught in the kitchen, and enjoying a big meal around the table together makes me feel closer to them than any other time. Cooking meals at home is healthier and more affordable than eating out at restaurants. Enjoying meals at home is also much more convenient. We can chat with kids and not have to worry about other people's reactions if our kids aren't on their best behavior that night.
As a mother of 2 beautiful children, I feel so blessed that I am able to work from home and spend a lot of time with my kids. Being a homemaker however does not always guarantee that I get to hang out around the kitchen all day as much as I'd like to.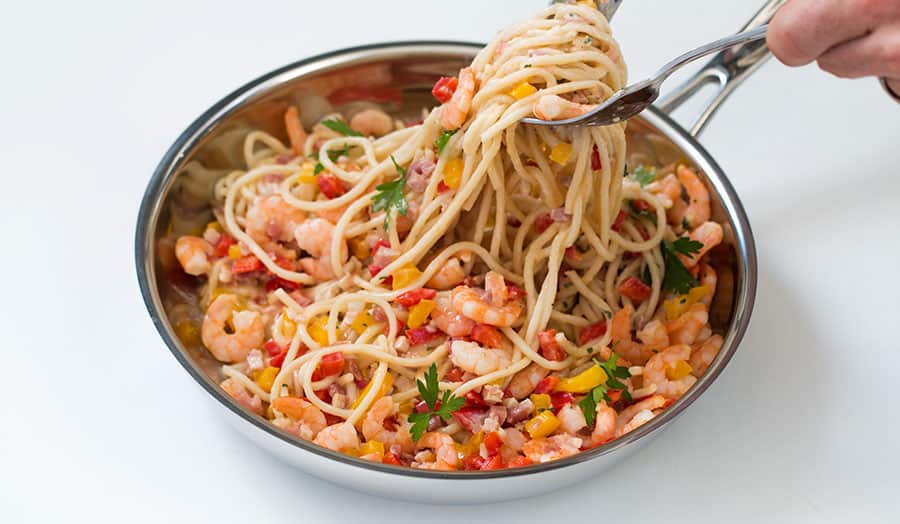 Even though my blog is a food focused blog, I often find it very difficult to plan meals for my family due to my busy schedule running around outside of the kitchen. I therefore decided to stick with easy meal recipes that use simple ingredients, yet are still delicious and nutritious.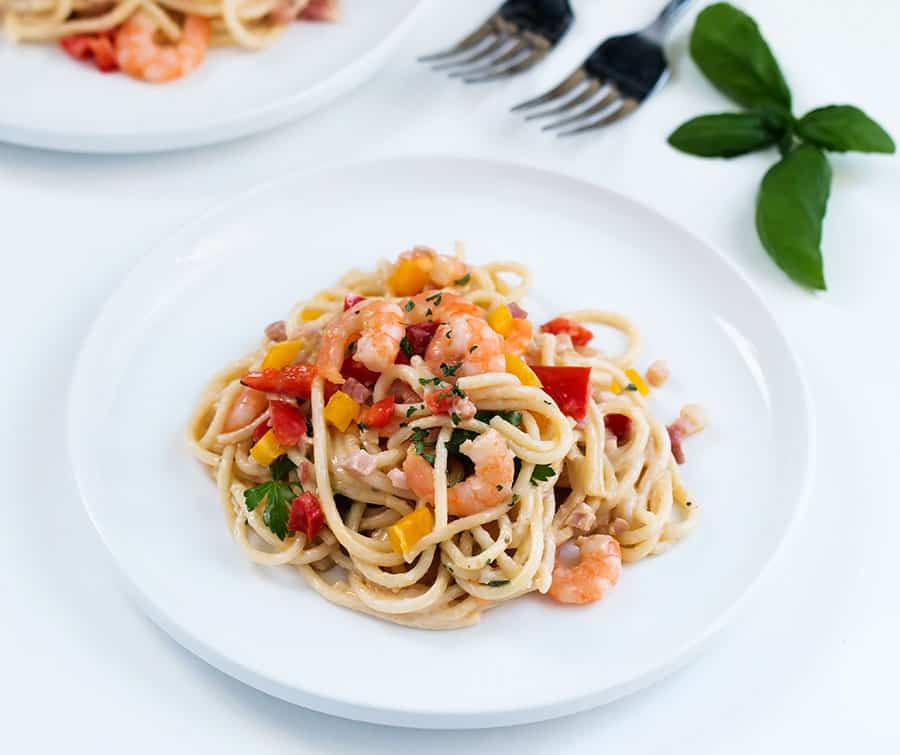 A couple of of my must-have pantry items are tomato sauce and alfredo sauce. Tomato sauce transforms a few ingredients thrown together into a full blown entree. I can use it in everything from simple pasta dishes, to submarine sandwiches, with baked chicken or even fancy of seafood recipes. Alfredo sauce is a favorite in my household from young and old alike, as it gives an entirely different twist to a dish. Simply pour the add it to your choice of pasta, meat, seafood, veggies or all of the above.
Prego® Alfredo has an amazing blend of some of my favorite things like Parmesan cheese and garlic. The fresh cream in it balances everything well for a delicious taste and texture.
Ingredients
½

cup

Prego Alfredo Sauce

½

pound

Spaghetti

2

oz

Pancetta

2

cups

shrimp

1

red bell pepper

(diced)

1

yellow bell pepper

chopped

black pepper

3

tbsp

olive oil

fresh parsley
Instructions
Cook the pasta according the product packaging. Put aside.

In a large skillet heat the olive oil over medium-high heat. Add pancetta, red bell pepper, yellow bell pepper then cook for about 5 – 7 minutes.

Add shrimp then cook for 2 minutes or until the shrimp are pink and opaque.

Add cooked spaghetti and pour in the Alfredo Sauce then cook for another 2 minutes. Turn off the heat.

Put the pasta on a serving plate then sprinkle with fresh chopped parsley. Serve and enjoy!