Spicy Noodle with Black Bean and Sweet Sichuan Peppercorn Sauce, inspired by Sichuan cuisine.
The Sichuan foods are famous for their hot, spicy, salty and diverse flavors.  It is the most popular style of food in China. Almost every dish has its own character and unique taste, much of this due to the flavoring and many seasonings.  This includes: Soy sauce, cooking vinegar, sichuan peppercorn , fermented black beans, chili oil, dry chili pepper and sesame oil.
I am quite a big fan of Sichuan food and any cuisine for that matter that has a good dose of spice.  You'll see that I have a lot of Asian recipes and many of them have a significant amount of heat.  Be forewarned that this dish is quite hot!  If you need to modify for reasons around preference or especially around health then by all means adjust it as needed.  It should still have some other good flavors to carry the taste.  I grew up in a household where we started consuming spicy food at a young age, and it was not only normal to eat such dishes on a regular basis but actually something that we longed for and craved.  Keep an eye on out for more of my recipes (Asian and more) that may make your nose run and eyes water a bit.
Sichuan Peppercorn, also known as Chinese coriander, has a very unique and strong fragrance. They produce a tingling, slightly strange numbing sensation in your mouth.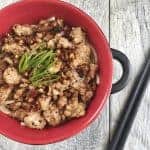 Spicy Noodle with Sweet Sichuan Peppercorn Sauce
Ingredients
1

cup

of cooked noodle

I used italian spaghetti

Sauce :

1

Tablespoon

of Ground Sichuan Peppercorn

1

Tablespoon

of Sesame Oil

1

Tablespoon

of Balsamic Vinegar

1/2

Tablespoon

of Sugar

1

Tablespoon

of Chili Hot Oil

1

Tablespoon

of water or chicken broth

Toppings :

1

Cup

of Ground Chicken

1

Tablespoon

of Black Bean Sauce

1

Tablespoon

of Rice Vinegar

1

Tablespoon

of Scallion

white part only - sliced

2

Tablespoon

of Peanut / Vegetable Oil

1

Tablespoon

of Ground Peppercorn

1

Tablespoon

of Soy Sauce

1

Inch

of Ginger

2

Cloves

Garlic

Salt/Pepper
Instructions
Cook the noodles according to package directions and drain

Heat oil over medium heat and brown the ground chicken. Add black bean sauce, rice vinegar, scallions, ground peppercorn, soy sauce, ginger, salt , garlic and pepper.

Sauce : Simply mix together all the ingredients. Taste and adjust seasoning if you like.

Add noodles to the bowl, add the cooked meat and sauce over the top. Garnish with scallion