This post is sponsored by Hebrew National®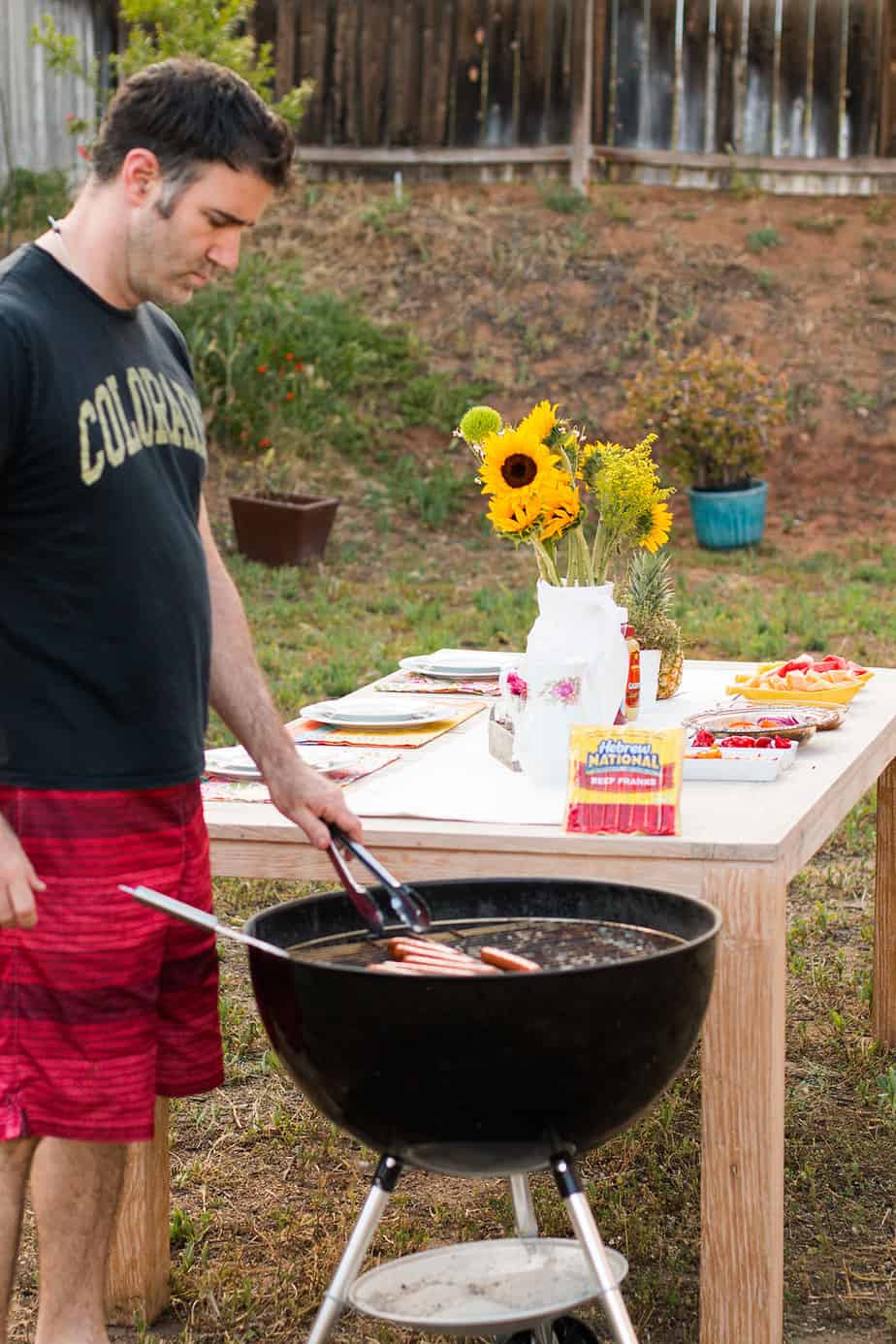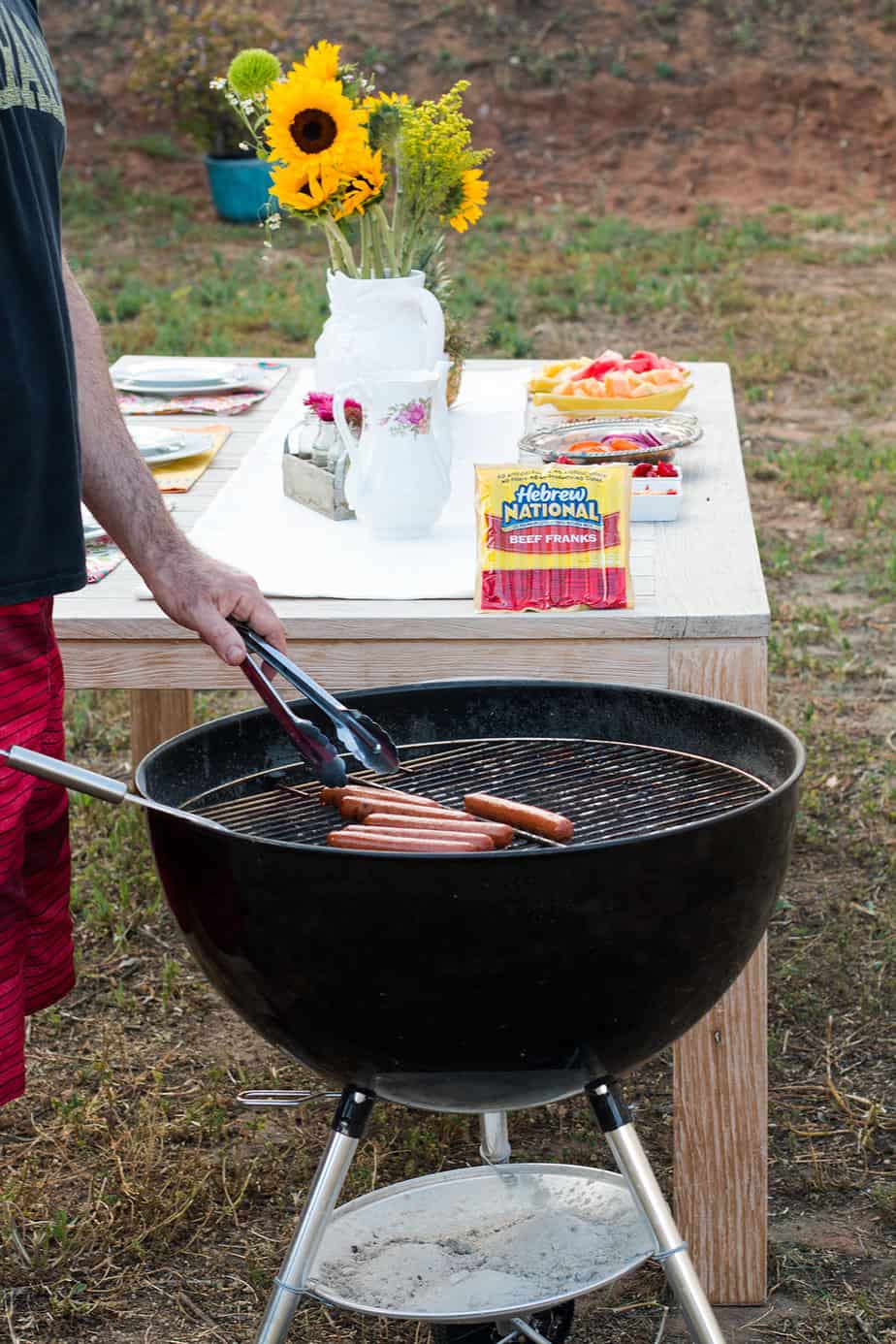 Thinking about hosting a BBQ party? Spring is the perfect season for it. Warm weather, cool breeze and lots of hours of daylight.  My husband and I love hosting parties and especially reconnecting with family and friends.  I sometimes get a little overwhelmed with the options for recipes, drinks and overall setup, so sometimes it's good to stick with the classics that everyone will enjoy – especially you've got both kids and adults to feed. Other things I like to consider are of course preparation time, and if a food is easy as far as leftovers.  Hosting an outdoor party can be expensive, so it's very important to plan out your budget, list out the recipes you plan to make and know how many people will be attending the party.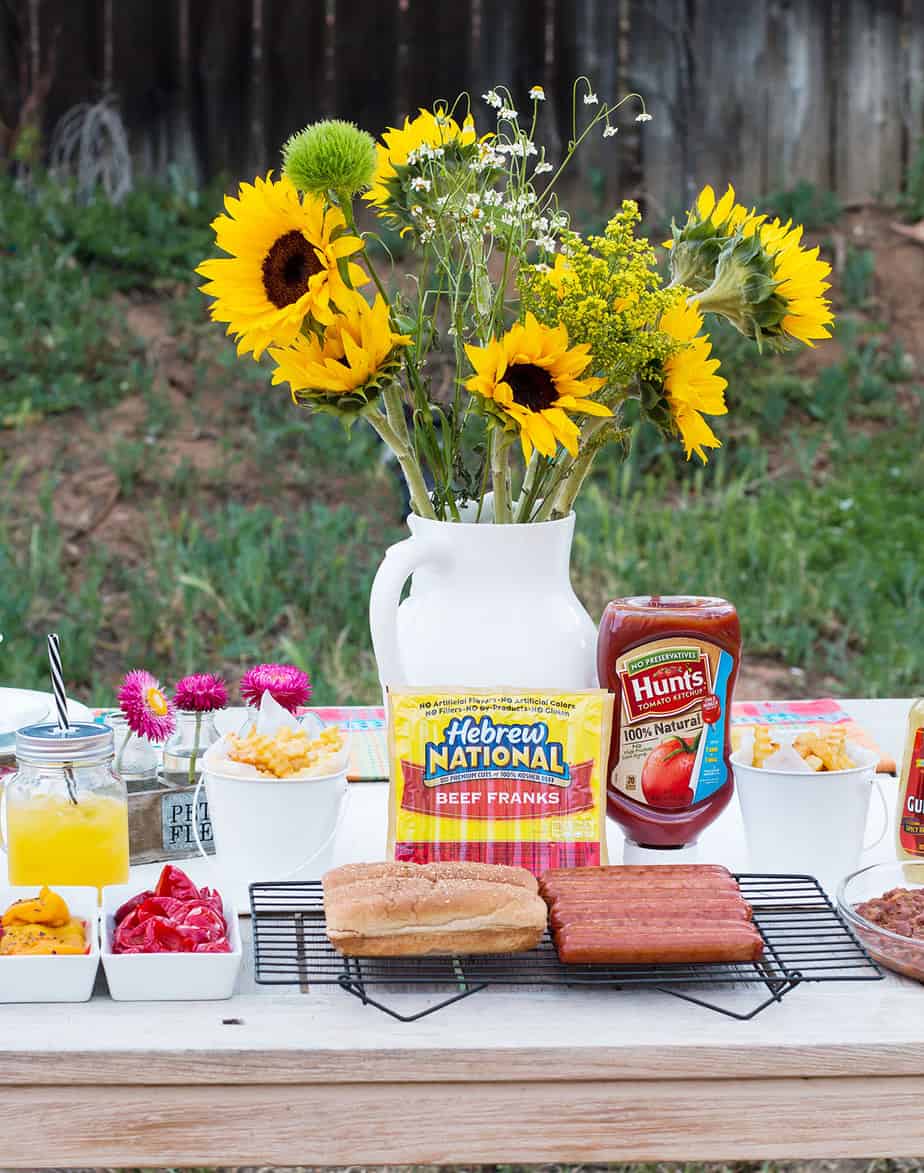 Let's talk about my favorite menu item for BBQs, hot dogs! I love how easy it is to prepare and to customize hot dogs, and you can see from my fresh toppings they can be bright and healthy, too. Grilling hot dogs only takes a few minutes and then you're off and running with guests dressing theirs up to their own liking.  My kids always enjoy hotdogs and our favorites by far are Hebrew National® All-Beef Franks.  Their hot dogs simply taste delicious, and are made with 100% kosher beef.  There are no fillers or artificial flavors, and I wouldn't have it any other way for my kids. They may cost a bit more than some other brands, but the extra quality is worth paying for. Pair them up with some Hunt's ketchup and some whole-wheat buns and you're in for a treat.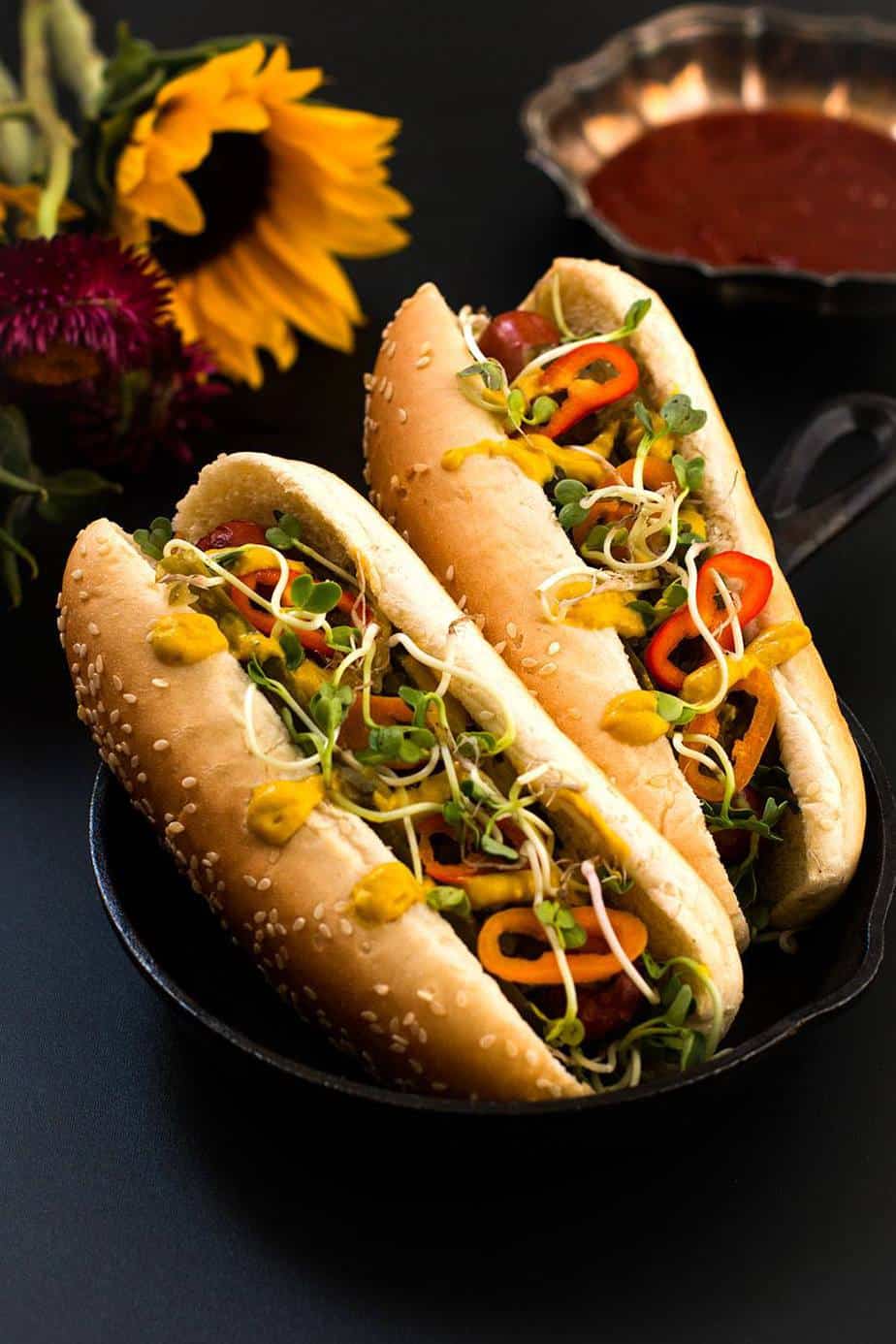 So here's our BBQ menu :
Refreshing, fresh fruit juice (such as orange, pineapple, or cranberry)
Fresh cut pineapple
Fresh cut watermelon
Fresh cut cantaloupe or other melon
Hebrew National® All-Beef Franks
Whole Wheat Hot Dog Buns
Hot Dog Toppings : 
Spicy red pepper – pickled
Fresh sliced red onion
Fresh sliced Roma tomatoes
Kosher cucumber – pickled
Gulden's Mustard
Hunt's Ketchup
Mixed peppers – pickled
Vegetarian chili
Sweet relish
Fresh sprouts or veggies of your choice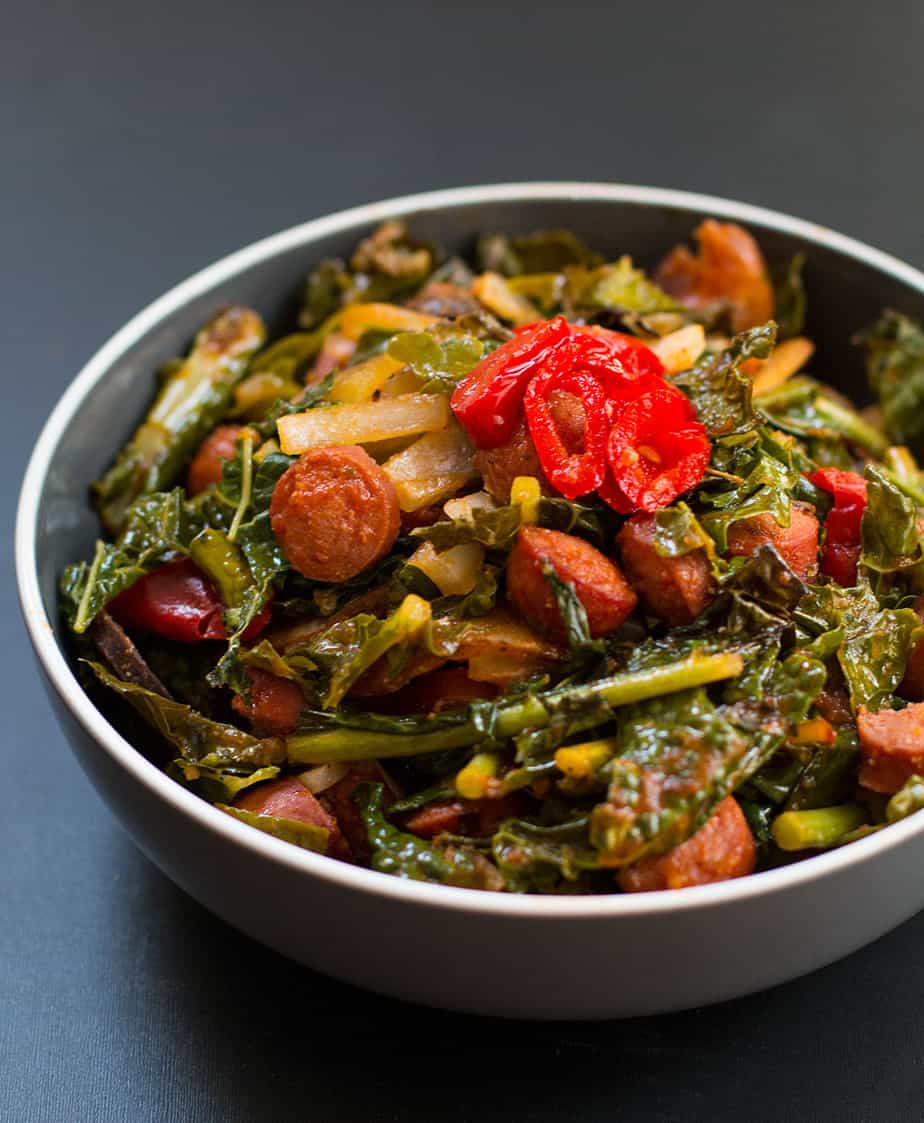 For the Sides: 
BRAISED KALE AND HOTDOG
4 tablespoons olive oil
1 yellow onion, chopped
2 cups whole peeled tomatoes, fresh or canned (I used Hunt's)
2 bunches kale
3 cloves garlic, chopped
½ teaspoon red pepper flakes
¾ chicken stock
3 Hebrew National® All-Beef Franks
Heat the olive oil in a large pot over medium high heat. Stir in the onions, saute until softened for about 4 minutes then toss in the garlic, red pepper, kale, salt and pepper and cook for 2 minutes. Pour in the tomatoes and stir to combine. Add the chicken stock then turn the heat to medium, cover with a lid and cook until the kale is tender.
My husband learned that I was writing a post on BBQ ideas and (since he thinks he is gifted in the art of party planning) wanted me to share some of his tips.
So without further ado, here are The Party Maestro's 4 Tips to Barbeque Nirvana. (By the way I hope this is the last time I ever refer to my husband as The Party Maestro.)
Tip 1). (Carefully) Assemble and Bring The Most Amazing Mix of Barbeque Music: The Maestro's mix includes reggae (like Peter Tosh) and soul music (like William DeVaughn) and some jam music (like Allman Brothers), because all of those set the tone for a great day outside.
Tip 2). Bring Competitive Games: Bocce ball is at the top of his list, with horseshoes and cornhole (aka bean-bag toss) as distant second place games. Pair up in teams of 2 and let the fun begin. Backgammon is another fun one!
Tip 3). Protect Yourselves From the Sun: The food should be cooking, not you and your guests. Find a shaded area, bring a canopy or take up the Maestro's idea of bringing "ridiculous glasses and hats for your guests…make it a theme!" And… never ever forget the sunscreen.
Tip 4). Don't Screw Up The Food: If you asked 10 of our friends who makes the best hot dogs I am guessing that at least 8 or 9 of them would say Hebrew National. Hebrew National® All-Beef Franks are for me, and have been as far back as I can remember. When something is healthier and tastes noticeably better, it really makes decisions at the supermarket that much easier, doesn't it?
As you can see from the attached pic, I like the traditional fixings, but also try to add some finely cut veggies of my own (like cucumbers or peppers). Please share your feedback and some tips of your own. Let's grill it up this season, folks!
What makes a Hebrew National kosher hot dog premium? It's all about what makes the cut (and what doesn't). We're choosy about what goes into our franks – we use only premium cuts of 100% kosher beef from the front half of the cow and then choose the best from that. No artificial flavors, colors, fillers or by-products. When your hot dog is kosher, that's a hot dog you can trust! For more summer fun with Hebrew National, visit facebook.com/hebrewnational.