Staying healthy as family has become my priority. I believe that we have the power to take control of our health, both through mind and body. As a full time mom and person in the tech industry, balancing my work and personal life has been quite challenging. I can easily become distracted and overwhelmed by my full time job as a blogger, sitting down in front of my computer, skipping meals and not going to the gym.
So here's the list of things we try to do in order to stay healthy and fit as family :
(1) Never skip meals
I've noticed that my body acts differently if I skip meals. It tends to crave junk foods and can lead to over eating. Breakfast is the most important part of my healthy diet.
(2) Have 3 big meals and 3 snacks per day
I started to make a rule that everybody needs to have their breakfast, lunch and dinner on time. I also allow 3 snacks: 2 hours after each meals to satisfy. Healthy snacking is a great way to fill our body with important nutrients, help stabilize our blood sugar and prevent over eating at meal times. We try to stay away from high sugary drinks or other junk foods, and instead prefer to eat fresh fruits, yogurt, unsweetened and unsalted nuts and cottage cheese.
(3) Let my kids get involved in the kitchen
It's a great idea to invite your kids to get involved in the kitchen. I enjoy this activity because my kids love being chefs. I also notice that my kids always finish their food if they get involved in baking or cooking. During our cooking time, I try to explain the health benefits of each piece of fresh produce, and what foods to avoid. This has been a great success.
(4) Be active as family
I am just not a morning person so I often wake up late. There is no way I could go to the gym in the morning because I have to drive my kids to school then check my work emails and eventually sit back down at my computer (oftentimes for the remainder of the day). A thing that that I do differently to be active is to do a short workout every 2-3 hours. Each workout only last for 5 minutes but pretty intense, such as push up, sit up, squats , weight lifting. This new technique has been pretty helpful, at least better than nothing. To be active as family, you don't need to plan much of anything. We throw on some music and have dance offs, hit a hiking trail or take out the bikes and scooters. Heading outdoors is usually a good first step, and if it's at a park then we are golden. Lead by example and put your phone away for family tie, especially active family time.
Today I am going to show you how to make this
easy fruit yogurt parfait recipe
with
Yoplait®
yogurt as one of the main ingredients.
Yoplait®
has countless ways to help you
1-Up Your Cup
! Don't forget to check out
Yoplait® "1-Up Your Cup
pinterest board for more recipes and ideas. You can purchase your
Yoplait®
yogurt product at Walmart stores.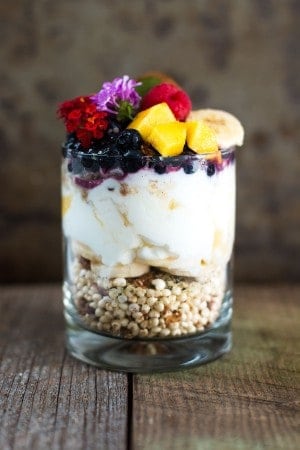 Ingredients
1

cup

Yoplait Greek 100 calories Tropical Fruit

½

cup

mixed granola of your choice

low sugar

1

cup

mixed berries

⅓

cup

banana

1

sliced kiwi

⅓

cup

sliced mango

Sprinkle Chia Seeds

Sprinkle Hemp Seeds
Instructions
Place granola in a glass then layer with slices banana, Yoplait Greek Yogurt, chia seeds, hemp seeds.

Repeat this step as necessary to fill glass to your desired amount

Garnish with mixed berries, kiwi , mango on top
This is a sponsored conversation written by me on behalf of General Mills. The opinions and text are all mine.