This recipe is dedicated to my son and daughter.  They love  seafoods so much, and they really enjoyed this dish of steamed clam with chilies. I purchased 4 lbs of clams from my local Costco for $17. They are wild caught, product of New Zealand.
When it comes to seafood, I try to keep it simple and hold back from adding too many ingredients or type sauces. Less is more and I want the clams to be the star of the show, not the sauce.
A few notes: Don't forget to discard any clams that do not open because it proves that they were dead before you cook them… they likely aren't fresh anymore. I used vegetable butter for this recipe, (it tastes good but the main reason I did this is that it's the only thing similar to butter that I have in my fridge). I didn't add any salt to this recipe, I think that it is salty enough on its own.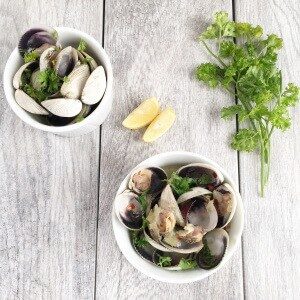 Ingredients
4

Lbs

of Clams

1

cup

of white wine

1

cup

of water or clam juice

2

tablespoon

of unsalted butter

4

Cloves

of Garlic

minced

1

cup

of chopped yellow onion

Black Pepper

2

Tablespoon

of Olive Oil

Red Flakes Pepper
Instructions
Heat the oil in a large pot. Then add garlic and onion, sauté quickly for about 1 minute

Pour in the white wine, water/broth or clam juice. Bring to boil

Add clams, cover with a lid and cook until all the clams open.

Add butter and black pepper

Discard any clams that do not open, garnish with chopped parsley, red flakes pepper