Healthy, easy and budget friendly Steamed Tofu and Mushroom in Ginger Broth !
This is my favorite asian recipe with simple ingredients and little preparation. It's so delicious! Tofu is packed with protein and fiber with many health benefits. This recipe is suitable for vegan or non-vegan.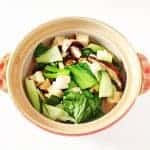 Steamed Tofu and Mushroom in Ginger Broth
Ingredients
1

pack of Firm Tofu

12

Mushrooms . Clean and remove the mushroom caps

Shiitake

1

cup

of vegetable broth or chicken broth

3

cloves

Garlic

3

Tablespoons

of sliced ginger

Green onions

Vegetables of your choice

I used Bok Choy

Salt/Pepper if needed
Instructions
Add broth, ginger, mushroom cap and onion in a pan on low to moderate heat. Boil for at least 5 minutes then remove the mushroom cap from the broth. Add tofu and Shiitake mushroom, cover the pan with a lid then gently steam over low-to-moderate heat for 5 to 6 minutes. Add your favorite vegetables and green onions, steam for another 1 minute. Do not overcook the vegetables. Serve and Enjoy!