I love coffee as much as anything ;). It doesn't matter how many hours I slept the night before,  I can't start my day without a nice big cup. I often enjoy coffee all day, from my morning brew until a nice nightcap with dessert. I don't drink it to keep me awake, rather to enjoy the relaxing and calming feeling that it brings.
These past few days, my husband and I have been busy packing and moving our stuff in preparation for moving into a new house. My life has been pretty crazy, not being able to fully work on my blog and of course all of the things going-on have resulted in a limited amount of sleep.  Not fun! I feel so exhausted  and can't wait to settle into a new place. One of the biggest mistakes I made was packing my coffee brewer and my favorite coffee mug way too early.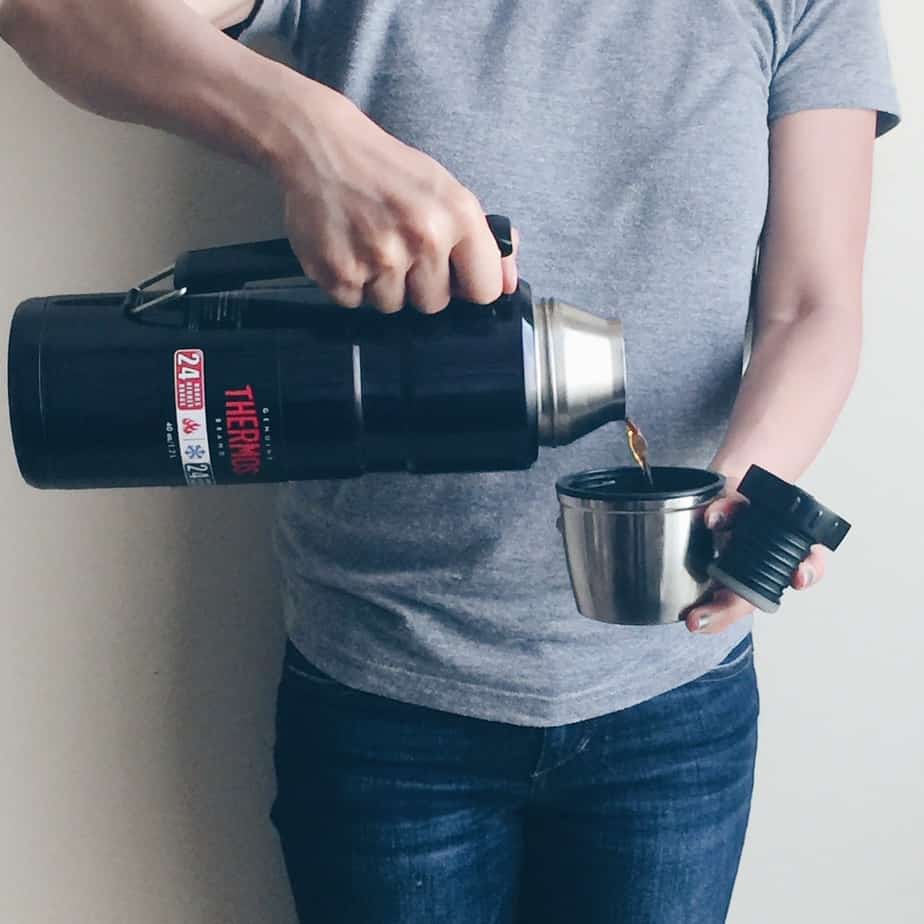 I was very happy when Thermos invited me to join the #OvernightCoffee Challenge. They kindly sent an overnight shipment of delicious coffee from one of the best coffee roasters in Chicago, Dark Matter Coffee.  They also sent me one of their best products, a Vacuum Insulated Stainless King™ Beverage Bottle, 40-Ounce (or 1.2 L)( Thermos ). I've been using the two together and have been enjoying my piping hot coffee at home and on the go.   I feel like I won the jackpot as the coffee taste is so good, and with the insulation on the thermos it stays very hot for a long time.   I love that I can use the lid as a coffee cup too!  I was able to share my coffee with my dear husband who spent  the entire day moving our stuff! I got him hooked with coffee and of course, Thermos!  Thanks Thermos you just made my day with this sleek looking and useful gift,
My family and I have trusted Thermos brand to provide quality insulated food and beverage products for decades.  My mom used to bring hot water in a Thermos for camping so we can make our own cup of noodled…hers was so much better than the ones you find in stores!
Thermos Vacuum Insulated Stainless King™ Beverage Bottle, 40-Ounce (or 1.2 L)
Features and Benefits:
• Thermos™ vacuum insulation technology for maximum temperature retention, hot or cold
• Durable stainless steel interior and exterior
• Cool to the touch with hot liquids, sweat-proof with cold
• Insulated stainless steel serving cup
• Keeps liquids hot or cold for up to 24 hours
• 40 oz/1.2 L capacity
So today I want to invite you to join the Overnight Coffee Challenge. You can enter the challenge from May 19 to May 23. There will be a total of 25 randomly selected winners for the promotion. Genuine Thermos® Brand and Spong will be facilitating the shipments.