If you're like me then you are probably having some folks over in the next three or four weeks.  It may be some good friends stopping by, it may be some family staying for a while, it may be a big party that you're hosting.  Whatever the occasion, it's always great to make a lasting impression as a host.  That can be tough to do, with the stresses that come about with guests (my kids always seem to trash the place the day before we have party).  I therefore like to find ways to make my parties stand out from the rest without having to put in massive amounts of work.  One way to do this is in the beverage department.  Most parties in December will have egg nog based drinks.  These are great and I do love seasonal drinks, but it's fun to mix it up and give your guests something fun that they wouldn't expect.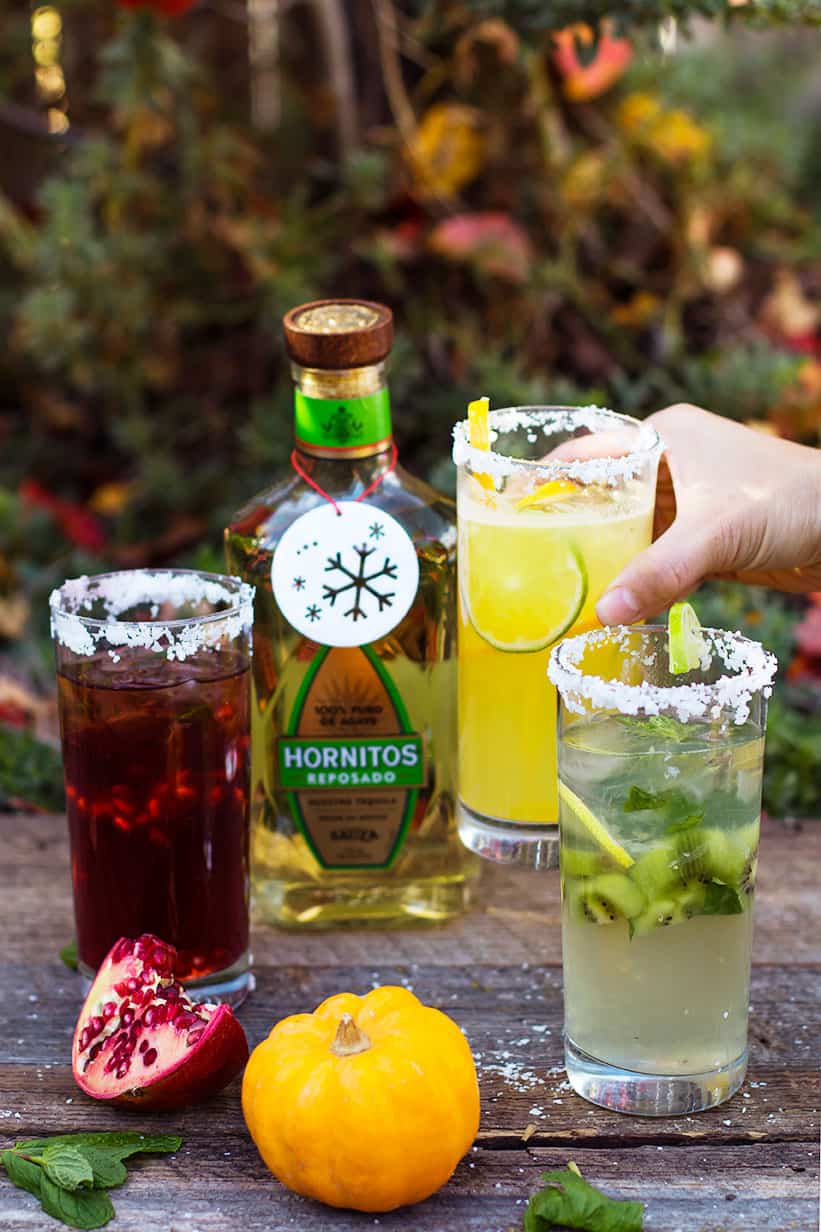 For my next party I am going to make the following three tequila-based drinks: Pomegranate Margarita, Orange Margarita and Kiwi Lime Margarita.  They are very easy to whip together, and I recommend making and serving all three at the same party.  It gives your guests a few delicious options but also gives some "wow factor" in the presentation.  The colors alone of the three look great and will be one more thing to make your party stand out.  We're all tempted to constantly clean up during a party but feel free to leave some of the peals and pieces of fruit in front of the bottles, they add a nice touch.   I highly recommend using 100% Agave Tequila, and Hornitos is my go-to brand as it has a smooth taste that also mixes extremely well.  Most people think of a standard margarita when they hear tequila but there are so many  delicious and colorful varieties out there.  I personally use these recipes as much as any other for tequila drinks, the taste is phenomenal and I the color of the drinks are eye-catching and adds a little pizazz to the party.
This holiday season I recommend you keep your party going with these three margarita recipes made with real fruit and Hornitos Tequila.  They are stylish yet easy to make and will likely be a hit with you and your guests.
Ingredients
4

Ounce

Hornitos Tequila

1/2

Cup

Pomegranate Juice

1

Fresh Lime's Juice

1

oz

Club Soda

Ice

1/2

Tablespoon

Agave Nectar

Margarita Salt for garnish

Fresh Pomegranate Seeds
Instructions
Dip dampened glasses upside down in margarita salt to salt the rim

In a cocktail shaker, mix in Tequila, Pomegranate Juice, club soda, Agave Nectar, Lime Juice

Pour into the salt-rimmed glasses and garnish with fresh pomegranate seeds
Ingredients
2

Kiwis Peeled and Cut

1

cup

fresh Lime Juice

1/2

Cup

White Sugar or 1/3 Cup Agave Nectar

1

oz

Club Soda

Ice

3

oz

Hornitos Tequila

8

Leaves

Mint

Margarita Salt for garnish

Sliced Lime for garnish

Sliced Lemon for garnish
Instructions
Dip dampened glasses upside down in margarita salt to salt the rim

In a cocktail shaker, mix the lime juice, agave nectar, club soda, Mint Leaves

Pour into the salt-rimmed glasses and with fresh kiwi

Add sliced Lime and Lemon for garnish
Ingredients
6

Oz

Fresh Orange Juice

1

Fresh Lime's Juice

2

Oz

Hornitos Tequila

1

Tablespoon

Agave Nectar

1

Oz

Club Soda

Sliced orange for garnish

Sliced lime for garnish

Sliced lemon for garnish
Instructions
Dip dampened glasses upside down in margarita salt to salt the rim

In a cocktail shaker, mix the orange juice, lime juice, tequila, Agave Nectar and club soda

Pour into the salt-rimmed glasses and garnish with sliced orange, lime and lemon