Thank you to BISSELL for sponsoring today's post and inspiring me to try the new ProHeat 2X Revolution Pet.
I love my floors and rugs! I spent a lot of time picking out their designs and materials, I love the way they look and I want them to last for years (and years). This is not new for me, I had some very nice rugs about 5 years back and they did not last too long (especially that gorgeous white one L) . I found that my easy-going, accommodating attitude was detrimental to my rugs, so I now have some simple but mandatory rules in my home.
– Shoes off when entering the house
– No eating or drinking in the living room
– Wipe your feet when coming in from the back yard
– Kids must pick up after themselves (not just toys, food too!)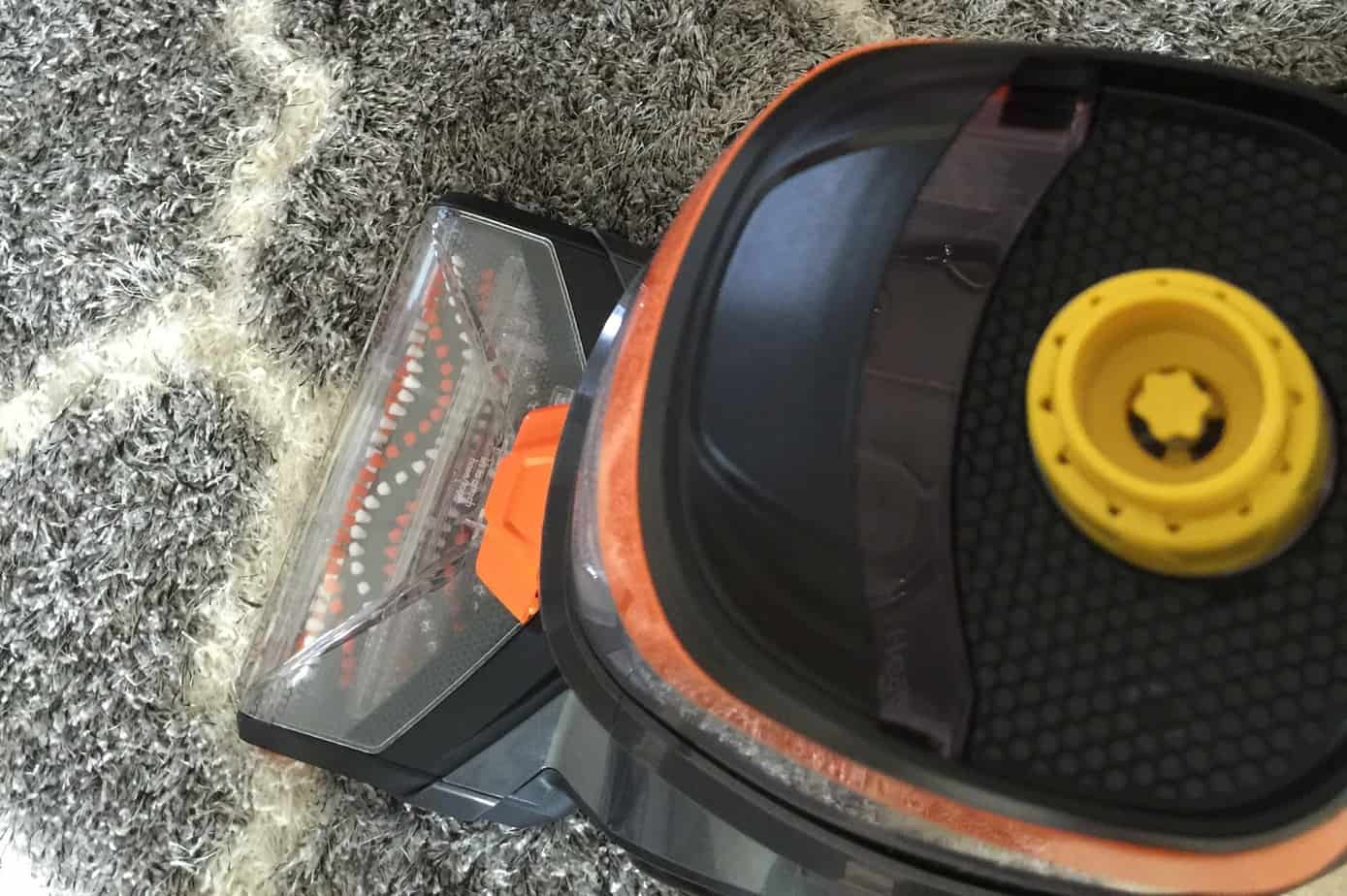 These seem simple enough and pretty obvious right? I know, it's common sense, I was just too lenient as I wanted my guests to feel right at home. Now when having a party, hosting a kids' playdate or even when someone comes over to repair something even they must obey that crucial first rule of taking their shoes off. I'm in the minority on this ,only thirteen percent of Americans always make guests take their shoes off when coming into their home!
I have two rules for myself, too. The first is to do recurring cleaning throughout the house. I throw my headphones on and go to work every other weekend and about 4 songs later it's a done deal. My second rule is that if I see a stain, spill or potential stain in the making, take care of it right away. I used to tell myself "I'll take care of that later" but I'd forget and then have a bigger, tougher stain to deal with.
Being careful and proactive is only half the battle, you also need to arm yourself with the right tool. The new BISSELL ProHeat 2X Revolution Pet is a great choice and works amazingly well. It's light weight and maneuvers well around table legs and other furniture and underneath beds. I also like how versatile this vacuum is. I can put it in Deep Clean Mode, Express Clean Mode (dries in about an hour) or use the detachable hose for upholstery and hard to reach spots.
Along those same lines of versatility, I have some longer thread rugs, shorts thread rugs, tile and stone. The BISSELL ProHeat 2X Revolution Pet hasn't had any issue picking up dirt and food on each of these. Another big plus for this vacuum is that it hasn't had any sign of breaking down or even getting stuck. That's been one of my biggest gripes with other vacuums, and they're an expensive item to replace. A couple of other plusses are that it has a very cool and modern look, and that it comes with antibacterial formula. Also, for each BISSELL ProHeat 2X Revolution Pet sold,, BISSELL will give $10 to the BISSELL Pet Foundation to help America's homeless pets. Good work BISSELL.
Giveaway and How to enter ( Ends 12/3):
BISSELL is offering two product bundles (including a BISSELL ProHeat 2X Revolution Pet and BISSELL Deep Clean + Antibacterial formula) as a giveaway. 2 winners will be chosen at random across all communities (participated bloggers)
(1) Visit this page : BISSELL ProHeat 2X Revolution Pet
(2) Must comment with your favorite spring cleaning tips and don't forget to leave your email address on the comment box below so Bissell or I can contact you if you win
(3) Don't forget to click this link ===> Share this tweet on Twitter
(4) Be sure to come back everyday