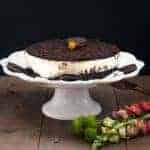 This is the perfect recipe to bring out the fancy side of OREO Cookies. The crust is OREO, looks beautiful and is the highlight. This recipe is very easy and can be easily modified by adding or replacing ingredients:
Course:
Cookies, Desserts
Heat oven to 325 F

Using hands or food processor, crush cookies to fine crumbs then place into a mixing bowl.

Mix crushed cookies with butter then transfer to a lightly coated non-stick spray springform pan. Press onto bottom gently using a hard surface (such as the bottom of a glass), measuring cup, etc.

Place in fridge for 5-10 minutes.

In the mixing bowl, beat the cream cheese in a low speed mixer for about one minute

Add eggs, one at the time and beat slowly until combined.

Add vanilla, sour cream, lemon zest, sugar and beat until creamy for 1-2 minutes.

Pour over crust then bake for about 55 minutes

Tips on baking a cheesecake : Use a roasting pan with boiling water about halfway up. Foil the springform pan in multiple layers to prevent the water from seeping into the cheesecake. Place the springform pan into the roasting pan. This method will allow the cake to set slowly, resulting in a creamy texture and preventing cracking

Let it cool in a pan for about 30 minutes and don't forget to add the top crust before putting it in the fridge for at least 4 hours (I recommend over 6 hours).

Cut the cake using a dry and warm knife.