#YSLToucheEclat Touche Éclat Blur Primer and Blur Perfector
YSL just came up with two new products that have a reputation of giving flawless and luminous looking skin.  I have always been a big fan of YSL fashion and have over the last few years really started using more and more of their beauty products.  I was so happy to receive and try out these two beauty products, below is my review of each of them.
Upon receiving these bottles from YSL my first impression of this was that they were gorgeous, almost too pretty to use and just keep it there unopened!  I love beauty products that look like a gift, they look great on a counter and give a woman a reminder to spoil and pamper themselves!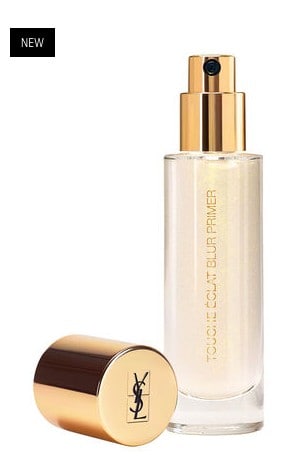 Let's start with  Touche Éclat Blur Primer . This primer comes with golden specks in its formula to give you a fairy – dusted glow and blur effect. It can be applied under foundation to maximize radiance, or worn alone to create a perfected canvas look. I absolutely love the texture of the primer. It feels like I am putting on a face serum in that is slightly oily.  I like that it does not have a greasy consistency and does not leave my face feeling even the slightest bit greasy. It does perfect my skin pores and leaves in a dewy skin finish. Surprisingly, after applying I don't see any of the golden specks left in a residue on my face, which is okay for me because I don't want a  sparkling look (at least not in my daily make-up look).  From my use of the product I noticed the best results when I left the primer in to penetrate my skin for at least 10 seconds before applying foundation.

Next was the Touche Éclat Blur Perfector . The packaging in a pink compact made me think wow, what a beautiful make up application!  I don't even need to try the product, It made me feel pretty just by looking at it!  Touche Éclat Blur Perfector is an after make-up application, and it's a great one.  In-fact after just a couple of uses I could immediately tell that this perfector is going to be my best friend!   You can use this product as both a retouching or replacing foundation. It feels like a balm, but it quickly mattifies into a powdered texture. It worked quite well to minimize visible pores and make my make up last long hours into the night. I give this product an A+ rating for the instant mattifying finish it gave every time I used it.
"I received these products complimentary from Influenster for testing purposes."